1-877-4SPRUCE
1-877-477-7823
Other Customers
Have Also Viewed:
UHS 12 INCH FIBERGLASS SPINNER KIT - SAE 2 BOLT - OPEN BOX





Part # 99-01081
Open box. 12" Fiberglass Spinner with SAE 2 Bolt Pattern.

UHS spinners are practical, attractive, and flight proven having enhanced the appearance of many different aircraft.

**Note: kit include hardware and bulkhead.**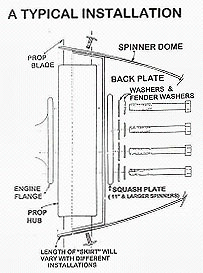 The size of the spinner is the measurement at the rear lip of the dome. If the spinner is made with the length of the dome left intact, the size is as shown in the descriptions.
Width at rear edge: 12.125"
Length of Spinner: 13"
Depth to back-plate: 3.5"

All spinners are sent out balanced to a tolerance of about 1 gram (28grams = 1 ounce). For example, if you remove one of the 8-32 x 3/4" dome mounting bolts from a balanced spinner and put it back on the balancing rig, it shows as being "sharply out of balance".