1-877-4-SPRUCE | info@aircraftspruce.com
Aircraft Spruce & Specialty Co.
Corona, CA | Chicago, IL
Wasilla, AK | Peachtree City, GA
Brantford, ON Canada
FREE SHIPPING ON ORDERS OVER $350 (USA ONLY - SOME EXCLUSIONS APPLY) | 877-4-SPRUCE
LEVIL THE ASTRO LINK ADS-B RECEIVER
Overview
Get into the skies with one of the most reliable wireless avionics module available in the market today. Meet the Astro Link, an affordable portable device that combines a state-of-the-art aviation grade AHRS technology, dual-band ADS-B Receiver, and an internal WAAS GPS for navigation. This USA made device brings peace of mind to every pilot by offering a progressive back-up solution at any time. The Astro Link is capable of driving Synthetic vision displays and provides navigation information you need to turn your tablet into a real glass panel.

This USA made device brings peace of mind to every pilot by offering a progressive back-up solution at any time.
Features
High-performance AHRS. Each Astro link is meticulously calibrated to for optimal performance even during aerobatics. The AHRS data refreshed at 14 frames per second, the max rate of turn is 500 deg/sec and attitude is completely independent of GPS.
Integrated WAAS GPS with a built-in antenna that allows precise navigation using any of your favorite apps. The Astro Link GPS signal eliminates GPS dropouts resulting from using other devices.
Dual-band ADS-B Receiver. Free in-flight Weather and Traffic and no need for remote antennas! The Astro Link allows you to monitor weather radar, METARS, etc. It also captures traffic information even where the competition simply won't reach.
A wireless platform offering iOS/Android/Windows compatibility. The Astro Link acts as a router sending all the data to up to 6 mobile devices wirelessly.
Connect to a wide variety of apps. There are lots of apps available in the market today so why limit to just one? Connect your Astro Link to any of your favorite navigation app or connect to Levil Aviation Free AHRS Utility App.
Specifications
Small and lightweight
The Astro link is a small and convenient sized device.
AHRS
ADS-B Dual Band Traffic
ADS-B Weather
WiFi Connectivity
Weight: 1/2 lbs
Dimensions: 4.3" x 3.2 x 1"
Total weight: 12 oz.
Benefits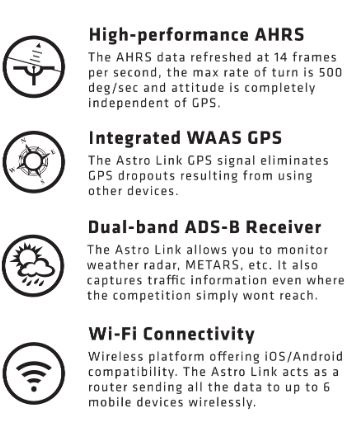 In The Box
Wireless Broadcasting Outer Module unit
USB to mini USB cable
Silicone stoppers
Protective bag
Customers Also Viewed
Frequently Purchased With
Reviews
Well it is small and relatively compact. It does work. The AHRS will not work if you have an android tablet like I do (And thats the reason I bought it, for just ADS-b in there are cheaper options out there with better battery life). Customer support actually answered the phone and was helpful, supposedly an upgrade is coming out in a few months to fix the AHRS issue with an android device. I used it with AVARE free software, and so far its ok. I like the fact it doesnt have an external antenna I have to deal with. And it fits in my flight bag. The antenna was just something more to hook up or loose or break.
Daniel J
March 10, 2020
Very poor ADSB reception compared to other units tested (34 Adsb messages in 20 minute flight test compared to competing lower priced device - 1500+ messages). Never showed ADSB target further than 14 miles. AHRS also not up to quality of lower priced models. Dark plastic cover absorbs heat on dash from sunlight causing it to exceed its rated max temp of 40 C. GPS never showed WAAS and cut out several times on flight test - Avoid !
Jonathan S
July 23, 2019
Q&A
Q: How many devices can be simultaneously connected to the Astro Link ADS-B receiver?
Up to 6 devices at one time.
Q: How is this unit mounted? Can it be mounted permanently with a power supply cord or does it have to be in the open?
Per the installation manual, this unit has the requirement of having a clear view of the sky for GPS satellite reception and line of sight for ADS-B ground stations and surrounding aircraft.
Q: Is the device compatible outside the USA can I use in Colombia South America? What is the difference between Ilevil 3 SW?
This unit is only compatible in the US. the difference is that The iLevil3 SW adds the new Data Recording feature.