1-877-4SPRUCE
1-877-477-7823
Other Customers
Have Also Viewed:
GARMIN AERA 796 GPS AMERICAS DATABASE
Make Selection(s) Below To Order
From $1499.00 to $2098.00






With its 3D Vision navigation technology, advanced electronic flight bag capabilities, XM Weather capabilities and much more, the touchscreen aera 796 ushers in the next era of aviation portables.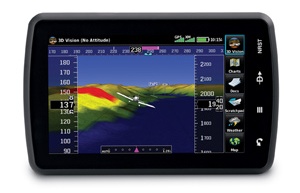 See in Virtual 3-D
Revolutionary new 3D Vision technology shows a virtual 3-D behind-the-aircraft perspective of surrounding terrain derived from GPS and the onboard terrain database – a feature previously only available in our panel-mount avionics. Simply slide your finger across the touchscreen to rotate the view and show land and water features, obstacles, runways and airport signposts in relative proximity to the aircraft. Using its forward-looking terrain avoidance capability, aera 796 predicts in advance where towers or obstacles may exist and shades the landscape with amber or red overlays to indicate those areas. 3D Vision and other flight data are presented smoothly and continuously thanks to the device's internal GPS that provides position updates at a rate of 5 times per second (5 Hz).
aera 796's bright 7" diagonal high-definition sunlight-readable display makes detailed mapping easy to see in any lighting conditions and works in both portrait and landscape mode. The physical design has been optimized to fit on the yoke or for use as a knee-mounted device. There are only 4 touch keys on the bezel representing "Back", "Menu", "Direct-to" and "Nearest" for quick navigation to the most frequent used functions. All other functions are quickly accessed through Intuitive onscreen icons with labels. This unique touchscreen interface even allows you to quickly pan across the map screen and pinch to zoom.
Go Paperless
aera 796 fullfills the role of either a Class I or Class II electronic flight bag, greatly reducing the need to rely on paper charts in the cockpit. Initial georeferenced VFR sectional and IRF enroute charts come preloaded that show your aircraft's position overlaid directly on the relevant chart. When in IFR map mode, the 796 can display victor airways, jet routes, minimum enroute altitudes and leg distance, much like what's found on traditional enroute charts. Initial georeferenced Garmin FliteCharts provide approach charts and airport diagrams for the U.S., while pilots who prefer Jeppesen charts and diagrams can use optional Garmin ChartView service, which utilizes Jeppesen's extensive library to provide global georeferenced charting capabilities. aera 796 also includes a robust document viewer, so you can easily pull up weights and balances, flight manuals, raster charts or a wide range of electronically formatted materials you download to the device. A "scratch pad" feature also allows you to quickly jot down clearances and other pertinent notes while in route, while a checklist viewer allows you to create customized and interactive electronic checklists.
Enhance Situational Awareness
aera 796's built-in terrain and obstacle database not only shows contours in 3D Vision mode, but also allows for a top-down view of your entire route. To help you navigate around unfamiliar airports, SafeTaxi® provides detailed taxiway diagrams and position information for over 1,000 U.S. airports, while a private airport and heliport database greatly expands your emergency "nearest" options. FBO, ground transportation, lodging and other facility information for most U.S. airports are also available through preloaded AOPA Airport Directory Data; international pilots may choose to opt for global AC-U-KWIK airport directory data instead.
Access Weather and Radio
For access to high-resolution weather and audio entertainment right in the cockpit (XM subscription required), a GXM 40 or GXM 42 antenna is required but not included in the box. XM WX™ Satellite Weather includes next generation radar (NEXRAD), aviation routine weather reports (METARs), terminal aerodrome forecasts (TAFs), temporary flight restrictions (TFRs), lightning, winds aloft and more for the U.S. and Canada. In addition, the 796 can receive PIREPs, turbulence forecasts, icing forecasts and more. The weather data can be laid directly over the unit's navigation and topographic map databases. Plus, with 170+ channels of digital music, news and programming through your aircraft headset or cabin audio system, you'll stay informed and entertained.
Expand Your Portable
Thanks to its 2 serial ports, aera 796 allows for simultaneous connectivity with other hardware. With an optional Garmin GTX 330 Mode S Transponder Interface, you can access Traffic Information Service (TIS) alerts, where available, right on the device while also sending frequencies to a Garmin SL30/40 radio or relaying position reports to other devices.
By adding optional City Navigator maps, both helicopter and fixed-wing pilots add street addresses as waypoints or direct-to destinations. The device includes an SD™ card slot for easy updates and expansions; easily keep track of the databases on your aera through flyGarmin, the online manager that helps you update, manage and purchase the latest aviation data for your Garmin device.
Big 7 inch hi-res touch screen
3D view of database-generated terrain
Portrait or landscape mode
Qualifies for use as either a Class I or Class II Electronic Flight Bag (EFB)
Geo-referenced IFR enroute charts & VFR sectional charts pre-loaded
Jeppesen's chart upgrade ability (Garmin ChartView)
Built -in digital document viewer
Scratch pad
Added support for helicopter in flight with City Navigator
Garmin's patented Panel Page
XM Weather (796 only)
Traffic compatible (GTX 330) or Zaon
Safetaxi, Airport Directory for US and International airports
Physical & Performance:

Unit dimensions, WxHxD:
5.1"W x 8.0"H x 1.5"D (13.0 x 20.3 x 3.8 cm)
Display size, WxH:
3.6"W x 6.0"H (9.1 x 15.2 cm); 7.0" diag (17.78 cm)
Display resolution, WxH:
480 x 800 pixels
Display type:
dual-oriented, bright, color WVGA TFT with adjustable backlighting and selectable screen orientation
Weight:
26.4 ounces (748 g) with battery pack; 18.3 ounces (519 g) without battery pack; 12.7 ounces (361 g) RAM mount
Battery:
rechargeable, replaceable Lithium-ion
Battery life:
up to 3 hours with full backlight and GXM 40 connected (8 hours with 50% backlighting and XM connected)
Waterproof:
no
Voltage range:
11-40
SBAS/WAAS receiver:
high-sensitivity with WAAS position accuracy
IFR or VFR:
VFR
Maps, Databases & Memory:
Basemap:
yes
Navigation database
(includes Jeppesen® data):
yes
Types of Jeppesen data:
full and ARTCC, FSS frequencies and final approach waypoints
Navigation database coverage areas:
Americas
Preloaded Terrain database:
yes
Preloaded Obstacle database:
yes (U.S. and Europe only)
Preloaded SafeTaxi™ airport diagrams:
yes (U.S. only)
Preloaded AOPA Airport Directory:
yes (U.S. only)
Preloaded Garmin FliteCharts®:
yes (U.S. only)
Preloaded low & high altitude enroute airways:
yes
Preloaded private airports:
yes (U.S. only)
Preloaded street maps:
no
Ability to add maps:
yes
Accepts data cards:
yes (SD cards)
Built-in memory:
internal solid state
Waypoints/favorites/locations:
3,000
Routes:
50
GXM 40 Packages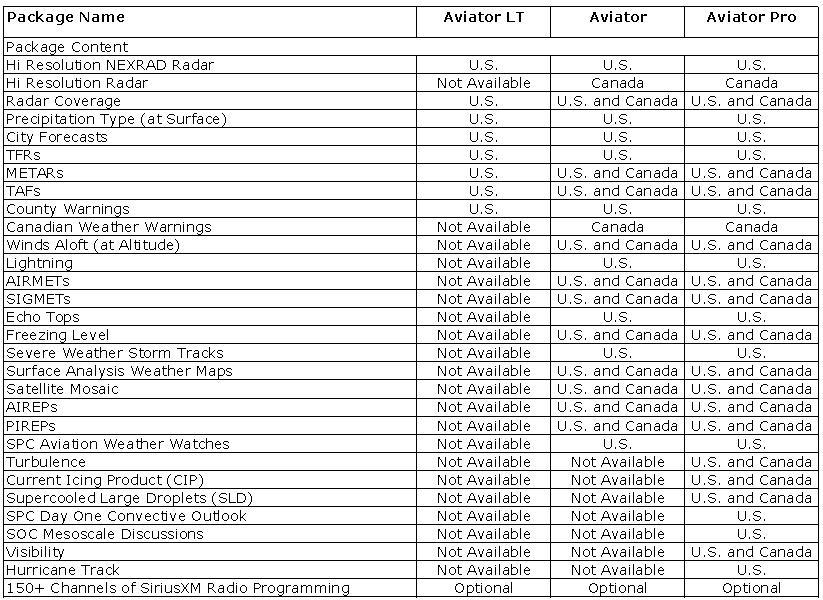 GXM 42 Packages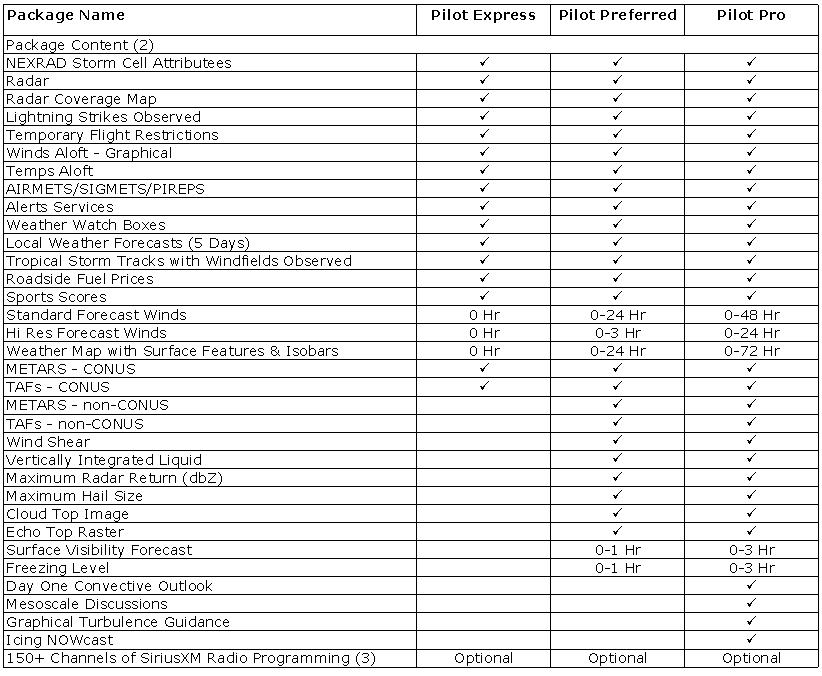 aera 796
Yoke mount
DC cigarette adapter 12/24 volt cradle
Home A/C cradle dock
GA 25 remote antenna with suction cup mount
USB cable
Carrying case
Touchscreen cleaning cloth
Quick reference guide
Complimentary single database update
Pilot''s Guide e-version (viewable on the document viewer)
GXM™ 42 XM smart antenna (Optional)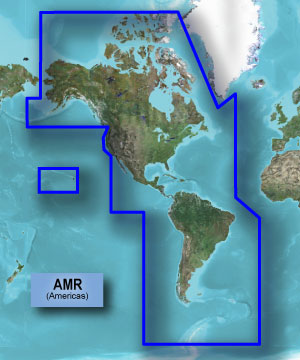 Note: Coverage area is for VFR charts only




This is a great device and works very well in the airplane. I have two major issues with this device and really wonder what the design/engineers were thinking:

1. You can only use XM WX when it is attached to either the yoke mount or desk mount cradle. I use the device alot when not in the aircraft and portable.

2. You can only charge the device in one of the two mounts.

There are times I want to use the 796 with XM WX outside of the aircraft. And in its current configuration I have to carry around one of the bulky mounts.

I would of rated this with 5 starts if it wasn't for these basic hardware necessities.

The Garmin 696 did this. What happend!!!

Please fix this.

Dave
| | |
| --- | --- |
| | In response to the previous review, you can use the XM antenna with the 796 detached from the yoke or desk mount, however it does require the 796 be screwed onto the cradle. The XM plug (mini USB) is attached to a cable that goes into the cradle. You can unscrew the cradle off the yoke or desk mount if you need to walk away and have XM functioning as the 796 alone can power the XM antenna. Garmin designed it this way as the 796/795 is a mass storage device so you can save PDF files like your POH or checklist. As far as charging, the only two ways are through the yoke mount cradle via the cigarette plug or the desk mount AC wall charger. |
| | |
| --- | --- |
| | I think Garmin missed the mark on this aviation specific GPS. I flew with the 296 for 3 years and upgraded to the 796 (with the GDL 39) mainly for the bigger screen and private airports. If you really like touching the screen a lot, it is probably OK, but it does not seem as user-friendly as the 296. I fly mostly back-country strips or small airports so it seems logical to touch the screen to select a destination. OK so far, but then to make that a go to destination and KEEP the waypoint info, you have to select the airport again (if it doesn't come up with a nearby obstacle instead - only 4 more touches to back out and zoom in a little to separate them), hit the Direct To button, select Activate (map comes up again with current Go To info at least), then select the airport again, hit WPT Info and then it sometimes holds the waypoint i nfo for the Go To. Way too much button pushing especially in an emergency situation. It seems to act differently on the desk than while flying also. |
| | |
| --- | --- |
| | I find it interesting that Dave Hirschman, a Senior Editor of AOPA Pilot magazine had the same gripe as DM on 9/26/2013 below about Garmin's waypoint logic when he reviewed the new Garmin G3X Touch in the July 2014 Issue of AOPA Pilot: My final gripe has to do with Garmin's logic for displaying waypoint information. I'd leave one airport on a direct-to path to a destination, but calling up the waypoint information would give me information about the place I'd just left—not the airport I was going to. It would be nice to have the destination information populate the Waypoint screen sooner. (Pilots can get that information by dialing it in separately on the Waypoint page). |
| | |
| --- | --- |
| | Works fantastic the screen is bright |


Can I trade-in a used Garmin aviation GPS against the purchase price of an Aera 796 or 795?
Yes, just type trade-in in the search box and you will find the details of our GPS trade-in program and what units we take in.
---

If I have XM weather in 796 why buy a Garmin GDL 39 with ADS-B weather?
The Garmin 796 comes with a XM antenna for subscription based weather and cannot be combined with ADS-B (free ground based) weather at the same time. You must pick one or the other to view. Even though the 796 can support the GDL 39 it is best to buy a 795 without XM weather for the cost savings if you just want ADS-B weather.
---

Can it be use for legal IFR flight
No, the Garmin 796 is considered VFR.
---

I currently have a GPSMAP 696 with XM weather. If I purchase an Aera 796, will the original XM weather antenna work?
Yes, the GXM 40 which came with the GPSMAP 696 can be used with the Aera 796.
---

Can the Garmin 796 GPS be wired to my autopilot?
Yes, you will need the power data cable part number 11-10044 to connect with an auto pilot.
---

Does the Garmin 796 GPS unit have altitude reporting?
Yes, the Garmin Aera 796 will give GPS based altitude readings.
---

With the Garmin Aera 796, can I send a flight plan from Foreflight to the 796 wirelessly?
Per Garmin: Not at this time.
---

Regarding the Garmin Aera 796 GPS: Power supply is a cigarette lighter power outlet, can I wire it with the same cord directly to 12v airplane power? Or do I HAVE to use a cigarete lighter type power outlet? I will be using an AirGizmo dock and wire to a dedicated switch and fuse. Do I need the bare wire cable or can I use what comes with the 796? I know sometimes that cigarette lighter plugs have a transformer built into them Thank you.
In order to wire the Garmin 796 to the aircraft power, you will need to order the bare wires power / data cable, part number 11-10044 separately.
---

Can I connect a bluetooth headset to the Garmin Aera 796 GPS? I have been trying with a Plantronics I phone earpiece with out success.
The Bluetooth for this unit is only intended for ADS-B information through something such as a GDL 39. It is not intended for audio.
---

Does the Garmin Aera 796 have built-in Bluetooth to be able to connect to a GDL39 via Bluetooth connection?
Yes, the Garmin Aera 796 has Bluetooth capability right out of the box.
---

Can I update a GARMIN AERA 796 GPS with a different coverage area?
Yes, once you receive the GPS, you can update the database on fly.garmin.com.
---

Will the GDL39 3D display ADS-B and TIS traffic along with weather etc...right out of the box?
Yes, the GDL39 3D will display traffic and weather right out of the box when paired with the Garmin 796. No subscription is required.
---

Will the 796 unit support WAAS GPS requirement for ADS B out with proper transponder for operation below 18,000?
No, this is not an approved WAAS GPS source for ADS-B requirements.
---

Does the Garmin Aera 796 GPS unit allow for pitch information/aka a full artificial horizon out of the box? If not what additional equipment is required?
No, it does not show this info out of the box. For this information, you will need to also purchase a GDL 39 3D or a GDL 52 unit. When using the GDL 39 3D or GDL 52 with the 796, the Garmin 796 will display AHRS providing pitch and roll. The difference between the GDL 39 3D and the GDL 52 is the GDL 39 3D is ADS-B weather and traffic and AHRS and the GDL 52 is ADS-B, Sirius XM, and AHRS.
---

I have a Garmin GTX 335 ADS B out (with WAAS). Can this be interfaced with the 796 GPS?
Yes, the GTX 335 and the Aera 796 can connect via RS-232 using a power data cable(part number 11-10044).
---

Will the 796 interface with the Garmin GTX 345 for adsb traffic?
Yes, it will connect via bluetooth or the 796 power data cable.
---

010-00967-11
Enter the quantity desired of each item in the Buy column.