1-877-4-SPRUCE | info@aircraftspruce.com
Aircraft Spruce & Specialty Co.
Corona, CA | Chicago, IL
Wasilla, AK | Peachtree City, GA
Brantford, ON Canada
THE AVIATION SUPERSTORE FOR ALL YOUR AIRCRAFT & PILOT NEEDS | 877-4-SPRUCE
GARMIN GDL 82 BUILT-IN GPS ADS-B KIT INCLUDING WAAS ANTENNA FOR EXPERIMENTAL AIRCRAFT
Select Model:
GDL82 with GPS Kit + 10 Ft Harness
GDL82 with GPS Kit + Custom Harness
Overview
The GDL 82 Automatic Dependent Surveillance-Broadcast (ADS-B) datalink, is the latest addition to the comprehensive lineup of certified ADS-B solutions available from Garmin. GDL 82 is a small, lightweight Universal Access Transceiver (UAT) datalink with a built-in GPS receiver. For aircraft owners looking for an economical and turnkey solution to satisfy the requirements of ADS-B "Out", GDL 82 is a straightforward path to meet regulatory requirements.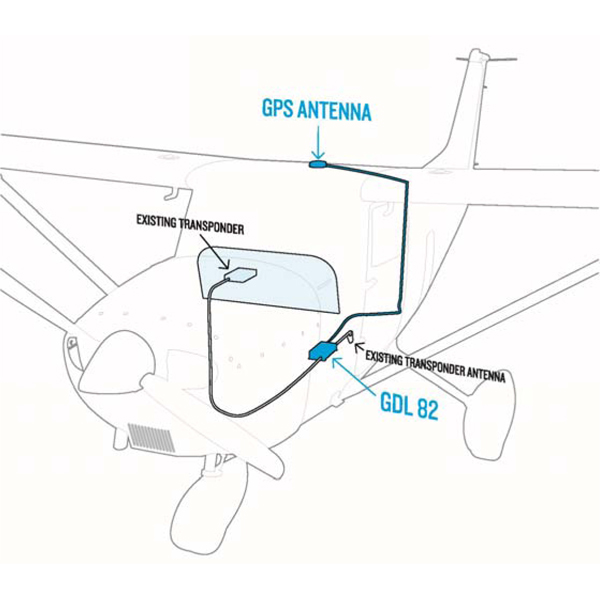 GDL 82 broadcasts on the 978 MHz frequency, providing a rule-compliant ADS-B "Out" solution for aircraft operating below 18,000' in the United States. Installation is quick and easy because GDL 82 utilizes a patent-pending design, in which GDL 82 is installed in-line with the aircraft's existing transponder antenna wiring to transmit the necessary ADS-B "Out" information. The WAAS GPS receiver required for ADS-B compliance is built-in and a GPS antenna is included to offer additional cost-savings for aircraft owners without an existing WAAS GPS on board their aircraft.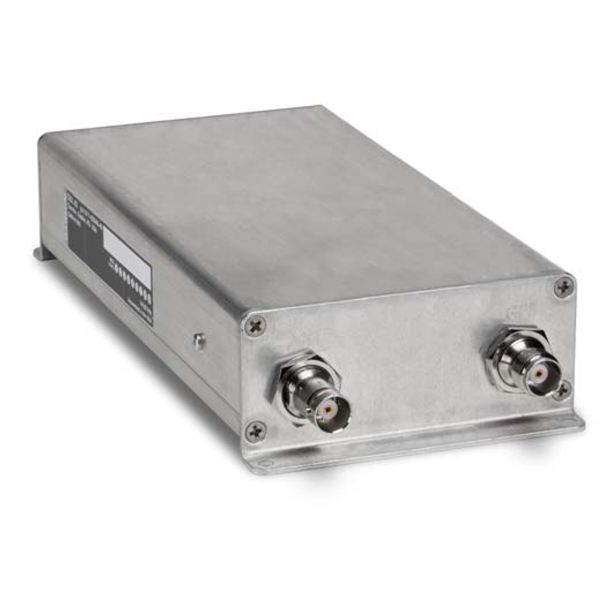 82 also contains AutoSquawk interrogation technology, whichGDL interfaces with most Mode C general aviation transponders to synchronize the squawk code and pressure altitude information from the transponder with GDL 82, eliminating the need to install a separate dedicated UAT control panel and altitude encoder. (Please reference the installation manual to determine if the existing Mode C transponder meets compatibility requirements.) This technology not only simplifies installation but also eliminates the burden of the pilot manually keeping the squawk code in sync.

Pilots who already utilize an ADS-B "In" receiver — such as the GDL 52, GDL 39/GDL 39 3D and the Stratus line of portable solutions — can receive additional benefits as the GDL 82 complements many existing products on the market. With ADS-B "Out" participation, pilots using these products have access to a more comprehensive ADS-B "In" traffic picture, resulting in improved situational awareness.
Features
Small, lightweight ADS-B "Out" datalink designed to work with your existing transponder
978 MHz universal access (UAT) output enables aircraft to operate in controlled U.S. airspace below 18,000'
Uses AutoSquawk technology to automatically sync with the existing transponder in your aircraft
Includes built-in WAAS GPS position source (for ADS-B reference only)
For inflight privacy, an Anonymous mode can be set to mask your aircraft ID from displaying on other aircraft's ADS-B "In" traffic display
Specifications
Unit size, WxHxD: 3.39" x 1.48" x 9.22" (8.6 x 3.8 x 23.42 cm) including connectors
Weight: 1 lb 4 oz (0.57 kg) with WAAS GPS
Temperature: -45°C to +70°C
Power input: 14 or 28 VDC (8 W max.)
Transmitter output: 46 dBm (40 W)
Environmental compliance (TSO Approved): DO-160G
Software compliance (TSO Approved): DO-178 Level D and Level B
Hardware compliance (TSO Approved): DO-254 Level C
TSO compliance (Approved): TSO-C145d (B2), TSO-C154c (B1S)
In The Box
GDL 82 ADS-B "Out" Datalink
Connector Kit
Garmin GA 35 WAAS GPS antenna
Videos
Accessories
Customers Also Viewed
Frequently Purchased With
Reviews
Ordering, shipping, and arrival were great, correct item and arrived quickly. The wiring diagram for the harness is essentially the GDL 82 installation Manual there is no separate diagram for the harness. IMHO the wire labels on the harness are hard to find and very small, because they are laser printed on the very small wires and the labels are far apart. So hard to find. On one or two wires I had to unroll almost the whole harness to find the label. Its nice that the backshell is assembled. It would be nice if the harness pigtails had spade terminations on them, or were capped in some way. The harness is nice and worth the money.
Thomas O
March 15, 2020
Q&A
Please note, Aircraft Spruce's personnel are not certified aircraft mechanics and can only provide general support and ideas, which should not be relied upon or implemented in lieu of consulting an A&P or other qualified technician. Aircraft Spruce assumes no responsibility or liability for any issue or problem which may arise from any repair, modification or other work done from this knowledge base. Any product eligibility information provided here is based on general application guides and we recommend always referring to your specific aircraft parts manual, the parts manufacturer or consulting with a qualified mechanic.
Q: Will this Garmin GDL 82 work with my Trig 21 transponder in my experimental aircraft?
No, this will not work with the Trig TT21 because the TT21 is a mode S transponder. The GDL 82 is designed to work with mode C transponders.
Q: Will the GDL 82 work with a G1000 equipped aircraft?
The Garmin G1000 displays do not interface to this unit. The Garmin GDL 82 works with Mode C transponders. If your aircraft is equipped with a functioning Mode C transponder, this unit will work.
Q: Will this Garmin GDL 82 work with my Transponder Becker 4401 in my plane?
Yes the becker 4401 is a mode c transponder and can use the gdl 82 for an ads-b out solution.
Q: Will the Garmin GDL 82 work with the Sandia STX 165 Mode C transponder?
Yes, this is designed to work with Mode C transponders.
Q: Can I use the RS232 TX and RX from the GDL 82 to drive COM active frequency search on the Garmin GNC 255 com radio?
Per the installation manual, this cannot be done.
Q: Is this compatible with the SANDIA STX 165R REMOTE TRANSPONDER?
Yes, the STX 165R is a mode C transponder and will work with the GDL 82.