1-877-4-SPRUCE | info@aircraftspruce.com
Aircraft Spruce & Specialty Co.
Corona, CA | Chicago, IL
Wasilla, AK | Peachtree City, GA
Brantford, ON Canada
FREE SHIPPING ON ORDERS OVER $350 (USA ONLY - SOME EXCLUSIONS APPLY) | 877-4-SPRUCE
AVEO POSISTROBE MINIMAX™ ULTRALIGHT COMBO POSITION / STROBES RED
Part# 11-08127
MFR Model# AVE-PMMR-12X
Overview
Developed originally at the request of the world's leading UAV manufacturers, all of which now utilize Aveo lighting, the MiniMax is a compact powerhouse of hemispheric light. Available in red or white LEDs, it is an ideal anticollision light for very light aircraft or UAVs. It is also a great anticollision light to use on upper and lower fuselage in combination with AveoFlash wing lights due to its incredibly small footprint.

Encapsulated in the exclusive AveoDiamidium™ formulation.

For Experimental Use Only

9v - 32v

Limited Warranty - Product must be registered within 30 days of purchase Here
Specifications
Weight: 53 g / 1.87 oz
Operating Voltage Range: 9 – 32 V DC
Power – position: 2.6 W
Current – position (@12V): 0.22 A
Power – strobe (Watts): 5.5 W (27.6 W peak)
Current – strobe (@12V): 0.46 A (2.7 A peak)
Repetition Rate of Strobe: 50 cycles per minute
Recommended size of mounting screw: M3, stainless steel recommended.Length depends upon placement location on wingtips.
Reverse polarity protected NO
Over Voltage protected NO
Waterproof YES
Vibration-proof YES
Shock-proof YES
Dust-proof YES
Drawing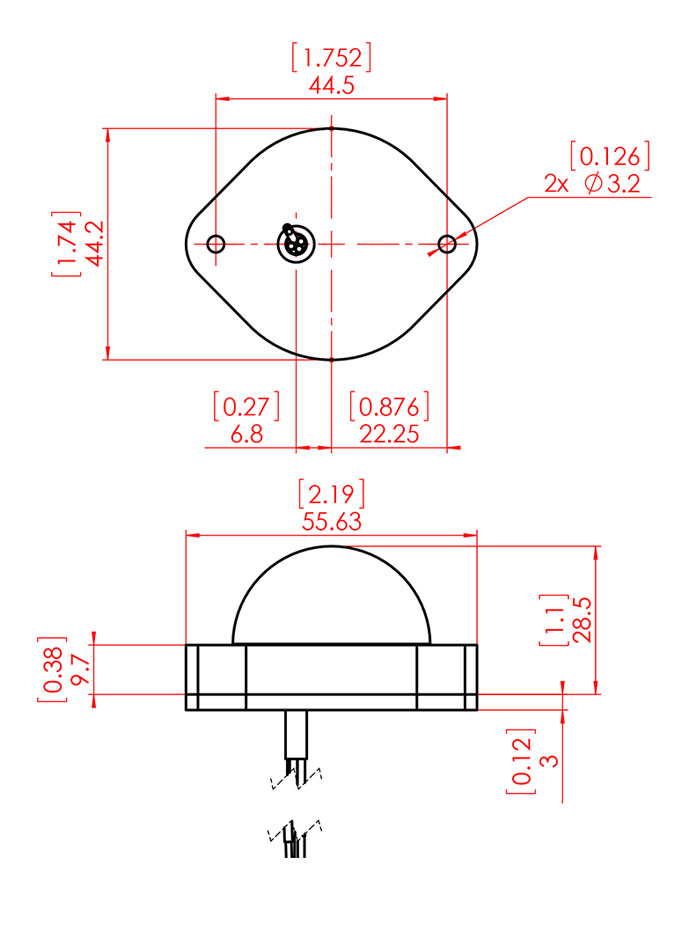 Customers Also Viewed
Frequently Purchased With
Reviews
I have had the Red version installed on my Revo Trike for about a year now. I have been told by other pilots this it is incredibly bright even in the daylight. Installation was very easy and no radio noise.
Mike W
May 17, 2019
Super bright! Works great, easy install.
Jonathan
October 25, 2018
Q&A
Q: Hi, I have question regarding the Aveo posistrobe minimax ultralight combo position/strobe part number 11-08127 (red). Can you please confirm the position light circuit produces aviation white light, not red. Many thanks.
No. It has RED LEDs so it produces RED light. If they want white then they need to purchase the MiniMax in white. Part number for white is 11-08134.
Q: At what rate does this Aveo Posistrobe MiniMax flash? Is there a separate power source/flash module? Does it come with the aluminum adapter plate?
The strobe flashes at 50 cycles per minute. No power source/flash module is required. An aluminum adapter plate is not included.
Q: Do you have a drawing or dimensions of the Aveo Posistrobe Minimax Ultalight LED strobe / position combo?
Yes, we have added a drawing tab to the web page with detailed dimensions. Please review them there.
Q: Is this Aveo Posistrobe Minimax combo a double or single flash?
It is triple flash.
Q: What is the difference between this Aveo Tail Posi/Strobe and the slightly cheaper one that has the word daylite in the title? I have to replace my 10 year old Aveo Posi/Strobe and not sure which is the plug in play light. Which tail light synchs its strobe frequency with the wing tip lights by Aveo?
The daylight model is their entry level light, it will not be as bright as 11-08127. Both will sync with other strobes.