1-877-4SPRUCE
1-877-477-7823
Other Customers
Have Also Viewed:
WHELEN STROBE SYSTEM A470
See Below for Parts, Pricing, and Ordering
From $8.50 to $289.95





Reference Chart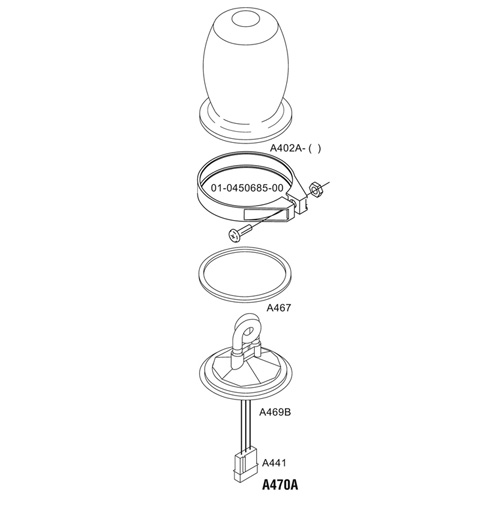 Enter the quantity desired of each item in the Buy column.



Model #
Description
Part Number
Price
Buy
Sub-Total
A470-D
Radio Shielded Remote Strobe Head Assembly, Specify Color
11-03291
$266.95
A470-A-D-S
Strobe Head Assembly, Shielded Red/White
11-04976
$244.95
A470-D-R-SU
Radio Shielded Remote Strobe
11-03714
$289.95
A402AD
Red Optic Lens (New Style)
11-03630
$74.65
A402W
White Optic Lens
11-03271
$63.75
A402R/W
Split Red/White Optic Lens
11-03248
$65.75
01-0450685-00
Clamp Ring Assembly
11-03688
$20.60
A467
Gasket for A470
11-03709
$18.50
A469B
Flash Tube Assembly
11-03225
$185.75
A441
AMP Connector and 3 Pins
11-03211
$8.50

Current Total
Click Add to Cart to add them to your shopping cart
or Add to Wishlist to store them for ordering later.
Whelen Strobe System A470


Is part number 11-03225 Whelen part number 01-0770044-02?
Yes, part # 11-03225 is Whelen # 01-0770044-02.
---

01-0770019-22 01-0770019-23 01-0770019-21 68-2170504-50 68-2130024-30 68-2130361-06 01-0450685-00 38-0230039-00 01-0770044-02 01-0430011-00