1-877-4-SPRUCE | info@aircraftspruce.com
Aircraft Spruce & Specialty Co.
Corona, CA | Chicago, IL
Wasilla, AK | Peachtree City, GA
Brantford, ON Canada
FREE SHIPPING ON ORDERS OVER $350 (USA ONLY - SOME EXCLUSIONS APPLY) | 877-4-SPRUCE
WHELEN STROBE SYSTEM A600-PR / A600-PG
From $16.85 to $228.95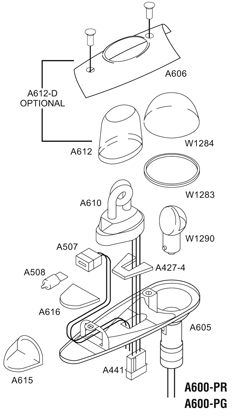 (Hover to zoom | Use mouse wheel for +/-)
| Model # | Description | Part Number | Price | Buy |
| --- | --- | --- | --- | --- |
| A606 | Retainer | | $81.90 | |
| A612 | Magnifying Lens | | $67.75 | |
| A612-D | Radio Shielded Lens Retainer Assembly | | $177.75 | |
| W1284-G | Forward Position Light Lens (Green) | | $88.95 | |
| W1284-R | Forward Position Light Lens (Red) | | $88.95 | |
| W1284-C | Forward Position Light Lens (Clear) | | $228.95 | |
| W1283 | Forward Position Light Gasket | | $21.95 | |
| A610 | Flash Tube Assembly | | $194.75 | |
| A610-M | Flash Tube Assembly | | $117.75 | |
| W1290-14 | 14 Volt Position Light Bulb | | $105.80 | |
| W1290-28 | 28 Volt Position Light Bulb | | $106.80 | |
| A507 | Lamp Socket Assembly for A555 | | $56.75 | |
| A508-14 | HalogLamp for A500, A555, A600 | | $51.75 | |
| A508-28 | Halogen Lamp for A500, A555, A600 | | $52.95 | |
| A427 | Flash Tube Assembly | | $228.00 | |
| A427-M | Flash Tube Assembly with Molex Connector | | $198.99 | |
| A427-4 | Rubber Pad Spacer | | $17.50 | |
| A616 | Gasket for A600 Tail Light | | $17.80 | |
| A605 | Base Plate Assembly | | $144.99 | |
| A615 | Lens for A600 Tail Light | | $119.75 | |
| A441 | AMP Connector and 3 Pins | | $16.85 | |
Overview
WHELEN STROBE SYSTEM A600-PR / A600-PG

Customers Also Viewed
Frequently Purchased With
Reviews
Love it. Provides just the amount of spacing I needed.
William C
July 13, 2020
Q&A
Q: Whats the difference between the Whelen A610 and the A610-M Flash tube assembly?
The only difference is the connector. The A610 has the standard connector, the A610-M has a Molex connector.
Q: How long is the wiring length of the A610M flash tube assembly with the molex connector attached? Part number 11-03734
The wire lead length is approximately 7-5/8" from the assembly to the end of the molex connector.