1-877-4-SPRUCE | info@aircraftspruce.com
Aircraft Spruce & Specialty Co.
Corona, CA | Chicago, IL
Wasilla, AK | Peachtree City, GA
Brantford, ON Canada
FREE SHIPPING ON ORDERS OVER $350 (USA ONLY - SOME EXCLUSIONS APPLY) | 877-4-SPRUCE
C-SPEC MS212-12N 2600 | 2700 RECEPTACLES
Part# 04-03475
MFR Model# MS212-12N
Overview
C-Spec 2000 Series Fixed Depth Receptacles (Camloc® compatible).

There are various configurations available but the most common are the rivet on type. When using fixed depth receptacles it is necessary to use a different stud length for every .030" of variance in material thickness.

If your Total Material Thickness (TMT) is consistent at all fastener locations, the fixed depth receptacles are recommended. If there is a wide variance from location to location you will need to measure the thickness at each location and select the appropriate stud length to fit. Or you may consider using MilSpec's Adjustable Depth receptacles for ease of use.

Sizing Chart: For your reference, we have included a chart at the bottom of this page which shows the panel thickness ranges and corresponding stud lengths when used with fixed depth receptacles.
Drawing & Specs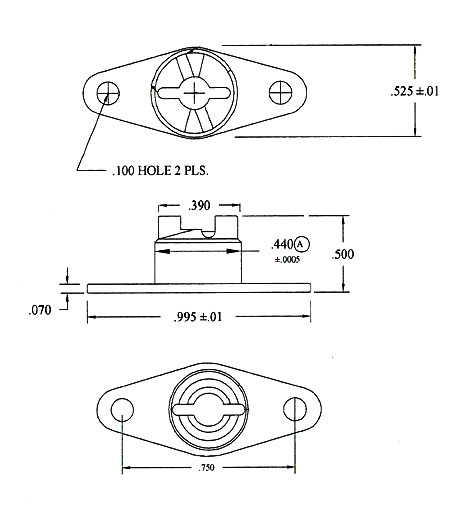 This drawing is for reference only. The chart below has the stud dash number in the far left coulmn. This is the number that is stamped in the head of the stud. The column to the right shows the Total Material Thickness range (TMT) of each stud length when using Fixed Depth receptacles. Dimensions are in inches. For metric conversion, use this formula: Inches x 25.4 = mm. mm ÷ 25.4 = Inches.
* When using receptacles number 99R10 or 26R48 series, adjustments to the data below are required. Please contact us for explanation and configuration data.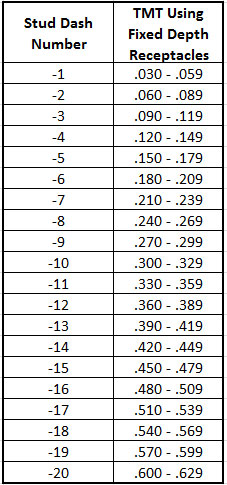 Customers Also Viewed
Frequently Purchased With