1-877-4SPRUCE
1-877-477-7823
Other Customers
Have Also Viewed:
STAINLESS STEEL BRACKETS
See Below for Parts, Pricing, and Ordering
From $6.75 to $8.45





Enter the quantity desired of each item in the Buy column.



Model
PN
Description
Price
Buy
Sub-Total
B3742
05-01923
Stainless Steel Bracket Fits 1.125" Tube
$6.75
B3744
05-01924
Stainless Steel Bracket Fits 1.25" Tube
$8.45

Current Total
Click Add to Cart to add them to your shopping cart
or Add to Wishlist to store them for ordering later.
Stainless steel brackets. See Specifications for dimensional information.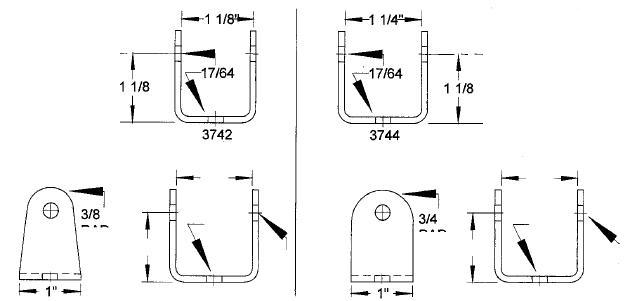 What are the dimensions on part number 05-01924? Thanks, Larry LaGrone
We have added the dimensional drawings for all 4 models in the "Specifications" tab. Please review it on this web page.
---

What is the plate thickness these stainless steel brackets are made of?
The thickness of this plate is .075".
---

What material are the brackets made of, 304 316, or other SS?
Type 304 with 2B finish, raw. Then it is deburred and burnished.
---

3742 3744