REDBIRD SD
The Redbird SD is a fully enclosed, stationary Advanced Aviation Training Device. It serves as an excellent alternative to our FMX model for training environments where space is at a premium. The SD includes all of the same standard features as the FMX, with the exception of the motion platform. Utilizing a fully enclosed cockpit, wrap-around visuals and realistic flight controls, the SD totally immerses the pilot in the sights and sounds of flight. The SD is a top choice for flight schools looking for a realistic, full-featured, affordable AATD.
Cockpit Configurations:
The SD was designed to be reconfigurable, allowing the flight school to use one simulator to represent all of the airplanes in their training fleet. It's versatile enough to be used for Single or Multi-engine training and can represent glass panel aircraft as well as traditional 6-pack configurations. Each simulator comes with one configuration of your choice from our library of available aircraft. Additional configurations may be purchased for $4,595 – $6,595 each.
Dimensions and Room Requirements:
The SD requires a space that is at least 8.5' x 7' and a standard 110 volt, 15 amp wall outlet. It is also strongly recommended that the simulator have access to a high-speed Internet connection to allow remote diagnostics, support and software updates.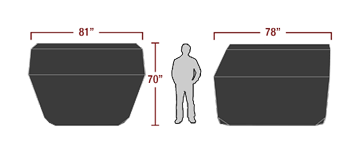 Pricing Information:
SD Base Price: $39,800 SD/cl (with control loading yoke) Base Price: $47,295
Base Price Includes:
One cockpit configuration of your choice
Five Redbird pilot keys
1 year warranty (parts and labor)
SD/cl model includes a premium yoke with 2-axis control loading.
Base Price Excludes:
Shipping and installation costs
Any taxes, tariffs or fees which may be applicable
Prices assume sale within the United States of America only. International prices may vary.