1-877-4SPRUCE
1-877-477-7823
Other Customers
Have Also Viewed:
THE JAY BY REDBIRD





Part # 13-15906
Start Up-procedure
Put it on a table.
Turn it on.
Fly.
Practicing at home is a great idea for pilots. You can keep your skills sharp and your mind in the cockpit even when you can't make it to the airport.

In reality, however, two obstacles deny a majority of pilots effective home flight simulation: purchasing and assembling the right hardware requires a PhD in computer know-how, and after flying around the virtual world for a bit, most pilots get bored. Redbird Flight Simulations, the world leader in FAA-approved flight simulators for general aviation, has addressed both these issues with the Jay.

The Jay contains the monitor, speakers, computer and flight controls—all-in-one unit that is ready to fly right out of the box. It boots up directly to a launch screen where you can select your airplane, airport and weather conditions. Push the green button and you're on a runway and ready to go.

Scenario-based training?
It's built in.

The Jay is more than a simulator—it's a flight experience device supporting training, proficiency, and just plain fun! In addition to the free flight mode where you select the aircraft and conditions, the Jay has a scenario mode where you can load a preset scenario and fly it.

A scenario could range from a simple flight challenge to a complex flight with multiple potential outcomes. For example, a magazine article on an aircraft accident could be linked to a mission where the Jay owner flies that scenario. Redbird Media, a company specializing in curriculum for simulation, will create many of these scenarios in partnership with AOPA Pilot and other training outlets and magazines.

The scenario exchange will be open to any company wishing to create scenarios for the Jay. A one-button update on the Jay will load the latest scenarios available for free or that the owner has purchased.

The Jay home screen also has a built-in web browser to access scenario add-ons, such as video, or download simulator extensions such as additional aircraft or scenery.

The Jay chassis is metal, not plastic. Control smoothness is paramount. The parts should last indefinitely. In addition, there are pilot-centric touches. For example, the yoke travel is equivalent to a typical Cessna or Piper single—about three times as far as most plastic flight sim yokes move.

The software powering the Jay is Lockheed Prepar3D (pronounced "prepared"). Prepar3D is an evolution of Microsoft's FSX, enhanced and expanded for professional-level simulation, including Redbird's full-motion simulators.

This means most of the many plug-ins, aircraft and communities designed for FSX will work flawlessly on the Jay.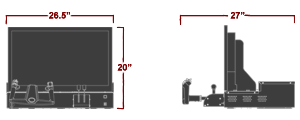 90 Day Warranty / 30 Day Money-Back Guarantee
Monitor
Speakers
Computer
Keyboard with Shortcut Commands
Flight Controls
90 Day Warranty / 30 Day Money-Back Guarantee
Visuals: 27-inch LCD monitor (1920 x 1080 pixels).
CPU: Intel 3.3Ghz Quad-Core Processor.
Memory & Storage: 8GB of RAM and a 240GB SSD.
Operating System: Windows 7 Professional (64-bit).
Flight Simulation Software: Lockheed Prepar3D Flight Sim (the next generation of Microsoft Flight Simulator X)
Primary Flight Control: Redbird professional-grade yoke system.
Throttle Quadrant: "Boat style" controls for throttle and mixture.
Beech Baron 58 w/ G1000
Beech Baron 58 - analog
Beech King Air 350
Cessna Skyhawk 172SP G1000
Cessna Skyhawk 172SP
Cessna Skyhawk 172Stol
Cessna Grand Caravan
Extra 300
Lockheed C69A
Maule M7 260C
Maule M7 260C White
Mooney Bravo
Mooney Bravo w/ G1000
Mooney Bravo King Schools
Piper J-3 Cub
Virtavia Yak-52 Red Star
Virtavia Yak-52 Green and Gray
Virtavia Yak-52TW Aerostars 1
Virtavia Yak-52TW Aerostars 2
27 inch LCD Display
Computer (see Specifications tab for specs)
Lockheed Prepar3D Flight Sim (pre installed)
Yoke
Throttle / Mixture Controls
Keyboard


Can the Jay by RedBird be used for instrument currency?
Per the supplier: "The JAY is not approved or certified by the FAA or any other foreign government or entity for use in flight training to satisfy required proficiency time, instrument experience, training for certificates or ratings. The use of the JAY for the foregoing purposes is not approved and should not be so used." However, the TD simulator by RedBird is a FAA approved BATD and can be used for instrument currency.
---

Will this simulator accurately side slip or slip for cross winds
Per the manufacturer, the Jay by Redbird can accurately simulate and you can perform side slips and slips for cross winds.
---

For the Jay by Redbird, is the pre-loaded Cessna Caravan the G1000 or Steam gauge edition?
Per Redbird, the pre-loaded Cessna Caravan is the steam gauge edition.
---

Is the Parrot Emulator available for the Jay?
Per the supplier, not currently but there are plans to have it available in the future.
---

Does the Jay come with the ATC Parrott software? Also can I install my TrackIR 5 in this machine?
The ATC Parrott software is currently in the works and has no timeframe for release yet. In regard to the TrackIR 5 software, it is not officially supported by Redbird as it is 3rd party software but has been installed by users of the Jay and has worked fine.
---

Can I attach additional monitors to the Jay by Redbird, left and right, to improve realism?
The Jay does not allow for additional monitors to be installed. One monitor can mirror the main Jay screen, but no extension of visuals is supported.
---

What avionics are on the pre-loaded Caravan? Is it Garmin or Bendix/King?
The avionics are Benedix/King in the Caravan on the Jay.
---

What other aircraft, espescially experimentals, are available for the Jay by Redbird, either for purchase or open source?
While there are not any experimental aircraft that come preloaded on the Jay, we do recommend a few companies that build their own flight models for purchase. Those companies are Carenado, A2A Simulations, and Eaglesoft. If the flight model is compatible with Flight Simulator X or Prepar3D then it can be flown on the Jay.
---

The Redbird website shows the Jay as coming with 8GB RAM but here it is shown as only 4GB. Which is correct? What is the lead time for shipping this item (including the optional rudder pedals)?
This was old data on our site which has been corrected. The Jay's are now shipping with 8GB RAM. The Jay's (including the pedals) usually ship in 2-3 business days.
---

Is the Jay by RedBird compatible with Windows 10?
A computer is included with the Jay and it runs Windows 7. The Jay is entirely self contained.
---

Does the Redbird Jay have force-feedback in the yoke?
Per Redbird, no, the Jay comes with a standard yoke, not the force feedback.
---

Can your Redbird The Jay simulator be configured with three monitors in order to give left and right side views?
PER REDBIRD - the JAY Velocity, our part # 13-20712, is capable of being configured for 3 screens. The standard JAY however, is not capable of 3 screens.
---

Can the Jay by Redbird accommodate software compatible with Flight Simulator X to upload and run Airbus, Boeing 777, and other passenger jets?
The Jay by Redbird comes preloaded with flight simulation software, the software it includes is Lockheed Prepar3D (pronounced "prepared"). Prepar3D is an evolution of Microsoft's FSX, enhanced and expanded for professional-level simulation, including Redbird's full-motion simulators. Please see the pre-loaded aircraft tab for details on the aircraft that are ready to use out of the box.
---

R-6101
Please check the boxes for the options that you would like to add.
Leave all boxes unchecked for unit only.
Click Next to continue to Shopping Cart.