1-877-4SPRUCE
1-877-477-7823
Other Customers
Have Also Viewed:
YETI PANGA SUBMERSIBLE 100





Part # 13-21071



Is anything you pack on a multi-night trek a non-essential? No. So everything from your sleeping bag to your left sock needs to be accessible and 100% dry. With Panga™ 100 the largest, absolutely waterproof dry duffel, you're on the right side of prepared.

Take on the whitewater and don't sweat the downpours. This dry duffel has two interior mesh pockets and zero points of entry for wetness of any kind. Consider your clothes, gear, spare matches, and emergency flask safe.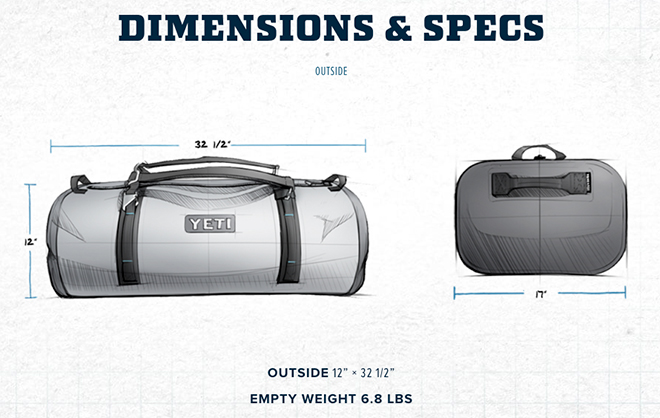 EVA MOLDED BOTTOM: EVA molded bottom provides a sturdy and waterproof landing pad for the Panga.
THICKSKIN™ SHELL: Laminated, high-density nylon is nearly impenetrable to nature's assaults.
STOWAWAY MESH POCKETS: Two easy-to-access mesh pockets keep your valuables safely tucked away.
HYDROLOK™ ZIPPER: This is where the magic happens. Water stays out. Everything inside stays dry.
METALLOCK™ HARDWARE: Tough-as-nails, simple-as-rocks.
QUICKGRAB™ LASH POINTS: Gear up quickly. Six total lash points are designed for versatile carrying strategies.
DRYHAUL™ STRAPS: Comfortable and durable – whether it's strapped to you or the horse.

18060130000
Part Number
Description
Price
13-21069
18060110000 YETI PANGA SUBMERSIBLE 50
$299.99 Add to cart for current price
Click here
for details
13-21070
18060120000 YETI PANGA SUBMERSIBLE 75
$349.99 Add to cart for current price
Click here
for details