1-877-4SPRUCE
1-877-477-7823
Other Customers
Have Also Viewed:
LYNX BLUETOOTH AUDIO ADAPTER





Part # 11-10446
The Bluetooth Audio Adapter allows wireless connections to a Lynx Micro System headset and can also be used with two separate audio or telephone leads.
The adapter is powered from the headset. or from a Radio/Power Interface, and does not require charging.
Once paired with a telephone, all of the main handsfree functions can be controlled from the adapter, including: voice dialling. call transfer. call reject and last number redial.The adapter can also be used with audio players to make a wireless music connection.
The adapter can be used with Lynx Audio Input/Output Leads, Audio Output Leads or Mobile Telephone Leads. The leads may be used in any combination.
When used with the appropriate lead, the adapter allows the connection of mobile telephones, music players and sound and video recording equipment.
For connection to recording devices. the adapter provides output at 'Microphone Level' (with Audio input/Output Lead) or 'Line Level' (with Audio Output Lead).
The adapter is particularly useful for adding audio devices to an existing system or to increase the number of audio connections in general.
The adapter is backwards compatible with all Lynx Micro System products.
Compatible with Bluetooth telephones
Compatible with Bluetooth music players
Connections for music, telephone or recording
Interchangeable audio leads
Audio output at microphone level
Audio output at line level Water resistant bayonet locking connectors
Supplied with fixing kit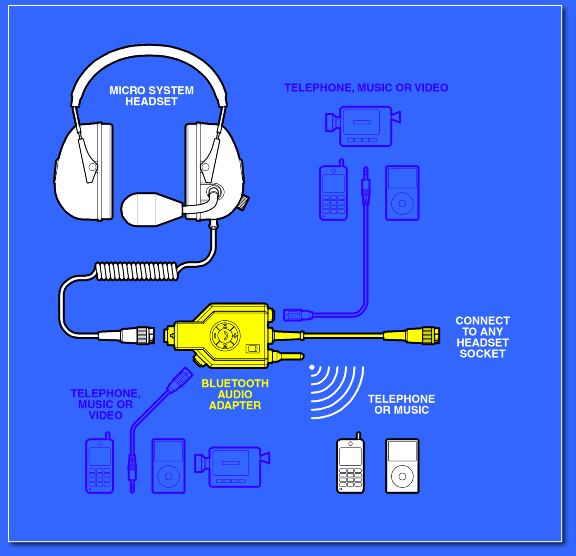 How is this powered? Can it be hardwired or does it have to have a battery?
This adapter, part number 11-10446 receives its power from the headset.
---

BLUETOOTH AUDIO