1-877-4-SPRUCE | info@aircraftspruce.com
Aircraft Spruce & Specialty Co.
Corona, CA | Chicago, IL
Wasilla, AK | Peachtree City, GA
Brantford, ON Canada
FREE SHIPPING ON ORDERS OVER $350 VIA UPS GROUND
AIRCRAFT TAILFIN NAV STROBE LIGHT 7.5W-A-1156
Part# 11-11480
MFR Model# 7.5W-1156
Overview
Note on Approval: This bulb is a replacement bulb for nav lights only with the added strobe safety feature to be used at the pilot's discretion during daylight operation. Night operation requires steady on. They are not approved as a replacement for an anti-collision or strobe system. Not FAA Approved. STC Pending.

These bulbs are standard parts and have been designed to meet the requirements of TSO-C30c.

Latest generation has eliminated radio noise, is brighter, and lasts longer!

NavStrobe Aircraft Tailfin Navigation Light with constant & fast white strobe, 7.5w, 13350 LM LEDs

GE Equivalent: 305,307,309,311,1665,1680,1691,1777,1982

Emitter Type: Cree LED's
Total Emitters: 10
Power: 7.5W
Color BIN: White
Rated Voltage: 8-30VDC
Draws <225ma @ 14.2VDC
Luminous Flux: 13550LM (0 degrees), 836LM (90 degrees)
Color Temperature: 6000~6500K
2 modes: constant & fast strobe
Base Type: BA15s = Single contact and inline pin. (GE1691 & 1156)
Application: Tailfin Navigation Light replacement.
Contains 1 light bulb per pack
Dimensions: 2.0 in x 0.7 in (52 mm x 1.8 cm)
Weight: 0.32 oz (9 g)

Turn on first: Constant lighting / Turn on second time <3s: Fast Strobe. Switch between modes in fog/cloud etc

Application Info:
NavStrobe Tailfin Bulbs: Will replace the following commonly installed bulbs: A7079B-12, A7079B-24, or any BA15S base lamp. See "Dimensional Drawing" tab to confirm dimensions will work with currently installed bulb on your aircraft.
Dimensional Drawing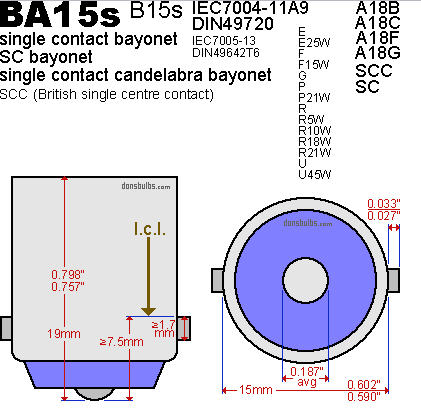 Videos
Customers Also Viewed
Frequently Purchased With
Related Items
Reviews
This LED light works great, much brighter than my previous bulb. Straight forward replacement bulb. The strobe function works just as described and is a great addition.
Lisa W
October 4, 2018
Excellent product. Two years of service life so far and no failure or RF interference.
Marc R
October 2, 2018
Although it is not installed yet this is the best value for a tail strobe that I found. Thanks
Burt B
March 30, 2017
Works as advertized! Very bright!!
Ron
September 5, 2015
This works great. Very bright and basically gives me a 3 light strobe system. If your battery voltage isn't fully up it might not strobe if the engine isn't started. As soon as your alternator is on line it will work ok. The side lens was loose on two side but I used a tiny bit of clear silicone glue to set them back on and it's fine.
Kurt E
July 25, 2014
Q&A
Q: Do these strobe lamps require a power supply box or are they self contained? ie. Do they run on just 12v without a capacitor?
These are just bulb replacements. They are intended to replace the bulbs currently used in your aircraft. They are self contained and do not require any power supply modification.
Q: Does the tailfin nav strobe bulb function as both a white tail lamp and a strobe light?
The NavStrobe tailfin bulb is a replacement for a tail light lamp, but does not take the place of a strobe with a flashtube. The flashing option is a safety feature, but not a replacement for a strobe assembly.
Q: Are these lamps FAA-PMA approved or are they just for experimental use as your other bulbs state?
This bulb is approved as a replacement bulb for tail lights only with the added strobe safety feature to be used at the pilot's discretion. They are not approved as a replacement for an anti-collision system. They do not have FAA-PMA approval but as replacement bulbs only they are not required to.
Q: Do the NavStrobe Aircraft LED Tailfil NAV Strobe light 7.5W-A-1156 work in a 28v system?
Yes, these can be used with systems at 8-30 volts.