1-877-4SPRUCE
1-877-477-7823
Other Customers
Have Also Viewed:
NAVSTROBE AIRCRAFT LED WINGTIP NAV LIGHT 7.5W-A-1512





Part # 11-11375
Note: For Experimental aircraft use only. Not FAA/PMA Approved.

NavStrobe Aircraft Wingtip Nav Light 7.5W-A-1512

Rapco Equivalent: 1512,1524,7079B-12,7079B-24,7512-12,7512-24

Emitter Type: Cree LED's
Total Emitters: 10
Power: 7.5W
Color BIN: White
Rated Voltage: 10-28VDC
Draws <244ma @ 14.2VDC
Luminous Flux: 805LM(0 degrees), 510LM (90 degrees)
Color Temperature: 6000~6500K
2 modes: constant & fast strobe
Base Type: BAY15s = Single contact and single offset pin. (A-1512)
Application: Wingtip Navigation Light replacement.
Contains 1 light bulb per pack
Dimensions: 2.0 in x 0.7 in (52 mm x 1.8 cm)
Weight: 0.32 oz (9 g)

Turn on first: Constant lighting / Turn on second time <3s: Fast Strobe. Switch between modes in fog/cloud etc

Application Info:
NavStrobe Wingtip Bulbs: Will replace the following commonly installed bulbs: W1290-14, W1290-28, T7572-12V, T7572-24V, or any BAY15S base lamp. See "Dimensional Drawing" tab to confirm dimensions will work with currently installed bulb on your aircraft.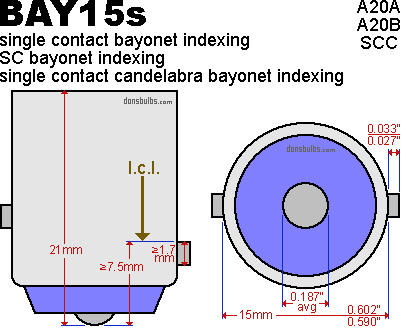 Easy replacement. Works well. Be aware there are two flashing rates, 100ms and 300ms. The faster rate as seen in the video is for aircraft above 150 knots. The slower rate is for aircraft under 150 knots. Something about number of flashes for distance traveled.
Make sure you get the proper flash rate. The two bulbs look identical.
Nice and bright and easy to use.
| | |
| --- | --- |
| | These are very nice and bright however I wish they would make some that were non flashing as in steady only. I have the tail bulb in the tail position light so I can have that one flash but if you put these in your wing lights and turn the flash mode on for the tail you will have flashing wing nav lights too. I don't want this since I already have strobes. |
| | |
| --- | --- |
| | I have a set of three of these bulbs. They are nice and bright, but the color light seen from the white bulb inside the Green Lense does not seem correct. Also, they create static in the intercom when on flash and RF Static which opens my Radio Squelch when on steady. That is unacceptable and I have asked for Return Authorization. |
| | |
| --- | --- |
| | I have a set of 3 purchased from manufacturer some time ago. RFI produced by these units make them unusable. Note these were not purchased from AirCraft Spruce |



I also bought a set of 3 at Oshkosh Spruce stand.
The noise produced on radio is not acceptable. Also I cannot use them .


Do these Navstrobe LED wingtip nav lights come in Red and Green or are they designed to work behind colored lenses?
These are designed to work behind colored lenses. All Navstrobe products except the Sextant product (our part # 11-14934) are designed to operate behind the existing colored lens.
---

Are these 7.5W Aircraft LED Wingtip Nav Lights legal as direct replacements for a certificated aircraft? Is paperwork necessary to be legal, or just a logbook entry by owner?
No, these are NOT FAA Approved for use in certified aircraft. Use part number 11-11987 for the certified kit.
---

Does this bulb light in strobe mode on it's own? Or does it require a supplementary strobe drive module?
This bulb works as both constant on or as a strobe on it's own. It does not require a strobe module. Simply turn it on once and it is constant on. Turn it on twice and it will strobe.
---

7.5W-A-1512