1-877-4SPRUCE
1-877-477-7823
Other Customers
Have Also Viewed:
WHELEN ORION™ 650 SERIES LED LIGHTING
See Below for Parts, Pricing, and Ordering





Enter the quantity desired of each item in the Buy column.



Model Num.
Description
Approvals
Whelen #
Part Number
Price
Buy
Sub-Total
OR6501G
Wingtip PTA Green, 12V
FAA TSO-C96a Class III/TSO-C30c Type II
01-0790725-01
11-11966
$449.00
OR6501R
Wingtip PTA Red, 12V
FAA TSO-C96a Class III/TSO-C30c Type I
01-0790725-02
11-11967
$449.00
OR6502G
Wingtip PTA Green, 28V
FAA TSO-C96a Class III/TSO-C30c Type II
01-0790725-11
11-11968
$449.00
OR6502R
Wingtip PTA Red, 28V
FAA TSO-C96a Class III/TSO-C30c Type I
01-0790725-12
11-11969
$449.00

Current Total
Click Add to Cart to add them to your shopping cart
or Add to Wishlist to store them for ordering later.
Whelen Engineering is proud to introduce the ORION650 Series of FAA/TSO approved LED aviation lighting. Incorporating the latest state-of-the-art LED Technology available in an all-inclusive package, the ORION650 series eliminates the need for external flasher boxes. Flush mountable for a wide variety of applications with minimal integration and easily retrofit-able to the Whelen legacy strobe products. The ORION650 series is quite simply the brightest form of LED Anti-collision and Position lighting available.

ORION™ 650 Position/Anti-Collision Light-head:
All LED self-contained wingtip mounted Position/Anti-Collision system. Eliminates the need for external power supplies and reduces current draw and provides thousands of hours of operation.
Fully FAA/TSO-C96a & TSO-C30c Approved
FAR SPEC Certified
STC SA800EA
Replaceable hard coated polycarbonate lens to maintain maximum light output
Aerodynamic design without sacrificing light output
Exceeds FAA minimum intensity requirements for maximum visibility and increased safety of flight
Environmentally tested and certified to RTCA/D0-160G standards
Drawing Number: 90725
Weight: .26lbs (118gm)
Current Draw(12v/28v): 0.30/0.15 Amps Positions, 0.70/0.35 Amps Avg. ACL
Position LED Colors: Red (left) and Green (right)
Anti-Collisions LED Color: Aviation White
Lenses: Clear Hardcoated Polycarbonate
Dimensions H x W x L: See dimension drawing above.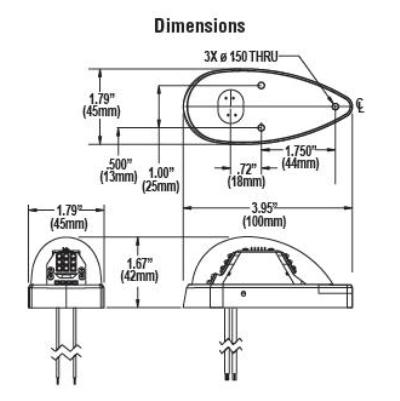 | | |
| --- | --- |
| | Bought the Whelen Orion 650 for added safety for my Mooney M20C. They are very easy to install and is one up grade I am so glad I did. Going at 165 mph is nice to know other planes out there see you. The Mooney just looks more complete in the air. I really do have a better feel about safety now. and I really like the looks of them, To me well worth the money. |
| | |
| --- | --- |
| | I installed the Orion 650 on my 1962 Mooney M20C and really love how they work and the brightness is excellent and I feel extra safe now flying as I know I am seen in the air. They were very easy to install and I feel the safety by having them on my Mooney out weights the price of buying them. I total feel it was a great safety feature added to my plane. |



Im buying these lights so you guys that are doing 165 dont run me over... HAHAHAHA REMEMBER WE DONT ALL HAVE TRANSPONDERS SO YOUR ADSB ISNT GOING TO HELP YOU...... KEEP YOUR EYES OUT OF THE COCKPIT... IF YA HIT ME MY WIFE IS REALLY!
GOING TO BE PISSED...
| | |
| --- | --- |
| | The Orion 650 wing tip lights are wonderful, but installation wasnt easy. It took me working with an AP/IA to complete the installation. Pulling the new wing tip wires took us half a day. The left wing of my 65 Mooney was the worst, because there were already 3 wires (stall warning, pitot heat and tip light) and two new wires for strobe and sync made things tight to pull. My AP/IA let me do some of the install and he inspected it all. He filled out a Form 337 and signed off the log book. I paid him for a day of his time. Whelen factory service helped me with the proper wire size, and I put in a new Klixon switch/breaker to operate the strobes only. The strobes are BRIGHT and taxiing is easy with no other planes on the ground to blind. The LED strobes light up the edges of the taxiway. Even the LED posi! tion lights are brighter than the old bulbs. |
| | |
| --- | --- |
| | I replaced my Whelen A650 strobes and position lights with the Orion 650 on my C182M, thinking that the footprint for mounting the lights would be identical – unfortunately it was not even close since there are many variations of wing-tips for Cessnas. Whelen support was no help and had no suggestions for making the lights fit. My mechanic researched the problem and found Aveoflash fairings which solved the mounting problem perfectly strange that a competitor has to solve Whelens problems. I am happy with the lights and the wiring was simple. |
| | |
| --- | --- |
| | Easy to install and fits into standard light head footprint. |
| | |
| --- | --- |
| | Easy to install. Fit in same foot print as a standard Whelen lighthead. |


Can you control the strobe separate from the position lights?
You can. Per the installation manual, there are 4 wires; you can wire the Flashing and Position lights to separate switches. The other 2 wires are ground.
---

I have 2 wires going to the nav lights on my cessna-172m. Can I wire the strobe and nav together and use the existing navswitch to run both nav and strobe continuously so I don't have to run 2 more wires and another switch? aircraft is VFR only. Thank You. RE: Orion 650
Per the supplier: I would not recommend this setup but it can be used that way. It is recommended that they use two separate power wires so they can operate the functions independently.
---

Are these legal for installation on a certified aircraft?
Yes, the Whelen Orion 650 series is FAA TSO approved for installation in certified aircraft.
---

Does the Orion 650 require a tail position light?
Per Whelen, the Orion 650 does not require the aircraft to have a tail light, but can if they choose. The unit has LED's on the back half of the unit to provide 180 degrees of strobe when mounted on the wing tip.
---

Does Whelen FAA Approval for installing the ORION 650 series on Certified Aircraft?
Yes, the Whelen Orion 650 series is FAA TSO approved for installation in certified aircraft.
---

Does the Whelen Orion 650 Series Lighting have a Rear Position White Light separate from the strobe for use on aircraft that have no rear position light mounted on the tail?
No, this light does not have the rear position light. Take a look at P/N# 11-11365 or in other words the Orion 600 Series. This light would have the rear position light.
---

I currently have nav/whelen strobe wingtip lights on my 206. Can I use the wires from the strobe (after removing the power supply) for the strobe on the Orion 650 and the wires for the nav for the nav? In other words, will I have to run new wires?
You can use the existing wiring, the Orions just bypass the strobe power supply. No need to run new wiring.
---

Are the Orion 650 series wingtip lights shielded and is there enough wire supplied to run the length of a wing or do I need to purchase wire separately
Shielded wire is not included and must be ordered separately.
---

Can you program the Whelen Orion 650 strobes or do they just flash on / off?
On / Off only.
---

Do the Whelen Orion 650 series LED lights fit the same as the Whelen A650-PG-PR? Any modifications needed other than wiring to fit as a replacement - screw locations the same?
Yes, the Whelen Orion 650 series LED lighting replaces the A650 lights. The screw locations and mounting dimensions are the exact same. These LEDs do not require a power supply whereas the old A650s did, so you can remove that from the aircraft and connect the new lights directly to ship's power.
---

What is the difference between the Whelen Orion 650 and the 600 series? Also does the 650 have a rear position light?
The Orion 600 series has a rear position light built into it. The footprint is also different. The Orion 650 is designed to replace our legacy A650 products while the Orion 600 is designed to replace the A600 Series assemblies.
---

Can you tell me the base dimensions of the Whelen Orion 650 series lighting?
The drawing is available on our website. If you waive your mouse over the second photo, it will bring up the dimensional drawing for reference.
---

Does the Whelen Orion 650 LED series require a power supply to operate?
No, you can bypass the power supply. It is not required for installation.
---

Can installing these Whelen Orion 650 series LED lights in a certified aircraft be considered a minor modification?
Per Whelen: The 650 Orion series LEDs are TSO approved and also STC'd. If you are trying to install them via a minor alteration they can try and utilize AC 20-41A.
---

Do I need to use shielded wires with the Whelen 650 lighting?
No. Shielded wire is not necessary for the Orion product line.
---

What is the type & gauge of wire required for the 12V Whelen Orion 650 nav/strobe system?
You can utilize 18 gauge, 4 conductor aviation grade wire for these assemblies.
---

Will this Whelen Orion 650 series fit a Piper PA18?
Yes. It will fit. If the wingtip needs to be modified or not would depend onwhat is currently installed on the aircraft.
---

01-0790725-01 01-0790725-02 01-0790725-11 01-0790725-12