1-877-4SPRUCE
1-877-477-7823
Other Customers
Have Also Viewed:
PILOT GUIDE NYLON CASES
Make Selection(s) Below To Order





Here's the perfect way to keep all your important flying aids together in one place: charts, plotter, pens, pencils, notes, and of course - Pilots Guide protected in a durable nylon binder with a zipper closure all the way around.
The handsome new Deluxe Zipper Binder zips closed to keep your Pilots Guide pages safe and clean. A handy pull strap makes it easy to grasp the zipper and quickly zip the binder open or closed. Colored pull-straps are available to help identiy which Pilots Guide is inside: blue for California, green for Northwest or orange for Southwest.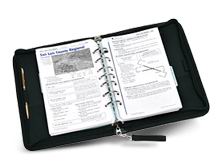 The attractive and durable ballistic nylon cover features the familiar PILOTS GUIDE logo embroidered in white on the front cover and spine. Its textured surface will help prevent your Guide from sliding off your lap while in flight.
With a generous pocket on the outside back cover that holds up to four charts, the Zipper Binder neatly contains all of your VFR airport and route information in one secure package. There are also two pen sleeves and pockets for notes or other papers on the inside. A rugged 7-ring metal holds pages tight and prevents hole tear-outs. Pilot Guides are available in 5 colors: Black, Navy Blue, Orange, Green and Royal Blue!

Note: These are nylon cases for pilot guides. Pilot Guides not included.

BLACK-ZB ORANGE-ZB GREEN-ZB NAVY BLUE-ZB ROYAL BLUE-ZB