1-877-4-SPRUCE | info@aircraftspruce.com
Aircraft Spruce & Specialty Co.
Corona, CA | Chicago, IL
Wasilla, AK | Peachtree City, GA
Brantford, ON Canada
FREE SHIPPING ON ORDERS OVER $350 (USA ONLY - SOME EXCLUSIONS APPLY) | 877-4-SPRUCE
BAD ELF GPS PRO PLUS
$249.99/Each
Add to cart for current price
Part# 13-15933
MFR Model# BE-GPS-2300
Overview
The Bad Elf Pro Plus is a Bluetooth GPS + Glonass Receiver and Data-logger with Barometric Sensor, USB File System Support, and Streaming NMEA GPS Output.

The original Bad Elf GPS Pro received rave reviews from the most demanding customers in military, commercial, and private aviation. The new Bad Elf GPS Pro+ adds GLONASS satellite capability, USB file system access to data logs, and a barometric sensor for altitude. This GPS receiver, with 24 hour battery life and the capacity to log a full week on the road, just got better.
Compatibility
Instantly add GPS location support for your supported Android, iOS, or Windows devices via Bluetooth. Connect up to three devices at once.
View GPS + GLONASS status quickly with the back-lit LCD.
All day battery life allows you to track for up to 35 hours.
Log up to 66 hours of trip position data directly on your Bad Elf GPS Pro+.
Access your data logs directly from any PC or Mac using the included USB cable. GPS appears just like a USB thumb drive.
USB connectivity to PC or Mac provides streaming NMEA GPS data.
Obtain altitude from GPS and from the built-in barometer.
High performance 66 channel GPS + GLONASS receiver provides latitude, longitude, altitude, speed, and GPS track.
Accurate to 2.5m (9 ft) up to 60,000 ft and 1000 mph.
Quickly acquires satellite lock without cell tower assistance. Hot start time as quick as 2 seconds.
No internet connection or monthly subscription required.
IPX4 water resistance makes this device ready for outdoors.
Specifications
App Support
The Bad GPS Pro+ meets all requirements under Apple's MFi program, and works great with any location-based app in the App Store. To simplify your search for great apps, we've categorized many apps that we know work well with the Bad Elf GPS Pro+ by your favorite activities.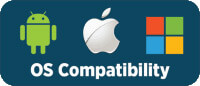 The GPS Pro+ works out of the box with all location services aware iOS apps. Apps that integrate the Bad Elf SDK can access the advanced features available for complete integration into your app on any platform. Bad Elf has begun working with several developers to support the GPS Pro+ directly. If you have an app and would like to support the GPS Pro+, please visit our developer SDK page.


Affordable and Simple to Use
At Bad Elf, we strive to create high quality, dependable products consistent with Apple's philosophy of "It just works!" Just turn on your Bad Elf GNSS Receiver and get to work. No complicated setup. Extra long battery life. No hassles.
In The Box
BE-GPS-2300 GPS Pro+ device
3ft (90cm) Mini-USB cable for charging
12-24V DC vehicle USB charger
Detachable Neck Lanyard
GPS Pro+ User Manual
Customers Also Viewed
Frequently Purchased With
Related Items
Q&A
Q: What is the difference between the Bad Elf pro and Bad Elf pro+?
The Bad Elf pro+ adds advanced features including GLONASS satellite reception for faster lock times, a barometric altimeter, USB connectivity, and over 200 hours of GPS log storage.
Q: Can the Bad Elf Pro+ Bluetooth GPS and GLONASS Receiver be used with iPhone 6 Plus?
Yes, this is compatible with the iPhone 6 Plus running iOS.
Q: Is it possible to have more than three devices connected to the Bad Elf pro + simultaneously?
Per the manufacturer, this will connect up to three devices max at once.