1-877-4SPRUCE
1-877-477-7823
AIRCRAFT SPRUCE WEST SUPER SALE
SEPTEMBER 29, 2018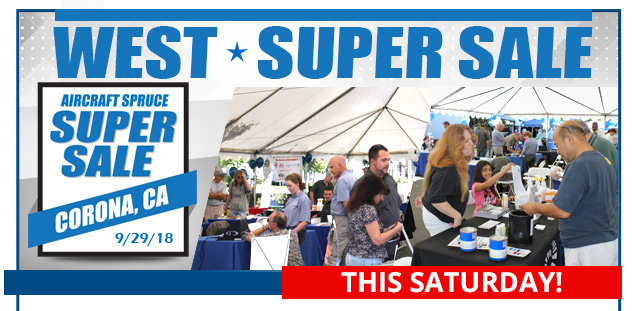 GENERAL INFORMATION

Date:
September 29, 2018
Times:
7am to 3pm PST
Locations:
Corona, CA

RAFFLE PRIZES

RAFFLE
TICKETS FOR THE YOUNG EAGLES

All proceeds from the raffle tickets will benefit EAA's Young Eagles Program

STATIC DISPLAY




UPS CNG TRUCK
CNG (Compressed Natural Gas) truck
UPS MODEL A
Model A truck

FRESH DONUTS
& HOT COFFEE



Free Fresh Donuts & Hot Coffee

Aircraft Spruce WEST
Super Sale 2018

This is the time of year when we go all out by offering spectacular discounts on our most popular products and provide a chance for our loyal customers to meet our vendors.

So come join the fun and get a chance to win big raffle prizes.

SOUTHERN
SMOKIN' COOKOUT

Enjoy a free lunch & soda on us!

FREE OIL FILTER


Individual purchases only. Does not apply to
dealer purchases. While supplies last

HELP US SPREAD
THE WORD

Post it, Print it, Pass it on!


Click the flyer image above to download it (PDF)

SEMINARS




| | | |
| --- | --- | --- |
| Time | Title | Speaker |
| 9 am | MSA Float Carburetors & RSA Fuel Injection Systems | Alan Jesmer |
| 10 am | | |
| 11 am | Getting Optimal Performance on your Aircraft Brakes. | Chelsey Hickey |
| 1 pm | Partables & ADSB Solutions | Mike Young |





Now gain the skills, techniques, and, most importantly, the confidence to take you all the way to that first fabulous flight in your own homebuilt or restored aircraft.



Please register with EAA Sportair Workshop before attending the workshop by clicking here.

EAA Workshop Courses In Corona, CA
September 29-30 @ 8:00 AM

Sheet Metal

This course is recommended for anyone building a sheet metal kit aircraft such as an RV, Murphy, Zenith, Sonex, etc.


Composite Construction

The course concentrates largely on epoxies
and their use in aircraft projects.


Fabric Covering

It is an intensive 2 day course on general fabric covering techniques using the Poly Fiber covering process.

These promotions are valid on orders placed in our California Will Call store during our event on September 29, 2018.

FREE 2018-2019 CATALOG

1100+ page Aircraft Spruce
full color parts catalog

AIRCRAFT SPRUCE T-SHIRT

Free Aircraft Spruce T-shirt with
an order of $100+ or more!

(while supplies last, one per customer, one promo item & excludes MRP items)

AIRCRAFT SPRUCE BAG

Free Aircraft Spruce bag!
(while supplies last)

AEROLEDS

Save 10% off all AeroLEDs products

ALS

Save 15% off al ALS products

AVMAP - SATELLITE NAVIGATION

EKP V + Docking + Ultra EFIS +
EngiBOX $550 Discount
EKP V + Docking + A2 ADAHRS +
EngiBOX $450 Discount
EKP V + Docking + Ultra
EFIS $450 Discount
KP V + Docking + A2
ADAHRS $350 Discount
EKP V + Docking station $300 Discount
Ultra EFIS + EngiBOX $300 Discount
EKP V $300 Discount
Ultra EFIS $120 Discount
EngiBOX $120 Discount

DYNAVIBE
INSTANT REBATE

DynaVibe Classic $100 Discount

DynaVibe GX3 $200 Discount


EI MAIL-IN REBATE

CGR-30P Basic Mail-in Rebate $1000

CGR-30 Combo Mail-in Rebate $1000

MVP-50 Mail-in Rebate $1000

FP-5L Mail-in Rebate $100

P-300M Magnetic Float Sensor Mail-in Rebate $50

WIN A SureSTART IGNITION BOOSTER FROM CHAMPION

Win a SureSTART Ignition Booster at this event! Enter into a drawing with the purchase of any Champion product.

*Bring your Spruce receipt to the Champion booth for entry* With every entry Champion will donate $1 to Young Eagles.

ICOM MAIL-IN REBATES

A14 - SAVE $20
A25N - SAVE $50
A220 - SAVE $100

MICHELIN
AIRCRAFT TIRE

$20 on Michelin Air (tires only)
Free Tube With Purchase of Pilot Tire

FREE TEMPEST OIL FILTER

Each case of oil purchased you will receive a free Tempest oil filter

H3R PRODUCTS

10% off all H3R Aviation Fire Extinguishers.

GARMIN REBATES

Aera 796 Rebate $100
Aera 660 Rebate $50
GDL 39 Rebate $50
Virb Ultra 30 Rebate $50
D2 Charlie Pilot Watch Rebate $50

VAMPIRE
TOOLS 15% OFF

Vampliers® Long-Nose 7.5 Inch
Screw Extraction Pliers
Vampliers® Recessed Screw
Extractor with 2-In-1 Bit Set