1-877-4-SPRUCE | info@aircraftspruce.com
Aircraft Spruce & Specialty Co.
Corona, CA | Chicago, IL
Wasilla, AK | Peachtree City, GA
Brantford, ON Canada
THE AVIATION SUPERSTORE FOR ALL YOUR AIRCRAFT & PILOT NEEDS | 877-4-SPRUCE
DAVID CLARK DC PRO-X2 ANR HEADSET - DUAL GA PLUG - WITH BLUETOOTH
Part# 11-17247
MFR Model# 43105G-01
Overview
The DC PRO-X2 Series is a next generation version of the popular DC PRO-X Series headset line introduced by David Clark Company in 2012. The DC PRO-X2 Series is ideal for both general aviation (private) and commercial aviation (airline, corporate and transport) pilots that prefer the superior comfort, dramatically reduced clamping pressure and lightweight design (under 8 ounces) of a 'rest-on-ear' style headset.

DC PRO-X2 Series headsets also retain all of the features of the original DC PRO-X Series.
Features
Automatic Gain Control (AGC) for optimum ANR performance in high noise conditions
Enhanced Auto Shutoff that virtually eliminates accidental loss of battery power
Slim profile, oblong-shaped dome that provides greater rest-on-ear headset stability
Specifications
DC PRO-X2 Models, Hybrid Electronic Noise Cancelling ANR Technology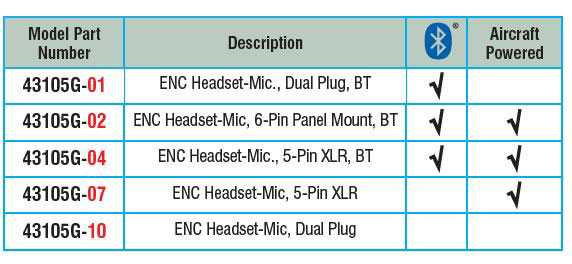 Benefits
Sleek, lightweight, supra-aural, rest-on-ear design
Hybrid ENC technology for best-in-class active noise reduction and audio performance
Advanced, noise-cancelling electric microphone for clear, crisp voice transmission
Soft, Outlast® technology, heat-absorbing head pad to help keep pilots cool and comfortable in flight.
Currently the only aviation headset available that incorporates this technology.
Plush, leatherette ear seals with memory foam for added comfort
Bluetooth wireless technology for seamless pairing with cell phones, tablets and music devices
Lightweight, compact, multi-function control module with mounting clip for attaching to apparel or any convenient location within the cockpit
Swivel hinge stirrup design reduces clamping pressure and fully adjustable headband assembly ensure a personal fit
Rugged, yet lightweight alloy suspension for outstanding durability
Collapsible, compact design for storage in its David Clark, soft-sided headset bag – leaving more room in pilot's flight bag
FAA TSO-C139a Approved
5-Year Warranty and 30-Day Money Back Guarantee
In The Box
1- DC PRO-X2 Series Headset
1- Compact, Multi-function Control Module with Mounting Clip
2- AA Batteries (up to 50 hours continuous use)
1- David Clark Headset Bag
1- Quick Reference Guide (User Manual)
1- Warranty/Customer Service Information
Customers Also Viewed
Frequently Purchased With
Related Items
Reviews
I use this headset in a cessna with a climb prop, which gets noisy. The headset performs well with noise cancellation and being able to make phone calls with the built-in bluetooth is simply amazing! My previous headset, a Bose QC35 with UFlyMike was great in quieter machines such as the Embraer jet but couldnt keep up with the noisy cessna prop!
Mike
September 8, 2020
Really Excellent Headset Lightweight Soft comfort Non Bulky Has Bluetooth I saw online that KC-10 pilots use it! Star liner astronauts suits are made by David Clark Corporation!
Capt. K
May 30, 2020
Headset ANR works great! I would like more padding on the head band itself and a shirt clip. The shirt clip keeps it from pulling down from the weight of the cord. I'll just take the one off my old headset.
Ed
October 15, 2019
Q&A
Please note, Aircraft Spruce's personnel are not certified aircraft mechanics and can only provide general support and ideas, which should not be relied upon or implemented in lieu of consulting an A&P or other qualified technician. Aircraft Spruce assumes no responsibility or liability for any issue or problem which may arise from any repair, modification or other work done from this knowledge base. Any product eligibility information provided here is based on general application guides and we recommend always referring to your specific aircraft parts manual, the parts manufacturer or consulting with a qualified mechanic.
Q: Is this designed for use in piston aircraft?
There is no specific aircraft list. Depending on how loud the aircraft is, an "over ear" style like the David Clark One-X may provide more noise reduction, however, some piston pilots still prefer the comfort and feel of the Pro X2.