1-877-4SPRUCE
1-877-477-7823
Other Customers
Have Also Viewed:
AVEO EYEBEAM TOUCH™
Make Selection(s) Below To Order





LED swivel light with TOUCH sensing control.
The incredible Aveo EyeBeam Touch™ capacitive sensing controlled cockpit and cabin lights feature a swiveling enclosure to direct light where you need it simply and quickly. With one light finger touch you can control power, select white LED or red LED or slide the brightness scale to adjust intensity easily with no mechanical switches to fail and no bulbs to burn out.

Cockpit and cabin lighting, especially on aircraft, helicopters, boats, recreational vehicles and trucks are plagued by problems from vibration.... the EyeBeam overcomes this with a vibration-proof product that has the exclusive Aveo limited lifetime warranty.

The advantages of capacitive sense technology now used in many smart phones and other electronic devices are clear:


Eliminates ugly and worn-down mechanical buttons and sliders.

LEDs replacing bulbs means extremely low electrical load.

Resistant to environmental factors: water, temperature, humidity.

Select from 3 colors of faceplates: BLACK / WHITE / SILVER, or buy the different faceplates individually.

For Experimental Use Only
Power supply: 9-32 Volts
Current consumption: 110 mA @ 12 Volts
Capacitive Sensing Interface with LED backlighting
9 Incremental steps capacitive sensing slide bar for brightness adjust
1 x Red LEDs
1 x White LEDs
Swiveling Beam
2024 Anodized Aluminum Construction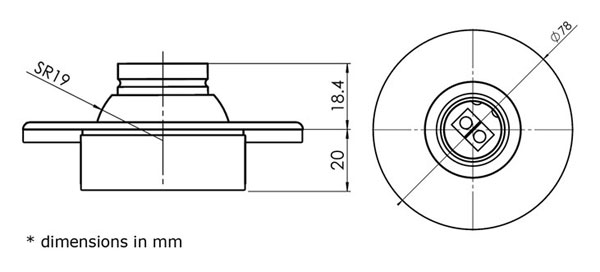 | | |
| --- | --- |
| | Awesome. A great addition to any aircraft interior. |
| | |
| --- | --- |
| | Light is well made, but attachment method failed. Attachment is made by screwing a threaded nylon ring onto back of light housing (threaded). After installation in coackpit and sitting in hangar for 4 months (plane under construction / not moving) threaded nylon ring has failed to maintain security. Ring can be pushed onto housing with NO threads engaging. I will have to glue this light to the panel I have if I want to install it. |
| | |
| --- | --- |
| | Have used the light maybe a dozen times over the course of 3 years and it wont come on anymore. For such an expensive product I would expect it to be more durable. |
| | |
| --- | --- |
| | Fairly happy (not flying yet) with this. Model has been improved so that it turns on in the color it was last turned off with. I have a feeling Im going to wish it dimmed a little more, though. |


Are these lights (11-07864, 11-07865, 11-07866) a certified TSO'd products?
No, these are not TSO'd.
---

It looks like the dimension for the hole cut is approx 1.7 inches. What is the dimension for the light and exterior donut which looks to be approx 3 inches?
The total diameter of the light + exterior donut is 78 mm, which is 3.071 inches. For additional dimensional reference, please see the "Dimensions" tab and the "Mounting Instructions" link found in the "Overview" tab.
---

Do these lights have any type of warranty? (11-07864, 11-07865, 11-07866)
Yes, they come with a 3 year warranty from the manufacturer.
---

How do they install?
We have added the Installation Manual and the Wiring Diagram to the "Documents" tab of this web page for your review.
---

AVE-EBCPW-00X AVE-EBCPB-00X AVE-EBCPS-00X
Enter the quantity desired of each item in the Buy column.
| | | | | |
| --- | --- | --- | --- | --- |
| | Accessories | Part Number | Price | Buy |
| | REPLACEMENT FACEPLATE - WHITE | 11-07867 | $8.50 | |
| | REPLACEMENT FACEPLATE - BLACK | 11-07868 | $8.50 | |
| | REPLACEMENT FACEPLATE - SILVER | 11-07869 | $8.50 | |
| | ADHESIVE TO ATTACH REPLACEMENT FACEPLATES | 11-08129 | $5.00 | |