1-877-4-SPRUCE | info@aircraftspruce.com
Aircraft Spruce & Specialty Co.
Corona, CA | Chicago, IL
Wasilla, AK | Peachtree City, GA
Brantford, ON Canada
THE AVIATION SUPERSTORE FOR ALL YOUR AIRCRAFT & PILOT NEEDS | 877-4-SPRUCE
AIRCRAFT WING TIP NAV STROBE LIGHT 40 WATT - RED
Part# 11-14933
MFR Model# BAY15SRCS-40W-A
Overview
These bulbs are standard parts and have been designed to meet the requirements of TSO-C30c.
Note: For Experimental aircraft use only. Not FAA/PMA Approved

Emitter Type: Red Cree LEDís

Turn on first: Constant lighting / Turn on second time <3s: Fast Strobe. Switch between modes in fog/cloud etc.
Note: This product must be used in conjunction with Aircraft Wingtip Navigation Light Clear Lens Cover ( Sextant A-1233A-1) to be compliant.
Specifications
Power: 40W Equivalent
Color BIN: Aviation Red (620-630nm)
Rated Voltage: 10-30VDC
Draws <460ma @ 14.2VDC
Luminous Flux: 234LM/18.9cdl (-10 degrees), 720LM/81.6cdl (90 degrees)
2 modes: constant & fast strobe
Base Type: BAY15s = Single contact and offset pin. (A-1512)
Application: Wingtip Navigation Light replacement.
Contains 1 light bulb per pack
Dimensions: 2.0 in x 0.7 in (52 mm x 1.8 cm)
Weight: 0.32 oz (9 g)
Drawing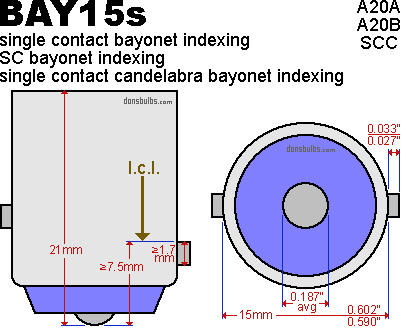 Customers Also Viewed
Frequently Purchased With