1-877-4-SPRUCE | info@aircraftspruce.com
Aircraft Spruce & Specialty Co.
Corona, CA | Chicago, IL
Wasilla, AK | Peachtree City, GA
Brantford, ON Canada
EVERYTHING FOR PLANES AND PILOTS SINCE 1965 | 877-4-SPRUCE
CULP SPECIAL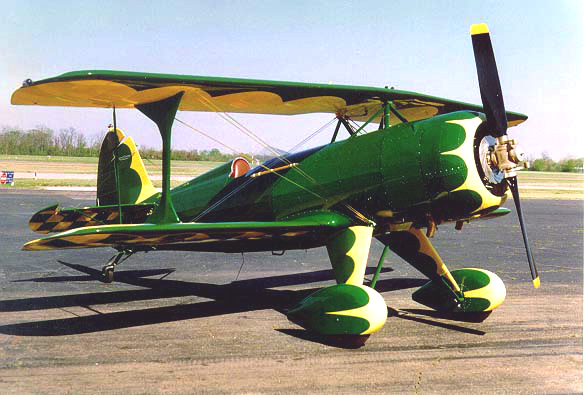 Everything about the Culp Special was meant to bring about that 1930ís airshow airplane feeling. Working with Hale Wallace of Steen Aerolab, Steve Culp redesigned the Skybolt and developed the modifications necessary for this round engine aircraft. The Culp Special is a fully aerobatic bi-plane using a 360 hp 9-cylinder Russian M-14P radial engine, the same engine used in the Sukhoi and Yak series aircraft. The aircraft is built using tube, wood and fabric construction materials. The two seat aircraft has an empty weight of 1480 lbs., a cruise speed of 150 mph and range of 600 sm. We are a major supplier of materials for the Culp Special.
---
Specifications:
Kit Price w/o Engine: ~$44,000
Plans Price: ~$280
Number of Seats: 2
Building Materials: N/A
Building Time: ~2500 HRS
Standard Engine: M14P-360
Horsepower: 360-400
Wing Span: 24 Ft.
Wing Area: 161 Sq. Ft.
Empty Weight: 1520 Lbs.
Gross Weight: 2300 Lbs.
Takeoff Distance: 300 Ft.
Landing Distance: 800 Ft.
Cruise Speed: 170 MPH
Top Speed: 240 MPH
Fuel Capacity: 50 Gal.
Range: 561 Miles
---