1-877-4SPRUCE
1-877-477-7823
HONEY BEE H-2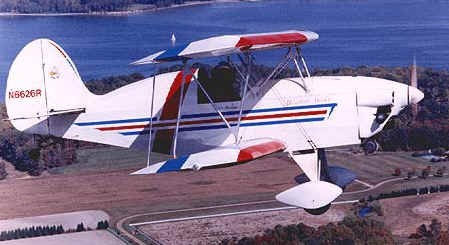 The H-2 Honey Bee is a lightweight aerobatic biplane first flown in 1986. With the H-2, designer Bert Howland introduced the technique of TIG-welding the fuselage from square 6061-T6 aluminum tubing, yielding a strong and rugged fuselage frame that weighs only 24 pounds. The airfoil on the 4 equal span wings is 6-1/2" thick and features 7 aluminum-capped foam ribs per panel with a D-cell leading edge spar and a C-section rear spar. Design load factor is +8g to -6g. Two or four aileron options are offered in the plans. With the 4 aileron option, an engine of at least 65 hp, and an inverted fuel system, the H-2 is suitable for competition aerobatics up to the IAC intermediate level. The aircraft has been powered with engines from 40 to 95 hp. Homebuilder plans cost $250 and consist of 40 engineering drawings and designer construction notes.
---
Specifications:
Kit Price w/o Engine: N/A
Plans Price: ~$250
Number fo Seats: 1
Building Materials: A,F,FG
Building Time: ~900 HRS
Standard Engine: HIRTH 2706/65 HP
Horsepower: 40-95 HP
Wing Span: 19 Ft.
Wing Area: 140 Sq. Ft.
Empty Weight: 495 Lbs.
Gross Weight: 725 Lbs.
Takeoff Distance: 200 Ft.
Landing Distance: 275 Ft.
Cruise Speed: 68 MPH
Top Speed: 80 MPH
Fuel Capacity: 12 Gal.
Range: 120 Miles
---