1-877-4SPRUCE
1-877-477-7823
POBER (CORBEN) JUNIOR ACE
TWO-PLACE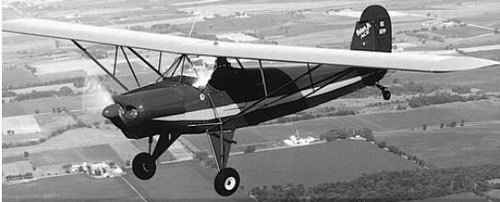 This is the famous aircraft that launched an industry as well as the Experimental Aircraft Association when plans for it were published in Popular Mechanics in the early 50's. It is lightweight, easy to build, fun to fly and requires minimal maintenance. It has been modified from the original Corben Baby Ace so that it can utilize aircraft engines. The fuselage has also been widened, the horizontal stabilizer was modified for easier construction and modern aircraft wheels and brakes are now called for. With nearly a 34' wingspan and Clark Y airfoil, the Pober Junior Ace, designed by EAA founding president Paul Poberezny, is docile in stall and landing patterns. Airframe is 4130 steel tubing, wings are all wood and the recommended powerplant is a Continental C-85. Empty weight of the Junior Ace is 750 pounds and gross capacity is 1,320 pounds.


---
Specifications:
Kit Price w/o Engine: 8500.00
Plans Price: ~$135
Number of Seats: 2
Building Materials: T,W,F
Building Time: ~1500 HRS
Standard Engine: CONT /85 HP
Horsepower: 85-125 HP
Wing Span: 34 Ft.
Wing Area: 168 Sq. Ft.
Empty Weight: 750 Lbs.
Gross Weight: 1320 Lbs.
Takeoff Distance: 350 Ft.
Landing Distance: 450 Ft.
Cruise Speed: 80 MPH
Top Speed: 130 MPH
Fuel Capacity: 24 Gal.
Range: 250 Miles
---
Free brochure available from Acro Sport.
Plans can be ordered from Acro Sport, Inc., Box 462, Hales
Corners, WI 53130. Order your Junior Ace materials kits form Aircraft
Spruce, the approved materials supplier. Free kit list.