Ron Alexander was born in 1942 in Bloomington, Indiana. At the age of 14, he took his first airplane ride in a miltary C-119 as a member of the Civil Air Patrol. Shortly after that flight he began flying with other CAP members in a PA.-18. When Ron was 16 years old, he soloed an Aeronca Champ. Ron worked at the Bloomington, Indiana airport during high school and obtained his private license at age 17. He entered Indiana University in 1960 while working for a fixed base operator to obtain his commercial license. Ron enrolled in the Air Force ROTC program and was accepted into the flight training program. He graduated from Indiana University as a Distinguished Military Graduate in the ROTC program. Ron used the allotted flying time for ROTC students to obtain his instructor's rating.

Ron began instructing in light aircraft in 1962 and did so for 2 years. During that same period of time, he flew as co-pilot on a C-45 and a DC-3 for Indiana University. After graduating from Indiana University School of Business in 1964, he entered the United States Air Force as a 2nd Lieutenant. He received his primary flight school training at Reese Air Force Base in Lubbock, Texas. After graduation from flight school Ron was assigned to the Military Air Transport Service flying C-130E aircraft to virtually every continent in the world. In November, 1966, Ron was assigned to South Viet Nam to fly the C-7 Caribou supporting the Marine Corps and the Army Special Forces. He was based in Danang located in the I Corps area of Viet Nam. For most of his flying time, he flew in the area around the Demilitarized Zone (DMZ) in support of Army Special Forces units and the Marine Corps. The missions were varied and included medevac, resupply, and troop transport. He flew for a total of 12 months in Viet Nam. Two of those months, he instructed new arrivals on procedures used while flying within South Viet Nam. During the 1 year of service in Viet Nam, the Air Force awarded Ron the Distinguished Flying Cross and 2 Air Medals. He then returned to the United States in November, 1967 to Sewart AFB, Tennessee to instruct in the C-7. Ron held the rank of Captain prior to his honorable discharge from the Air Force in 1969.

During his tour of duty in Tennessee, Ron obtained his glider rating in sailplanes. In June, 1969, Delta Air Lines hired him as a pilot. He moved to Chicago, Illinois to fly the Convair 880 and the DC-9. During his stay in Chicago he purchased his first airplane -a J-3 Cub that he still owns today. In 1974, Ron moved to Griffin, Georgia to live on a community airstrip. He then began flying out of Delta's Atlanta base on the DC-9.

During 1976, Ron began restoring antique airplanes. He has restored a Taylorcraft, J-3 Cub, and 2 Stearmans. In 1978, he completed the rebuild of a PT17 Stearman that won best PT at the annual Galesburg, Illinois National Stearman Fly-In.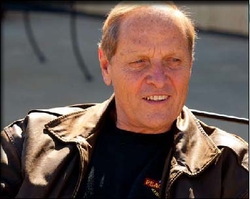 Ron's airline career continued with his flying the DC-9, Boeing 727, and Lockheed 1011 as a co-pilot. In 1983 Ron became a Captain on the DC-9. In 1986, he became a flight instructor and check pilot on the Boeing 737. He remained in that position for 6 years and then started flying Captain on the Boeing 767. During the period of time from 1999 through 2004 Ron served as Chief Pilot on the Delta Air Lines DC-3. This DC-3 was restored by Delta and flown throughout the country. Ron flew it on a number of trips in addition to training other pilots. He retired from Delta in 2002 with 34 years of service.

Ron continues to remain active with light airplanes. He owns a J-3, a C-3B Stearman, a DC-3, a Waco YMF-5, and a Stearman Cloudboy 6L. He has flown over 24,000 hours.

Ron founded Alexander Aeroplane Company in 1979. This company became a major supplier of materials to aircraft builders and restorers. In 1992, Ron developed a series of "hands-on" workshop programs designed to instruct people in aircraft building and restoration skills. Ron held the first workshop in January, 1993, naming it the SportAir Workshops. He operated the company until January, 1996 when Aircraft Spruce and Specialty, a California based company, purchased it.

In 1992, Ron purchased a DC-3 that he restored with the help of employees from Alexander Aeroplane Company. This airplane has been used for promotional purposes for many years and remains active today.

In 1992, Ron purchased Stits Poly-Fiber, Inc. a company that manufactures the Poly-Fiber covering process. He was President of that company for many years with its headquarters located in Riverside, California. Ron sold his share in this company in 2002.

During 1999, Ron sold the nationally known SportAir Workshop business to the EAA. The EAA named Ron as the Director of the program for a 3 year transition period. Ron spent several years working with EAA to further develop the educational aspects of sport aviation. The program remains in operation today as the EAA/SportAir Workshop Program. Thousands of people have been trained in various aircraft related building skills throughout the years. The workshop program has been presented throughout the United States.

From 2001 through 2005 Ron was a regular contributor to Sport Aviation magazine writing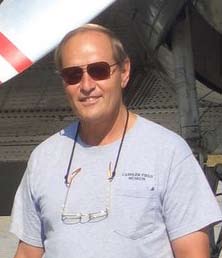 technical articles for amateur aircraft builders and antique restorers. Ron also published a book on spray painting that is sold through the EAA. He also has written articles for Kitplane Magazine.

In 2003, Ron started Atlanta Aerospace Composites. The company began by doing composite repair work on general aviation aircraft. Since its beginning, the company has expanded into other areas. In June, 2004, Atlanta Aerospace Composites received a FAR Part 145 repair station certificate. The company then began to work with MESA Airlines doing repair work on the ERJ 145 fleet. By focusing on radome repair work for regional airlines and corporate aircraft, this company has expanded into a multimillion dollar entity. The company employs over 30 people.

During 2003, Ron purchased Accessory Overhaul Group a FAA Part 145 accessory overhaul facility specializing in overhaul of brakes, generators, wheels, etc. This company employs over 50 people with locations in Griffin, Georgia and Phoenix, Arizona. This company was sold in December, 2011.

March, 2004, Ron founded the CandlerFieldMuseum,a501c3organization. He centered the creation of the museum on the history of the old Atlanta, GA Airport that was originally named Candler Field. This museum is currently being expanded and developed at the Peach State Aerodrome located near Williamson, Georgia. This is a major museum project that will ultimately involve the construction of seven hangar buildings to replicate the ones that were located on Candler Field in the early 1930's. The first hangar, replicating the American Airways hangar, is now completed and museum aircraft and memorabilia are being display. The second hangar, a replica of the Doug Davis Hangar, is under construction. Ron is actively involved as the Director of this museum. He also serves on the Board of Directors of the Candler Field Flying Club, a club focusing on teaching young people how to fly.

Adjacent to the museum and Aerodrome is a 29 lot airpark development. Ron developed this airpark in the fall of 2006. Sale of the lots began in January, 2007. Ron is also co-owner of Barnstormer's Grill, a quality restaurant located at the Candler Field Museum. This business employs 25 people.

Ron is a regular speaker at numerous aviation related functions including AirVenture, Sun N Fun, numerous EAA Chapters and civic groups. He has been responsible for several Theater in the Woods programs and presentations at AirVenture. He actively flies a number of antique aircraft including the DC-3 that is regularly flown to aviation events. Ron is also a member of the Griffin Spalding County Airport Aviation Authority.