1-877-4-SPRUCE | info@aircraftspruce.com
Aircraft Spruce & Specialty Co.
Corona, CA | Chicago, IL
Wasilla, AK | Peachtree City, GA
Brantford, ON Canada
EVERYTHING FOR PLANES AND PILOTS SINCE 1965 | 877-4-SPRUCE
TUNDRA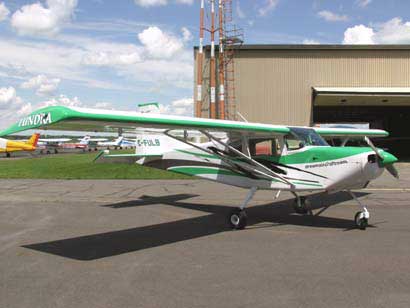 The TUNDRA is a four place kit plane with performance levels that put it easily in the STOL aircraft category (Short Takeoff and Landing) with a useful load comparable to bigger airplanes in the Cessna Skylane category. This airplane kit allows you to build an aircraft which will carry four adults, their luggage and enough fuel for a trip of several hours, even in floatplane configuration. This experimental aircraft is a true four place airplane.
With the looks and capabilities of a bush plane, the TUNDRA is offered in either a tail dragger or a tricycle gear configuration.


---
Specifications:
Kit Price w/o Engine: ~$52,766
Plans Price: N/A
Number of Seats: 4
Building Materials: T,F
Building Time: ~1000 HRS
Standard Engine: LYC. 360/160 HP
Horsepower: 160-235
Wing Span: 36 Ft.
Wing Area: 183.6 Sq. Ft.
Empty Weight: 1450 Lbs.
Gross Weight: 2550 Lbs.
Takeoff Distance: 400 Ft.
Landing Distance: 400 Ft.
Cruise Speed: 140 MPH
Top Speed: 160 MPH
Fuel Capacity: 58 Gal.
Range: 673 Miles
---
For Further Information Contact:
Dream Aircraft Inc.
565 Maisonneuve, Granby , Quebec , Canada, J2G 3H5
Tel : 866 500 9929 # 28 , Fax : 450 372 8122
www.dreamaircraft.com