1-877-4SPRUCE
1-877-477-7823
CUSTOM MADE CABLE ASSEMBLIES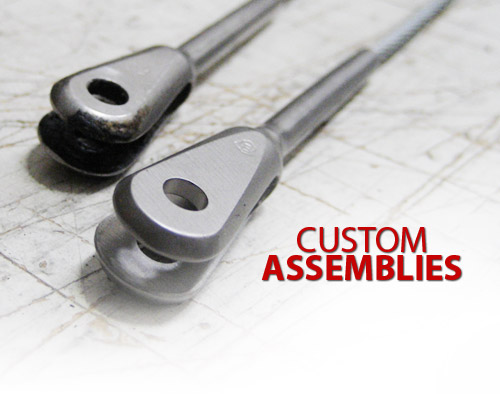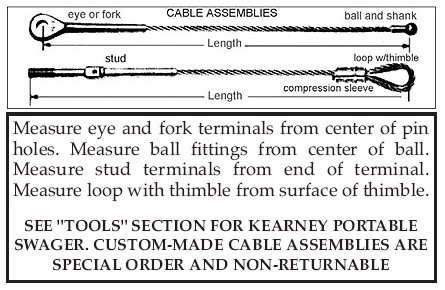 The terminals featured in this section must be installed with a rotary swaging tool, which is too costly for purchase by a homebuilder or small shop. We offer swaging service and custom-made cable assemblies in cable sizes of 1/16" to 5/32" diameter. Select the cable fittings of your choice, specify cable size, cable construction, stainless steel or galvanized cable and length. Measure length of cable assembly as shown in the illustration. We will furnish complete cable assembly ready for installation. A simple drawing of the assembly required is appreciated and will expedite shipment.
The cost of custom-made cable assembly is base charge (up to 10 ft - $10.00, 10 to 20 ft. - $15.00, over 20 ft. - $20.00), plus the cost of selected fittings and cable plus swages at $6.95 each. For cable assemblies requiring a third swage, such as an assembly with two end fittings plus a ball swaged at some point on the cable, add $6.95 plus cost of the ball.
Swaging Service - For cable assemblies requiring swaged fitting on one end only. $6.95/swage plus cost of cable, fittings, and the base charges as described above.
Nicopress Swages - Performed for $4.95/Swage plus cost of Nicopress sleeve and the base charges described above.


NOTE: If your desired cable assembly is not configurable by using the above entry form, or if it is too complicated, please call us at 1-877-4-SPRUCE or email by clicking here and we will assist you with your order.