1-877-4SPRUCE
1-877-477-7823
Other Customers
Have Also Viewed:
BOSE A20® ANR HEADSET - DUAL GA PLUGS - WITH BLUETOOTH
**This model has flexible power (both aircraft or battery), has a straight or coiled cord and single 6-Pin LEMO plug. Also has an electret microphone.**


Plug in. Turn on. Go flying.






The A20 Aviation Headset is engineered to be more comfortable and provide more noise reduction than any headset we've ever made, while still delivering the clear audio you expect from Bose. And now there are more features than ever, including: a Bluetooth audio and communications interface; customizable audio prioritization control; intuitive "plug-and-play" operation; a high-performance microphone and an optional coil cord. And at just 12 ounces, it's still one of the lightest active noise cancelling headsets out there. No other headset offers this unique combination of features and benefits.

30% greater active nose reduction than conventional aviation headsets
30% less claming force than conventional aviation headsets
Clear audio with active equalization
Bluetooth audio and communications interface for connectivity with your communications and navigation devices*
Customizable audio prioritization controls lets you mute an audio signal when receiving a communication, or mix the two together
Simple, intuitive headset operation - plug it in, turn it on, go flying

Enjoy a peaceful,
comfortable flight

The A20 headset gives you 30% greater noise reduction than conventional aviation headsets, so you'll enjoy a peaceful flight from short stops to long hauls. And at just 12 ounces, with sheepskin cushions and minimal clamping force, it's one of the lightest and most comfortable aviation headsets you'll find. All designed to let you focus on what matters—flying.


Clear audio for music and communication

Bose Active EQ keeps the audio clear and distinct, whether you're listening to music or an important communication.
Simple, intuitive operation

Plug-and-play convenience means the headset is ready to fly when you are—no need to press a lot of buttons first just to activate it.


Enhance your experience

The ergonomic control module includes an auxiliary audio input with Intercom/AUX priority switching, ideal for dedicated GPS and traffic warning systems. It also features a customizable audio prioritization control with "mute" and "mix" settings, and flexible power circuitry with auto-on that switches to and from battery power and aircraft power. Select models also include Bluetooth connectivity for taking calls or listening to music.


For all types of aircraft

The A20 Aviation Headset is available in dual plug, 6-pin plug and U174 plug models and a variety of configurations designed for use in all types of general aviation aircraft, including helicopters.

* Features available in certain variants of the headset.

More features

Coil cord down-cable now available in select configurations
Certified to FAA TSO-C139 and EASA ETSO-C139
Adjustable powered microphone can be connected to either earcup and set in a range of stable positions for optimal communications
Smart shutoff helps provide at least 45 hours of use from just two AA alkaline batteries
Five-year transferable limited warranty covers parts, labor and second-day return shipping expenses for non-abuse malfunctions
Significantly improved noise reduction across a wider range of frequencies. Proprietary Bose innovations use microphones both inside and outside each earcup to sense and reduce more ambient aircraft noise.
Redesigned ear cushions deliver greater comfort using new materials. More compact earcups now have a larger interior cavity, allowing more room for the ears; redistribution of headset weight also helps improve overall comfort and stability.
Enhanced center torsion spring on magnesium headband provides a consistent, comfortable fit for any size head with significantly less clamping force than most pilot headsets.
TriPort® acoustic headset structure, available only from Bose, produces tonally balanced audio from relatively small and lightweight headphones.
Active equalization electronically tunes the headphones' frequency response, enabling outstanding audio performance.
Adjustable powered microphone can be connected to either earcup and set in a range of stable positions for optimal communications.
Auxiliary audio input on redesigned control module for connection to GPS and other devices. Pushbutton Intercom/AUX enables priority switching
Bluetooth phone connectivity lets you take calls wirelessly through the headset.
Enhanced EMI protection to minimize communications interference.
Integrated sidetone for more natural sounding intercom and mobile communications.
Smart shutoff for extended battery life. Installed headsets also feature a flexible power system to automatically switch from aircraft power to battery power as needed.
Ergonomic control module has been redesigned for greater ease of use. Includes contoured grip and streamlined interface with high-contrast icons on main controls.
Custom carrying case helps protect headset during storage and transport.
TSO certified by FAA/JAA to meet performance standards for headsets used on civil aircraft. Made in the US, it also meets RTCA/DO-160D and DO-214 environmental requirements.
Five-year transferable limited warranty covers parts, labor and second-day return shipping expenses for non-abuse malfunctions.
Specs: 8.4" H x 6.3" W x 3.2" D (12 oz)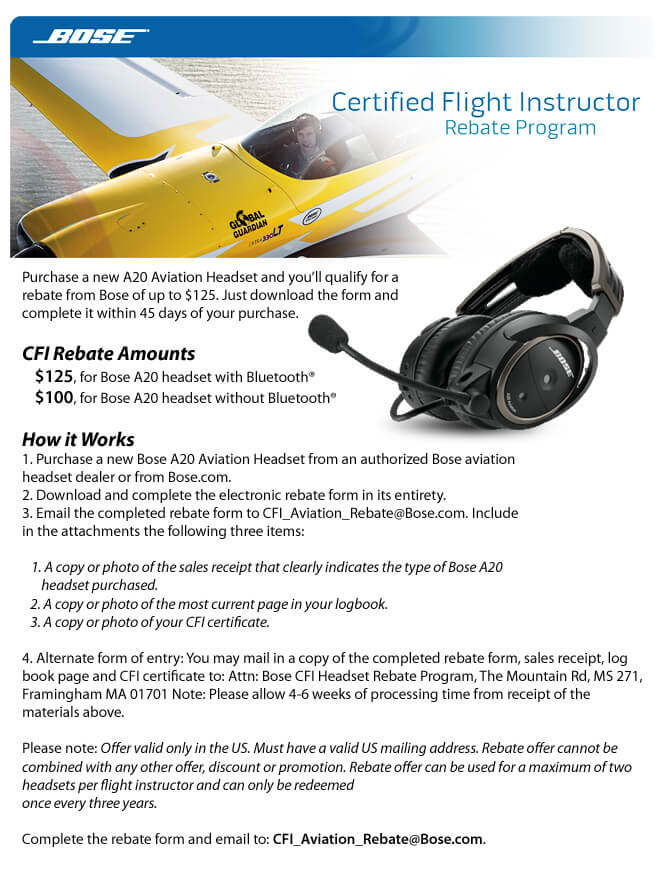 Click here for more information on registering for the program
A20® Aviation Headset
In-line clothing clip
Control module
2 AA batteries
Aux-in cable adapter
Carrying case




I am a student pilot who decided to purchase a set of aviation headsets. My purchase was shipped to me next-day air free of charge and the headsets arrived packaged very securely. The sales rep, Claudia, was more than helpful and even sent me an email after they were delivered to ensure I got them and there were no problems. She wrote, UPS shows your order delivered this morning. I just want to make sure you have it. That, folks, is a level of customer service very seldom seen anymore.

I chose the Bose A20 after much research, checking out technical specifications and reading manuals on various brands, to include the closest competition, the Sennheiser S1 digital. One of the things I liked more about the Sennheiser over the Bose is that the Bluetooth can be utilized with music, not just a cell phone. Despite this, I didn't buy these for music and made my purchase for flying, choosing the Bose for features I thought would be more beneficial for the task. The Bose are TSO certified while the Sennheisers are not. I have the foggiest idea what that means, but if there is some form of certification, I am willing it makes a difference to some people.

There are a plethora of different plug configurations you can get, too, so choose the right one. Both eht Bose and the Sennheiser offer versions that can be powered from a compatible receptacle, such as those found in Diamond aircraft. Since this version still requires batteries for the Bluetooth functions, I got the non-powered GA plug to utilize in a wider variety of aircraft. The microphone in the Bose can be removed and placed on the other ear while this cannot be done on the Sennheisers.

The Bose are lighter, too, and by a large margin. The Sennheisers weigh in at 410 grams while the Bose are a feathery 340 grams, a difference of about 2.5 ounces. Unfortunately, I cannot make a direct comparison of the two since I've only the Bose and no reason to purchase a second headset.

I received the Bose A20 active noise cancelling headsets and unpacked everything, leaving packing peanuts all over the floor. I removed the A20's and after checking out the construction (very sturdy, by the way), I glanced through the manual and enabled the Stereo mode, located on a tiny little dip switch located inside the battery compartment. There is a second dip-switch, as well, which enables the auto-shutoff, in case you are the type that forgets to turn off your headsets. The defaults for these two switches are Sound = Mono and Auto Shutoff = enabled.

I installed the batteries and closed the compartment, which locked closed in a reassuring manner. It is worthy to note Bose doesn't ship these with the crummy Chinese green-colored Alkalines that come standard with most products these days. They come shipped with the Energizer Max batteries. This may sound to be a non-issue to many, but it is this kind of attention to detail that I find refreshing and gives me confidence this is a quality product of the highest caliber. Still, when these batteries die, I will be replacing them with Lithium-ion batteries.

After getting the batteries installed, the first thing I did was to plug in my iPhone and listen to some music. Silly, I know, but what else was I going to do? I was in my office. These headphones sound even better than my Bose QuietComfort 15 headphones that are made for music, which are some of the most spectacular headphones on the planet. I was completely blown away by the sound of the A20's. While the Bluetooth cannot be used to listen to music there is a male 1/8 to male 1/8 plug that fits both the iPhone and auxiliary port located on the Bose audio control module. Wearing it was snug, but they are very comfortable. The padding is first rate and the headsets contour to your head very nicely. The volume controls on the headset control module do not alter the auxiliary volume in any way. You can hear a very slight hiss when the noise reduction is activated this is inevitable because it takes sound generation to stop sound intrusion. This is how active noise reduction works.

Next, I enabled the Bluetooth, syncing it up with my iPhone. It was completely painless. Simply open the Bluetooth Menu on the iPhone, make it discoverable and press the Phone button on the headset's control module. I didn't even have to type in a passcode. Very nice who's going to try to steal a passcode when you are flying anyways?

Now came the real test. Well, not the real test since I don't go up until Sat morning. Instead, what I did on this beautiful South Florida day, is to put the top down on the car, open all of the windows and make a hands-free phone call while traveling 85 MPH on I-95. It should be noted my car is a BMW 330 CIC with a cam and a racing exhaust that sounds baritone and musical. The tires are 19 inch low-profile Bridgestone Potenza track tires which are noisy as can be at speed. Together, with the buffeting wind, talking on a phone is all but impossible at anything over 65 MPH.

I put on the ear phones and turned on the power and I had the weird sensation of the wind blowing while my ears processed the quietness of a luxury automobile. Have you ever seen a war scene in war movies where a bomb goes off and even though there is fighting all around, all is quiet to represent the charter's hearing loss? It was that kind of feeling because it was so darned quiet. Bizarre.

Finally, I made a telephone call to my business partner, who sounded crystal clear in both ears. I was talking to him and despite the fact I was traveling under the before-mentioned conditions, he thought I had him on speakerphone at my office. When I told him what I was doing, he was shocked and told me that other than sounding a little tinny, he heard absolutely no wind noise whatsoever. I don't know what kind of technology Bose incorporated into the microphone, but I can attest that it is extremely effective.

While I have used three different kinds of aviation headsets, these are my first set I've purchased. I have always lived by the mantra of buying the highest quality you can afford and these headsets are no exception. When I go up on Saturday, I will amend this review to include additional details and findings.
| | |
| --- | --- |
| | I recently switched from a Lightspeed Zulu, been with that company for 15 years but grew tired of the annual returns for repairs. I didn't think the Bose would be that much different, boy was I ever wrong. The workmanship was excellent, noise cancellation superior, sound clarity terrific, and the comfort excellent after wearing for 8 hours on a flight last week. My co-pilot had a less expensive set of ANC and asked to try the Bose - didn't want to give them back. Well worth the money!!! |
| | |
| --- | --- |
| | Recently purchased two. One for myself and one for my wife. We are both extremely pleased with the performance of the headset. I've made bluetooth phone calls with no problems and was easily heard and understood. The music plays well and mutes quickly when there is an outside source of sound (ATC or intercom). They are pricey but they are worth it. The noise canceling function is superb as well. I tested it on my riding mower with the blades spinning and it a great job of minimizing the outside noise. |
| | |
| --- | --- |
| | My favorite headset, light and comfortable for extended use. Purchased the recent cord upgrade so I can stream music and that works well. The ANR function is superior to a Sennheiser S1 I also have purely as a back-up but the Bose A20 is so reliable I hardly use the S1. |
| | |
| --- | --- |
| | I bought a pair for my wife for her bday. We fly a PA30. She hated the headaches she got from the DC 13.4. We flew a short hop from Tulsa to Houston. She loved them. Told me to buy a pair for myself for my birthday. I did. We just got back from a 7 hour, two flight hop and everybody is happy! Wish Id bought them a couple of years ago. Rick |
| | |
| --- | --- |
| | This may sound minor, and it probably is, but for the price of this headset I think they could have made the cord between the plug(s) and the control unit a tad longer. Granted one can always use an extension on each cord, but for an extra 18- 24 that will be a bother. Had I not moved my jacks from up behind my head (AC is E-AB), centerline of AC to the dash I would have been forced to make some short extension cords. As it is Ill have to create something for the control unit to attach to since the cord is not long enough to tuck the control unit between the seat and fuselage. I have not flown with the headset yet, but I can tell the shortness of the cord is going to be an issue. Jacks are on the left, control unit will have to hang somewhere on the left, I fly left handed (stick). Reaching across will be less convenient then if there had simply been enough cord to lay the control unit in my lap. I guess it IS looking like Ill make some extension cords. |
| | |
| --- | --- |
| | Everything I was expecting and a lot more. Best flying investment in nearly 50 years of flying. Nothing youve read about this headset has been overstated. |



Well, I just upgraded from my adequate non ANR DCs. I was very skeptical at first... $1000+ for a headset??? The lure of quiet and comfort plus a free Bose Soundtouch 10 speaker for my hanger was too much to resist.

Ive only used these on one flight but I had to say how impressed I was so far. Push the button and the quiet is amazing. And it was SO much more comfortable with less clamping force and lighter weight overall. Itll take a while to get my moneys worth out of them, but right now Im quite please and impressed.
| | |
| --- | --- |
| | Headset works great. Bose is simply the best. I looked at many others but after owning the bose X for 10 years and flying near 5000 hours with it, in every plane there is, it was hard not to buy the new bose. The sound clarity and bluetooth audio work amazingly. I have no gripes at all. The price is high, but its worth it. Go for the bose. |
| | |
| --- | --- |
| | Expensive but works like magic! Excellent headset! |
| | |
| --- | --- |
| | Best headset on the market. What else is there to say. Aircraft Spruce has quick delivery, no ordering issues |
| | |
| --- | --- |
| | Great headset....worth the money! Plus great service from Aircraft Spruce. I traded in my Bose X's and upgraded to the 20's.....not disappointed at all! |
| | |
| --- | --- |
| | All I can really say is WOW. |
| | |
| --- | --- |
| | Compared these back to back with the David Clark One-X headset. The DCs are very comfortable, but the A20s are just better all around IMO. Own both and like them both, but the A20 wins. |
| | |
| --- | --- |
| | Everything arrived complete and works as advertised. I am perfectly happy with the product. |
| | |
| --- | --- |
| | I haven't had a chance to use them in flight yet, but when I opened the carrying case for the first time, despite being wrapped in bubble wrap, the foam mic wind protector had a hole in it. This isn't a huge deal, but for $1395 I would've hoped Bose would use some quality control and set aside the imperfect $0.50 piece of foam and use one in good shape. But, then again, if they did that, how would they get people to buy a $20.00 piece of replacement foam? |
| | |
| --- | --- |
| | The Bose A-20 is the best there is! |



Got what I wanted. Was delivered fast - easy and no issues.

The price was the same as Amazon but Pilot Shop customer service is why I bought these headsets from their website



I purchased a set of 3 for our BBJ with expectations of improved intercom and outside radio communications.
I have used ANR and PNR headsets for a decade (different types), with and without blue tooth.
This BOSE product with- bluetooth has been loved and complimented with superlative comments by all of our crew and contractors coming onto the airplane. These are a genuinelly superior product that brings noise reduction and superior sound. reproduction quality to the cockpit. International ops are enhanced (accents more understandable), and for those long silent periods, podcasts and music sound great... We all love these headsets.
| | |
| --- | --- |
| | Excellent noise reduction even in a Stearman |
| | |
| --- | --- |
| | Very quiet, well built. Doing what it's supposed to do so far. |


Is the current stock of the Bose A20 headsets the newest version with Bluetooth music streaming and multiple Bluetooth connectivity?
Yes, all stock is the newest version with the upgrades to the Bluetooth connectivity.
---

What is included in the box with the A20 headsets? Does it have the carrying case, any other accessories?
Here is what is included in the box: A20® Aviation Headset, In-line clothing clip, Control module, 2 AA batteries, Aux-in cable adapter, Carrying case
---

Does this Bose A20 ANR headset with Dual GA Plugs have a dynamic microphone? With a Becker AR4201 transceiver, it appears a different wire harness is required depending on standard verses dynamic mic. Can you clarify.
No. This headset has an electret microphone which is used in general aviation applications. Dynamic microphones are used in military applications.
---

On the non-bluetooth Bose A20 model, you can use the Aux Audio cable to listen to your music stored on you phone I believe. But can you also use this cable to make/receive a phone call?
PER BOSE - The headset does not support microphone operation when connected to a device via the AUX audio cable. Hold the device closer to your mouth to use the devices mic.
---

Will the Bose A20 with Dual GA Plugs fit the fit AIRBUS 330?
We cannot say for certain whether this will fit the A330 aircraft. Some Airbus aircraft are outfitted with dual GA input jacks, in which case this headset will work. Some however, are outfitted with the XLR-5 Airbus style single plug, in which case, you will need to order part # 11-14326.
---

My wife and I are flying both with the Bluetooth Bose A20 and she plays music on her device connected through Bluetooth on her headset, can I pair to that device as well so that we can be listening to the same music? Thank you
If the device you are streaming the music from can support Bluetooth to multiple devices, then yes, you will be able to stream to both headsets at once. For example, the Apple iPhone supports up to 5 simultaneous Bluetooth devices at once
---

The literature on the Bose A20 states that there is the option of a straight or coiled cord, yet when I attempt to place an order Im not given the option to choose? Is that option available?
No, for the Bose Dual GA plugs style A20 with Bluetooth, there is no coiled cord option. This is available in straight cord only. The without Bluetooth version has the coiled cord option, please see part # 11-13772 for this model.
---

324843-3020
Enter the quantity desired of each item in the Buy column.