This G-Force GF2 Mount is all you need to turn your portable, large-format GPS into a heads-up display that will confirm your skill to think past the yoke. In the time it takes to unravel your headset, your portable, large-format GPS will look like a fixed addition to your panel instrument array.

Does your GPS drive you to distraction? Yoke mounts, lap mounts, and other gizmos, rob your attention. Get your eyes outside fast - before you run over something - by locating your portable GPS near your line of sight. The powerful G-Force vacuum base can withstand 23g of shear force, making a sturdy, lasting bond wherever you have a smooth, non-porous surface. That includes glass, plastic, even gelcoat.

No more GPS bobbing and weaving on the yoke, or lost in your lap. The G-Force Mount creates a stable, reachable platform for your portable GPS that makes programming a breeze, and a heads-up attitude that makes flight reference fun.

Now, turning your hand-held GPS into a heads-up display is easy as 1...2...3... Just Look.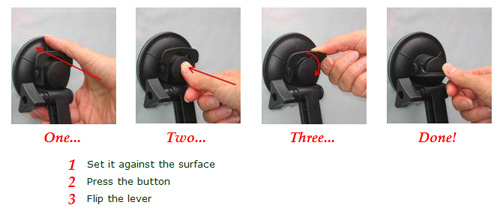 The G-Force Mount is the must-have accessory for any hand-held GPS or portable device... in any craft. Use it in the cockpit where it endures turbulence and hostile clearance amendments. Take it from airplane to auto where it fends potholes and fist-waving panic stops. It even works in the boat, withstanding wave after kidney-pounding wave.

The G-Force Mount will adhere to certain painted automobile panels. Paint integrity varies among vehicles; that will determine the length of attachment. Do not attempt this application without a safety lanyard. Careful consideration should also be given to the possibility of scratching the paint.

All G-Force Mounts include appropriate mounting hardware and an easy-to-follow User Guide.

Get yours now. And get your eyes outside fast.