1-877-4-SPRUCE | info@aircraftspruce.com
Aircraft Spruce & Specialty Co.
Corona, CA | Chicago, IL
Wasilla, AK | Peachtree City, GA
Brantford, ON Canada
THE AVIATION SUPERSTORE FOR ALL YOUR AIRCRAFT & PILOT NEEDS | 877-4-SPRUCE
CADET STF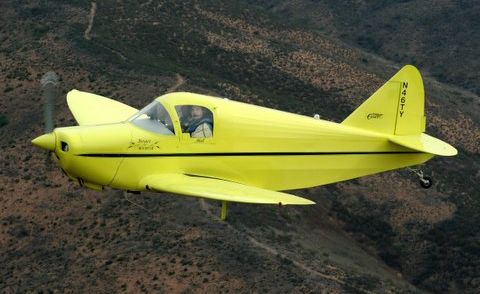 The Culver Cadet was one of the best performing light planes ever built. The production 2-place low wing Cadet was powered by a 75hp Continental engine and cruised at 120mph. After much design and analysis, Neal La France now offers plans for a homebuilt version of the Cadet. The Cadet STF features a steel tube, fabric covered fuselage instead of the production wood fuselage. A considerable weight savings and double the strength was obtained with the new design. Prototype is powered by a 100 hp Continental engine.
---
Specifications:
Kit Price w/o Engine: ~$15,000
Plans Price: ~$300
Number of Seats: 2
Building Materials: T,W,F,S
Building Time: ~2500 HRS
Standard Engine: CONTINENTAL 85/100 HP
Horsepower: 85-100
Wing Span: 27 Ft.
Wing Area: 120 Sq. Ft.
Empty Weight: 850 Lbs.
Gross Weight: 1350 Lbs.
Takeoff Distance: 800 Ft.
Landing Distance: 850 Ft.
Cruise Speed: 120 MPH
Top Speed: 175 MPH
Fuel Capacity: 25 Gal.
Range: 500 Miles
---