1-877-4-SPRUCE | info@aircraftspruce.com
Aircraft Spruce & Specialty Co.
Corona, CA | Chicago, IL
Wasilla, AK | Peachtree City, GA
Brantford, ON Canada
FREE SHIPPING ON ORDERS OVER $350 (USA ONLY - SOME EXCLUSIONS APPLY) | 877-4-SPRUCE
HB207 ALFA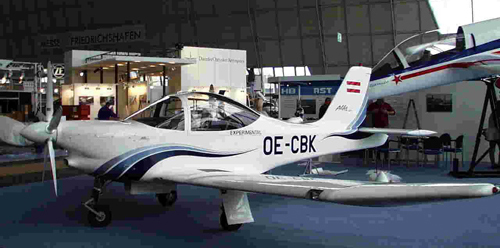 The Alfa is a European kit built aircraft. The Alfa is an all-metal low-wing, tri-cycle gear airplane with side-by-side seating. The aircraft is 19.35ft in length and has a wing span of 29.5 ft. Suggested engine for the plane is a 110 HP Volkswagen Porsche G 2 2.400 air cooled boxer engine. The HB207 cruises at 140 kts with an fuel burn of 3.5 US Gal/hr and stalls (flaps down) at 40 kts. It features a 5 blade constant speed prop, retractable landing gear, and detachable wings.
---
Specifications:
Kit Price w/o Engine: ~$19,500
Plans Price: N/A
Number of Seats: 2
Building Materials: M,A,FG
Building Time: ~1000 HRS
Standard Engine: VOLKSWAGON 2400/110 HP
Horsepower: 100-160
Wing Span: 29.5 Ft.
Wing Area: 102.3 Sq. Ft.
Empty Weight: 970 Lbs.
Gross Weight: 1410 Lbs.
Takeoff Distance: 620 Ft.
Landing Distance: 850 Ft.
Cruise Speed: 155 MPH
Top Speed: 170 MPH
Fuel Capacity: 26.4 Gal.
Range: 750 Miles
---