1-877-4-SPRUCE | info@aircraftspruce.com
Aircraft Spruce & Specialty Co.
Corona, CA | Chicago, IL
Wasilla, AK | Peachtree City, GA
Brantford, ON Canada
EVERYTHING FOR PLANES AND PILOTS SINCE 1965 | 877-4-SPRUCE
ROTORWAY EXEC 162 F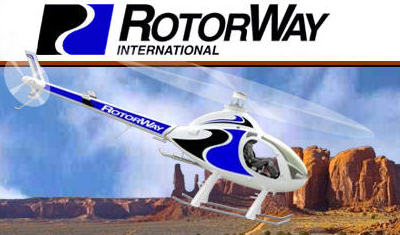 The Exec 162F provides style, speed, comfort, safety, reliability, proven performance and an award-winning design. The Exec 162F is produced by RotorWay International, the world's oldest and largest kit helicopter company. This piston-powered rotorcraft utilizes the most sophisticated technology available with a FADEC (Fully Automated Digital Electronic Control) system controlling and monitoring engine functions of the RI 162F fuel-injected power plant. Requiring as little as 300 hours to assemble, this comprehensive kit comes complete with everything but the paint and avionics. Also available to owners are detailed construction and maintenance video series as well as a flight-transitional training program. Tours and demonstration flights are available by appointment to interested buyers by calling the factory.


---
Specifications:
Kit Price w/o Engine: ~$64,350
Plans Price: N/A
Number of Seats: 2
Building Materials: C,A,S
Building Time: ~400 HRS
Standard Engine: RI 16F/150 HP
Horsepower: 150 HP
Rotor Span: 29 Ft.
Wing Area: N/A
Empty Weight: 975 Lbs.
Gross Weight: 1500 Lbs.
Takeoff Distance: N/A
Landing Distance: N/A
Cruise Speed: 95 MPH
Top Speed: 115 MPH
Fuel Capacity: 17 Gal.
Range: 180 Miles
---
For more information contact Rotorway International:
4140 W. Mercury Way • Chandler, AZ 85226
Phone: (480) 961-1001 • Fax: (480) 961-1514
email:
rotorway@primenet.com