1-877-4-SPRUCE | info@aircraftspruce.com
Aircraft Spruce & Specialty Co.
Corona, CA | Chicago, IL
Wasilla, AK | Peachtree City, GA
Brantford, ON Canada
THE AVIATION SUPERSTORE FOR ALL YOUR AIRCRAFT & PILOT NEEDS | 877-4-SPRUCE
BRIGHTLINE ARRAY 6 X 3 - TALL
Part# 13-21565
MFR Model# A63-T
Overview
This is the slightly taller version of the medium-size of the ARRAY pouches. 6 inches long, 3 inches wide, and about 1.75 inch tall. It has a transparent lid to make it easy to see what's inside. The GREEN color helps you quickly differentiate between your different sized pouches. A zipper with a red cord pull goes around three sides for access. The outside bottom is covered with Hook Velcro which allows you to attach it to the FLEX ARRAY BASE PLATE.
Specifications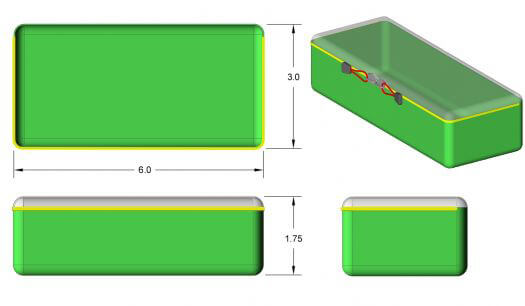 Customers Also Viewed
Frequently Purchased With
Related Items
Q&A
Please note, Aircraft Spruce's personnel are not certified aircraft mechanics and can only provide general support and ideas, which should not be relied upon or implemented in lieu of consulting an A&P or other qualified technician. Aircraft Spruce assumes no responsibility or liability for any issue or problem which may arise from any repair, modification or other work done from this knowledge base. Any product eligibility information provided here is based on general application guides and we recommend always referring to your specific aircraft parts manual, the parts manufacturer or consulting with a qualified mechanic.