1-877-4-SPRUCE | info@aircraftspruce.com
Aircraft Spruce & Specialty Co.
Corona, CA | Chicago, IL
Wasilla, AK | Peachtree City, GA
Brantford, ON Canada
FREE SHIPPING ON ORDERS OVER $350 (USA ONLY - SOME EXCLUSIONS APPLY) | 877-4-SPRUCE
VIVIDIA ABLESCOPE VA-400 INSPECTION BOROSCOPE
$250.00/Each
Add to cart for current price
Part# 12-04891
MFR Model# VA-400
Overview
Ideal for detailed visual inspection in hard-to-reach places such as car engines with 180° articulation 8.5mm diameter steel probe and 6 bright LED lights. The 180° bending back probe camera with LED lights makes it possible to inspect the back side of an dark inside compartment.

Connect this borescope to your computer or tablet (optional, sold separately) with attached USB cable to perform a detailed visual inspection in hard-to-reach areas. The 180° articulating 8.5mm diameter probe offers a panoramic view of the area being inspected. With 0.3M pixels CMOS sensor, and six built-in LEDs for illumination, this product allows you to view images, take standard photos, and record videos. This borescope is designed for the inspection of the carbon residue inside of cylinder especially the surface of the intake valve. It is perfect for 'looking backside' after the scope goes into a narrow space.
Features
Articulation bendable angle: 0° to 180° continuously adjustable. You can inspect the back side of a closed dark compartment
Very easy to operate: just push down the release button by bending the thumb to adjust the articulation angle
Very small bending radius: 30mm
Illumination: 6 white LED lights built-in
High resolution image with CMOS sensor
Focal Distance: 4cm – 40cm, fixed focus
Power supply: by USB port of PC or 7 inch tablet with Android system (sold separately)
Specifications
Sensor: high-quality CMOS sensor
Still Image Resolution: 640x480 pixels - Format: JPG
Video Resolution: 640x480 pixels - Format: AVI - Frame Rate: 30FPS
Optical lens view angle: 60°
Probe diameter: 8.5mm
Probe length: 42cm (16.5")
PC Interface: USB 2.0
USB Cable Length: 200cm
Dimension: 8.5mm in probe diameter and 42cm (16.5") in probe length
Weight: 12oz
Compatibility: Windows 8/7/Vista/XP with our free software Oasis.exe, or Mac OS X (need PhotoBooth or FaceTime software)
Package Includes: USB borescope (1x), CD (1x, with User's Manual and software)
Manufacturer's Warranty: 1 year
Reference Chart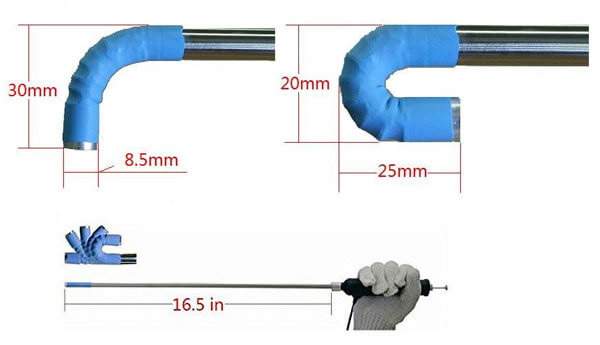 Accessories
Customers Also Viewed
Frequently Purchased With
Related Items
Reviews
For a modest price it provides a clear picture of what is going on inside your cylinders.
Bill M
July 12, 2019
This is a very cool gadget and priced for the casual observer. You will find jobs to do with it you never thought about before. Some very good features that make it versatile. Mine is connected to a Win10 laptop and it on took a few minutes to set up. I tried to connect it to an Android tablet running 5 and went to the PlayStore for software. After downloading and experimenting with over 20 different choices, I could not get it to work. Bummer, but the Windows machine is all I need. It comes in a metal, foam-lined metal case to protect it from damage. It also comes with five of those little blue sleeves and a tool to install them. With minimal care, the sleeves last a long time, despite some of the reviews. BEWARE, if you show this incredible little tool to anyone in your shop or someone who sees how useful it could be, they may be tempted to borrow it and forget to return it. Buy one. You will never regret it.
Forrest A
December 21, 2018
Fantastic product with great resolution clearly able to see the condition of cylinders and valves. Also helpful for inspecting items/gears within an accessory gearbox.
Eric C
September 27, 2018
The scope worked as expected. The picture of my cylinders and valves on the iPad are great.
Robertc
March 29, 2018
Works great and easy to use. Nice touch adding the dimmer for the LED lights which does not show in the item description.
Sooby L
March 11, 2018
As Advertised. Works great inspecting aircraft cylinders
Jared
February 19, 2018
Excellent product. Very clear image when more than about 2 cm from subject.
Kimbull M
December 18, 2017
Its a good little boroscope, unfortunately I cant get it to work on any mobile device. Tried Samsung A5, S5 and two android tablets, none worked with any of the apps on Google play. I could only get it to work on my laptop with the program provided on the manufacturers website. The picture quality is good and its a light small tool. The condom that protects the bending apparatus is easily torn, had to replace it with the provided applicator, DO NOT push the aluminum tube more than a 1/2 on the tip or else it will get stuck. I had to use a little torch to heat it up and remove it. This would have gotten 5 stars if the manufacturer had an app that worked with any of my devices.
Matt
November 29, 2018
Q&A
Q: Will this work with my iPad and/or iPhone?
It needs the wifi adaptor (part # 12-05079) to work with Apple products.
Q: Does the Vividia Ablescope VA-400 come supplied with a protective case?
Yes, this comes inside of a metal protective case.