1-877-4-SPRUCE | info@aircraftspruce.com
Aircraft Spruce & Specialty Co.
Corona, CA | Chicago, IL
Wasilla, AK | Peachtree City, GA
Brantford, ON Canada
FREE SHIPPING ON ORDERS OVER $350 VIA UPS GROUND | 877-4-SPRUCE
BONEHEAD PILOTX FLIGHT HELMET - ACTIVE
Part# 11-15261
MFR Model# PXA
Overview
The PilotX is Bonehead Composites' flight helmet that addresses the need for a low-profile communication helmet tailored to aircraft with limited headroom. Constructed of vacuum molded carbon fiber and fiberglass, this lite weight helmet packs a punch when it comes to completing the mission. The shell features a quick release chin strap buckle and adjustable strap, nape strap, visor snaps, and fastened ABS ear cups with comfort foam seals for sound attenuation. A Velcro fastened top liner, adjustable with foam shims, completes the fitting. The total weight of the helmet is 2.3 pounds.

The PilotX comes standard with the communication package, and can be customized to each specific pilot's needs, including:
ANR
Boom Side
Junction Box Placement
Oxygen receivers
Tinted or clear visor
Gel ear seal upgrade
Cloth ear covers
Single plug or 2 plug cord
CEP ear buds
Visor - tined or clear
Color or Custom Paint
The Pilot-X comes standard with the communication package that includes a two plug general aviation panel cord with an emergency disconnect at the helmet via a Nexus U-92 A/U plug. The microphone, which can be mounted on either the right or left side, is an electret flex boom with foam wind muff. Hearing options include the standard 300 ohm ear cup mounted speakers and the optional military grade ear buds (CEP). Sound attenuation is noticeably better using the ear bud option, so this is something to consider before ordering.
Size Chart
Small: 21.75-22.25"
Medium: 22.25-22.75"
Large: 22.75-23.25"
Extra Large: 23.25-23.75"
XXL: 23.75-24.00"
Color Chart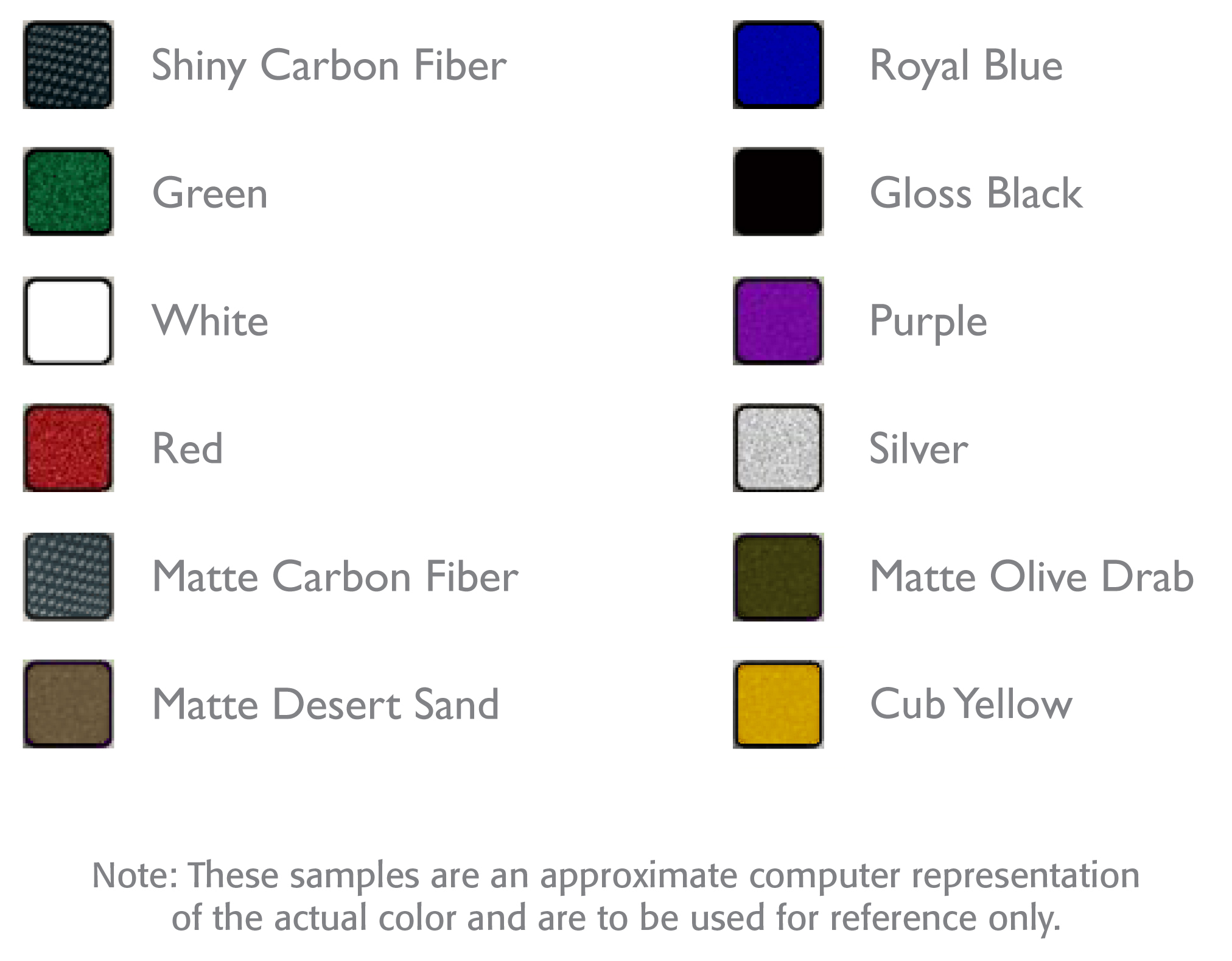 Customers Also Viewed
Accessories
Related Items
Q&A
Q: Is the size chart head circumference? Measuring technique?
The size chart is head circumference. Measurements should be taken around the head just above the eyebrows.
Q: What are the oxygen receivers? What is the difference?
The oxygen receivers are universal bayonet receivers mounted to the helmet. This allows for oxygen bayonets to be used with the helmets.