1-877-4SPRUCE
1-877-477-7823
HOMEBUILDER ARTICLE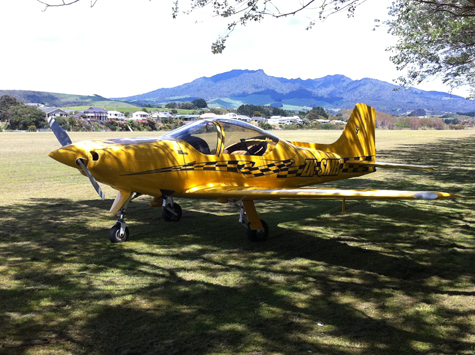 In my early flying years we spent a lot of time hanging around flying schools. Part of that involved reading all the magazines from cover to cover learning all we could about aviation and admiring the latest equipment and airplanes.
It was during this time that Sequoia Aircraft Corp started marketing the Falco. I remember a Flying article telling smooth Italian curves and thiof its magnificent flying qualities. I vividly recall being attracted to itsnking I would love to be able to own such a wonderful machine.
Fast forward fifteen or so years and I was wandering through a second hand bookshop, waiting for my wife who was in some less interesting shop along the way. In the pile of magazines a Kitplanes magazine caught my eye. I didn't know there was such a magazine but it certainly sounded like something I'd be interested in reading. I handed over my $2 and wandered out already deeply engrossed in an article while trying to navigate the sidewalk. The next two or three hours whizzed by as I examined everything Kitplane. I was completely new to the hobby but it was becoming clear that this was the hobby I was looking for. Amongst the articles my attention was caught by an advert for that same sleek red Italian airplane I remembered from all those years ago. It suggested I write away for an information pack. Who was I to argue? I waited impatiently for the info pack to arrive while I re-read the Kitplanes magazine two or three more times. The Internet was new then but I searched where I could to learn as much as possible about building my own airplane. The day came and the pack arrived. I ripped it open and was greeted by a colour brochure with alluring pictures of sleek Italian airplanes with leather interiors and fancy avionics. I was hooked.

I confess to being shocked at pricing. It was way more than I could afford but I was determined to make it work. I would find out a way. Almost immediately I ordered the plans.

My strategy to make it affordable was to make as many parts as possible. Mine was going to be a plans built Falco. The info pack said I would double my build time but I enjoy making things so why not build the whole thing?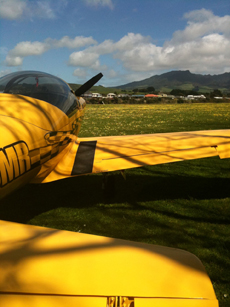 When the plans arrived I spent hours pouring over them getting to understand how it all goes together and forming a plan of how I was going to attack it. The Falco enjoys a particularly good plan set. It was originally a certified aircraft and as such has a very detailed set of plans produced in a very professional manner. I was already comfortable with plans so it all made sense to me. The only fly in the ointment was the 8m long spar. I had absolutely no idea how I was going to achieve building it but I've always been of the
mind that if someone else can do it then so can I if I put my mind to it and do the appropriate preparation. I think I was well past the decision stage so I ordered the Spruce wood required to build a Falco.
The construction started in my garage in the time honoured fashion beginning with smaller tail components and building up as my confidence and experience grew. I must say I didn't find any of it particularly difficult. There was just a lot of it!
All the information is available if you look. Fortunately I was introduced to Aircraft Spruce fairly early on. I ordered a catalog which became a bible to some degree. I spent almost as much time searching through it as reading plans, using the technical information within to understand how things were done in aviation.
The build carried on through the first few years building parts and using non-build time planning. Often in the middle of the night. In fact if I added that time to the build time I think it would triple the total. But all that thinking payed off. By the time I came to build the spar I had a plan and it worked out great. In one month I had gone from a box of spar material to an 8m spar with laminated spruce caps tapered in two directions with stepped tapers on the inside. It was an achievement I was so proud of I couldn't bring myself to totally close it
for another twelve months. Instead it hung on the wall for me to admire its almost art like design.
While building I tried to do something every day even if it was just looking at the plans or sweeping the floor. Of course life gets in the way so there were patches of time when I had to leave it but it was never far from my mind. I approached each task as a small task rather than thinking of building an airplane. I think this helped me maintain quality and not be overwhelmed by the task and above all, kept in enjoyable.
Nine and one half years after ordering the plans I had my very own Falco that was now ready for its first flight. Having a reasonable amount of experience I decided to do the test flight myself. Not a decision I took lightly. I read as much as I could about test flying. Made a plan and considered many emergency scenarios. When the time came to push the throttle forward I was a nettle nervous but I felt comfortable that I had covered all that I could and there would be no better time. As soon as the RPM passed about 1500 all the
anxiety passed and I had a job to do. The testing went as well as I could have wanted. It flew just like all the brochures and pilot reports had described. It flew just like a Falco and this one was mine!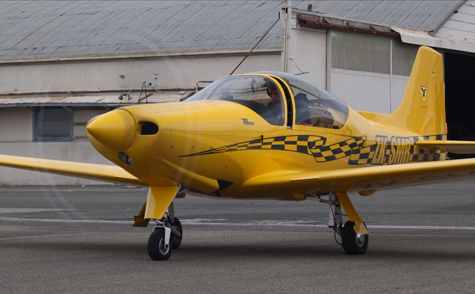 My Falco went on to win grand champion homebuilt here in New Zealand. I'm not sure it was my doing but Stelio Frati sure had designed a beautifully looking machine.
In 2010 I felt I needed another adventure so I came up with a plan to take my Falco to Oshkosh. I wasn't comfortable tackling the Pacific Ocean in it so I came up with a plan to containerise it and ship it to the USA.
In 2012 all the planning came to fruition. I shipped my Falco to Longbeach and on to Chino. With the fantastic help from many including the great guys at EAA chapter 92 and the helpful guys at Riverside FSDO I got it reassembled and approved to fly in the USA still holding New Zealand registration. From there I enjoyed the trip of a lifetime flying across the USA meeting some wonderful people and seeing some incredible sights and culminating in the pinnacle of the whole building and flying experience, flying into Oshkosh.
It's been an incredible experience from day one, building, flying and adventuring in my Falco. It's been a large an influential part of my life that I am extremely grateful for and I hope will continue on for years to come.
Isn't life just great.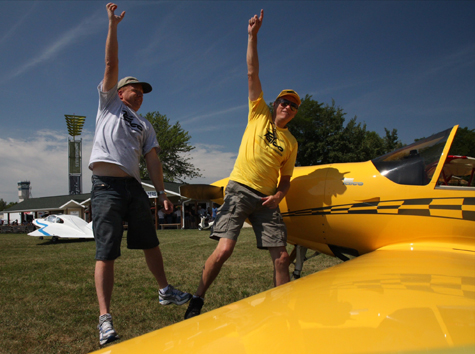 Arrival at Oshkosh.
George Richards