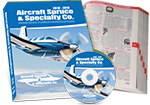 If you fly, repair, restore or build aircraft this catalog is a must for you. Fully illustrated with over 60,000 products for certificated, experimental and ultralight aircraft and the pilots that fly them. We carry the most extensive selection of products in the industry.

Over 900-Pages of Aviation Products

Instruments & Avionics

Metal Sheet & Tubing

Composite Materials

Pilot Supplies

Airframe Parts

Electrical Supplies

Aircraft Kits

Engine Parts

Landing Gear

Hardware

Books and Videos

And Lots More . .
Note: Free Shipping on catalogs shipped within the USA (including Alaska + Hawaii). Canadian and international catalog orders will incur A $20 freight charge via Bulk Mail. Additional items may incur additional freight charges. Expedited shipping will incur additional freight charges.