1-877-4-SPRUCE | info@aircraftspruce.com
Aircraft Spruce & Specialty Co.
Corona, CA | Chicago, IL
Wasilla, AK | Peachtree City, GA
Brantford, ON Canada
THE AVIATION SUPERSTORE FOR ALL YOUR AIRCRAFT & PILOT NEEDS | 877-4-SPRUCE
G-FORCE MOUNT FOR GARMIN 196 / 296 / 396 / 496
Part# 11-08097
MFR Model# GF110
Overview
Note: Garmin cradle required but not included. Comes standard in the box with all Garmin 196-496 GPS.

The G-Force Mount docks directly to the OEM cradle supplied by Garmin International with its GPS/MAP models 195 through 496 and all Lowrance AIRMAP models. Other Garmin models and units from other manufacturers may require an interface cradle at additional cost. Cradles are not included with purchase.

Does your GPS drive you to distraction? Yoke mounts, lap mounts, and other gizmos, rob your attention. Get your eyes outside fast - before you run over something - by locating your portable GPS near your line of sight. The powerful G-Force vacuum base can withstand 23g of shear force, making a sturdy, lasting bond wherever you have a smooth, non-porous surface. That includes glass, plastic, even gelcoat.

No more GPS bobbing and weaving on the yoke, or lost in your lap. The G-Force Mount creates a stable, reachable platform for your portable GPS that makes programming a breeze, and a heads-up attitude that makes flight reference fun.

Now, turning your hand-held GPS into a heads-up display is easy as 1...2...3... Just Look.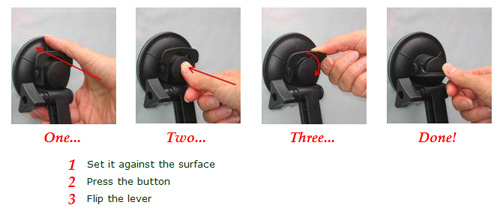 The G-Force Mount is the must-have accessory for any hand-held GPS or portable device... in any craft. Use it in the cockpit where it endures turbulence and hostile clearance amendments. Take it from airplane to auto where it fends potholes and fist-waving panic stops. It even works in the boat, withstanding wave after kidney-pounding wave.

The G-Force Mount will adhere to certain painted automobile panels. Paint integrity varies among vehicles; that will determine the length of attachment. Do not attempt this application without a safety lanyard. Careful consideration should also be given to the possibility of scratching the paint.

All G-Force Mounts include appropriate mounting hardware and an easy-to-follow User Guide.

Get yours now. And get your eyes outside fast.
Customers Also Viewed
Frequently Purchased With
Reviews
I bought this item for my Rans S9 Chaos as I did not want to have a fixed unit. Great product!
Mark C
November 7, 2019
Have one of these on my drifter for the garmin 495 absolutely brilliant, I have found that when you push the button in hold for a couple of seconds then pull the lever over, works very good.
Chris C
November 17, 2018
Q&A
Q: Does the G-force mount come with the cradle?
The cradle for the GPS is not included. It comes in the Garmin box with the GPS. It will clip onto the GPS and has a place for 4 screws to attach to the G-Force mount.
Q: Will the mount with the 495 cradle attached allow you to mount to a side window in the aircraft?
Yes, it will.
Q: Will this mount work with a Garmin Aera 660 unit?
No, this unit does not work with the 660.