1-877-4-SPRUCE | info@aircraftspruce.com
Aircraft Spruce & Specialty Co.
Corona, CA | Chicago, IL
Wasilla, AK | Peachtree City, GA
Brantford, ON Canada
THE AVIATION SUPERSTORE FOR ALL YOUR AIRCRAFT & PILOT NEEDS | 877-4-SPRUCE
AEROX SYSTEM 1A - 6 CUBIC FEET CYLINDER
$377.60/Each
Add to cart for current price
Part# 13-18895
MFR Model# 1A-500
Overview
Note: All systems include flowmeters and cannulas and require refilling adapter unless at an airport.

Prior to the introduction of the Aerox system, wise pilots reserved the use of oxygen for situations where it was legally necessary, i.e. above 12,500 ft. This was often a practical decision based upon factors like: Short duration of supply, uncomfortable masks, difficult & costly refills, heavy weight and large bulk. Aerox systems address these objections with advanced designs and materials that help make oxygen use easier, more comfortable, and less expensive than ever before. Add to your flying comfort by using oxygen at altitudes as low as 5000 feet.

Aerox Oxygen Systems include lightweight aluminum cylinders, regulators, all hardware, flowmeter, and nasal cannulas (masks available as an option). Oxysaver oxygen saving cannulas and Aerox Flow Control Regulators increase the duration of oxygen supply about four times, and prevent nasal irritation and dryness. The Emergency Oxygen Packs are lightweight aluminum, refillable, & have no life limit. Just put on the mask and open the valve; no adjustment is needed. Complete brochure available on request.

Low profile
• 1, 2, & 4 place
• Standard Aircraft filler for easy filling
• Convenient top mounted ON/OFF valve
• Equipped with Aerox standard plug sockets
• Over pressure safety valve
• Built in cylinder pressure gauge
Whats Included
Lightweight aluminum cylinders
Regulators
All hardware
Flowmeter
Nasal cannulas (masks available as an option)
Specifications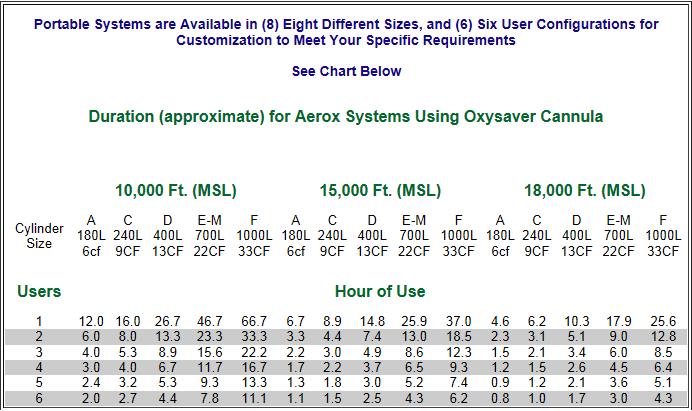 Accessories
Customers Also Viewed
Frequently Purchased With
Related Items
Q&A
Q: How long will the Aerox sytem 1A 6cb last?
It depends on how many people are using it and the alt of the aircraft. There is a chart on the web page with that information.
Q: Is the AEROX FA-PM3 - REQUIRED REFILLING ADAPTER BUILT-IN the correct one to refill this tank off airport?
That depends on the set up that the refiller is using. Most places that fill oxy tanks will have the correct adapters for these system since they use a common fitting.