1-877-4-SPRUCE | info@aircraftspruce.com
Aircraft Spruce & Specialty Co.
Corona, CA | Chicago, IL
Wasilla, AK | Peachtree City, GA
Brantford, ON Canada
FREE SHIPPING ON ORDERS OVER $350 (USA ONLY - SOME EXCLUSIONS APPLY) | 877-4-SPRUCE
BREEZE AERO-SEAL® CLAMPS 200 SERIES 410 SS HEX SCREW
From $1.64 to $3.35
Overview
Perforated stainless steel worm-drive clamp. Heavy-duty four-piece Quadra-Lock construction enables far more tightening torque to be delivered to the band perforations. Use for aircraft and heavy-duty industrial applications. Conical Arched Perforated Slots: More steel between perforations for added strength and smoother worm-drive engagement. Made in the USA
Aero-Seal Specs
9/16" (14.2mm) band
5/16" (7.9mm) slotted hex screw
Per SAE standard J1508 Type "F"
Specifications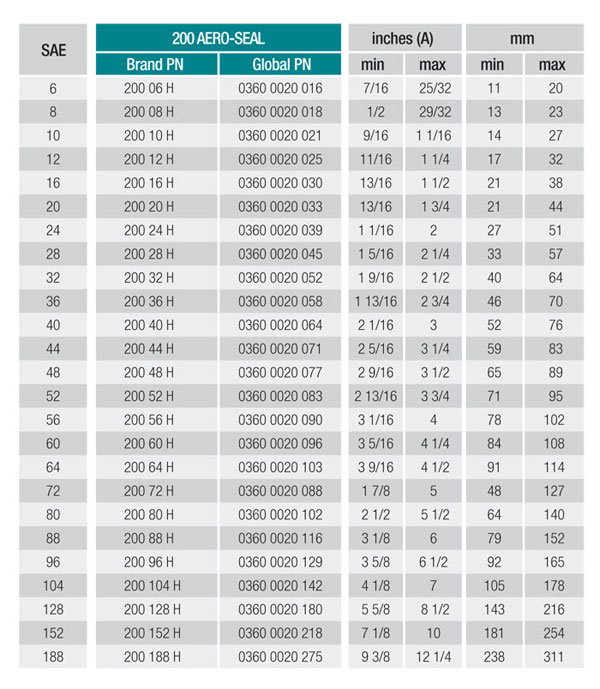 Customers Also Viewed
Frequently Purchased With
Reviews
nice clamps
George H
Verified Purchase

BREEZE CLAMP 200-06H
June 9, 2021
Good quality.
Eaa C
May 24, 2020
Excellent service and product.
Kim M
May 14, 2020
quality product at a good price
Tommy H
May 7, 2020
High quality clamps, screw and clamp itself can be made tight without slipping.
Ahmed
October 27, 2019
Very good, high quality, stainless steel clamps!
Bruce W
May 18, 2019
High Quality Clamp!
Travis E
June 23, 2018
Great quality and fast shipping
Michael D
June 21, 2018
United States. Just more slower than I anticipated. certainly not your fault.
Don G
February 20, 2017
Q&A
Q: Please explain how these are listed. How do I know which size I need to order based on the hose size that I have?
The web site lists the O.D. of each hose size. Select a clamp slightly larger than the O.D. of the hose selected.
Q: Are the screws on these QS200 hose clamps also stainless?
Yes. The band, housing and screw are stainless steel.
Q: Can these QS200 Hose Clamps handle high temperature on the exhaust pipe to attach carb heat box to pipe?
The clamp screw is made of 410 stainless steel, and the band is 300 stainless. It can be used on hi-temp applications.
Q: Are these QS200 Hose Clamps hi-torque?
Per the supplier: No, these are not high torque.
Q: Is the clamp all stainless steel? Wanting to use in a marine application.
Yes, the band and screw is stainless steel.