1-877-4-SPRUCE | info@aircraftspruce.com
Aircraft Spruce & Specialty Co.
Corona, CA | Chicago, IL
Wasilla, AK | Peachtree City, GA
Brantford, ON Canada
FREE SHIPPING ON ORDERS OVER $350 (USA ONLY - SOME EXCLUSIONS APPLY) | 877-4-SPRUCE
AN931 ELASTIC GROMMETS
From $0.20 to $9.50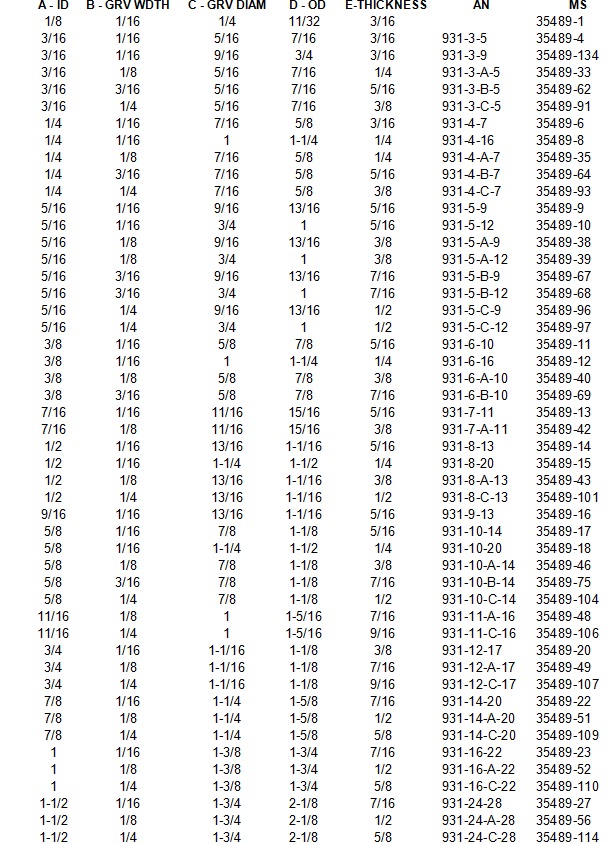 (Hover to zoom | Use mouse wheel for +/-)
Overview
**Note: All sizes in chart are in inches**

Flexible grommets, made of black synthetic rubber to specification MIL-G-3036. Resistant to hot oil & coolant. Used to protect tubing, wiring and control cables where they pass through bulkheads & firewalls.
Customers Also Viewed
Frequently Purchased With
Reviews
Does a great job in protecting spark plug wires.
Lynn N
Verified Purchase

ELASTIC GROMMET MS35489-23
October 16, 2021
Great price, just what I needed
Dennis H
Verified Purchase

ELASTIC GROMMET AN931-5-9
September 23, 2021
Great product.
John J
Verified Purchase

ELASTIC GROMMET AN931-8-13
June 30, 2021
These grommets were absolutely a perfect fit. It was really helpful to have the table of dimensions to get just the right size! Great to know about this feature for future use.
Eileen B
October 26, 2020
This was actually the 2nd order I had shipped. The first order was not received. It was lost during shipping. Please call 305-780-3902 so we can get the 1st order delivered or refunded. Thanks
Dale H
August 22, 2020
Correct part and cure date for my purpose. Bonanza Brake Piston O Rings.
Edward H
April 23, 2020
Perfect!
William L
April 19, 2020
High quality rubber grommets
Al A
March 23, 2020
Good quality grommets.
Lewis M
October 24, 2019
I was very pleasantly surprised, not just with the order, but Connie at the order desk contacted me to advise that shipping by courier would have been 3 times the price of my small order. She agreed to ship it by Canada Post and it arrived two days later! Very impressed!
Michael A
May 14, 2019
Q&A
Please note, Aircraft Spruce's personnel are not certified aircraft mechanics and can only provide general support and ideas, which should not be relied upon or implemented in lieu of consulting an A&P or other qualified technician. Aircraft Spruce assumes no responsibility or liability for any issue or problem which may arise from any repair, modification or other work done from this knowledge base. Any product eligibility information provided here is based on general application guides and we recommend always referring to your specific aircraft parts manual, the parts manufacturer or consulting with a qualified mechanic.
Q: It would be really helpful if you could list the groove width (panel thickness) of these grommets.
Thank you for bringing this to our attention. We have since added it to our chart.
Q: Is there a drawing that available for the dimensions of the AN931 elastic grommets? For example, what does hole size mean?
We have added the drawing as a reference above the chart. It shows the letters that correspond to the different dimensions in the chart. Please review the updated web page for clarification.
Q: Are these AN931 grommets made of Silicone Rubber?
Yes, they are made of synthetic and silicone rubber.
Q: Is the price per piece indicated? How many pieces are in the package?
These are sold individually.