1-877-4-SPRUCE | info@aircraftspruce.com
Aircraft Spruce & Specialty Co.
Corona, CA | Chicago, IL
Wasilla, AK | Peachtree City, GA
Brantford, ON Canada
EVERYTHING FOR PLANES AND PILOTS SINCE 1965 | 877-4-SPRUCE
AN931 ELASTIC GROMMETS
From $0.16 to $7.50
Reference Chart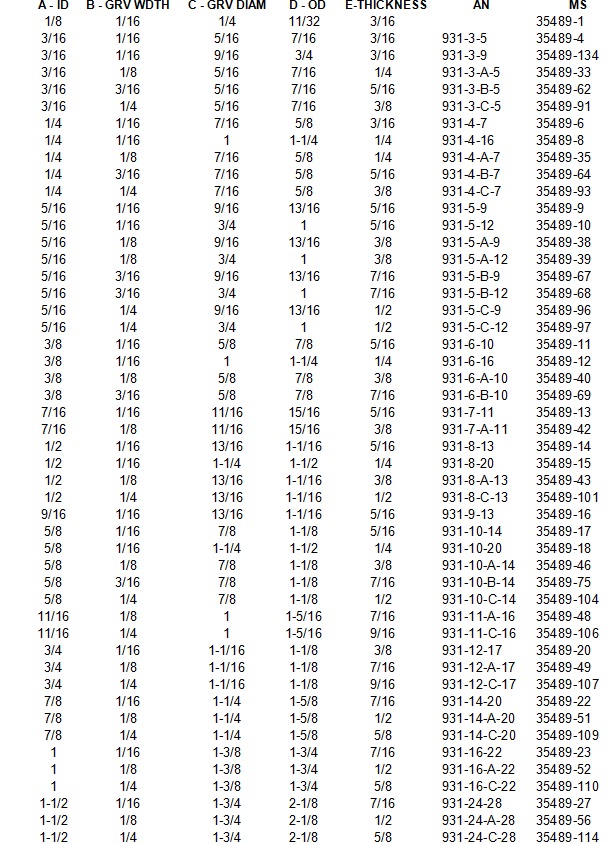 Overview
**Note: All sizes in chart are in inches**

Flexible grommets, made of black synthetic rubber to specification MIL-G-3036. Resistant to hot oil & coolant. Used to protect tubing, wiring and control cables where they pass through bulkheads & firewalls.
Customers Also Viewed
Frequently Purchased With
Reviews
High quality rubber grommets
Al A
March 23, 2020
Good quality grommets.
Lewis M
October 24, 2019
I was very pleasantly surprised, not just with the order, but Connie at the order desk contacted me to advise that shipping by courier would have been 3 times the price of my small order. She agreed to ship it by Canada Post and it arrived two days later! Very impressed!
Michael A
May 14, 2019
Grommets exactly what I ordered.
Robert M
May 3, 2019
This is exactly what was needed to replace worn grommet in my carburetor heat butterfly valve.
Walt
March 14, 2019
better than I expected. Works great
Gwen
March 15, 2018
Great products! Keep up the good work!!
Andy
January 6, 2018
I have tried grommets from other non aviation suppliers. The extra firmness of these AN931 grommets compared to the mil spec of the other supplier gives me more confidence that this grommet will better protect things like fuel lines from vibration and chaffing.
Brooks C
September 15, 2017
931-4-16 were exactly the same size as the grommets needed to be replaced on the C182 for the ignition leads for the lower cylinders. I had to cut them like the originals were but it was time to replace them and they were brittle and falling apart, wish they made these in silicon they would last forever.
Jaffe L
September 7, 2017
Good quality of rubber material & finishing
Ricardo V
April 3, 2017
Q&A
Q: It would be really helpful if you could list the groove width (panel thickness) of these grommets.
Thank you for bringing this to our attention. We have since added it to our chart.
Q: Is there a drawing that available for the dimensions of the AN931 elastic grommets? For example, what does hole size mean?
We have added the drawing as a reference above the chart. It shows the letters that correspond to the different dimensions in the chart. Please review the updated web page for clarification.