1-877-4-SPRUCE | info@aircraftspruce.com
Aircraft Spruce & Specialty Co.
Corona, CA | Chicago, IL
Wasilla, AK | Peachtree City, GA
Brantford, ON Canada
THE AVIATION SUPERSTORE FOR ALL YOUR AIRCRAFT & PILOT NEEDS | 877-4-SPRUCE
MIL6000D OIL AND COOLANT HOSE
From $6.90 to $19.90
Reference Chart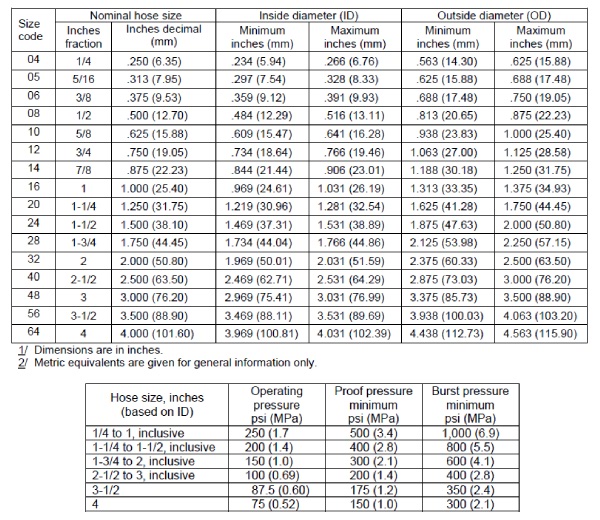 Overview
Inside and out, aircraft hose MIL-DTL 6000D is designed to handle the effects of oil, alcohol, coolant, and water. The tube is oil resistant with a black cover reinforced with high strength mildew resistant yarns. It withstands extreme temperature conditions from -40F to +250F. Meets or exceeds U.S. military specs. Lightweight, flexible and easy-to-handle, making it the perfect hose for hard-to-get-to spots in tight engine compartments.

Sold in one foot increments.
MIL-DTL-6000C was superceded by this MIL-DTL-6000D
Note: This hose is not recommended for use as fuel lines.
Customers Also Viewed
Frequently Purchased With
Reviews
Delivered as expected
Martin
February 25, 2018
Excellent hose and I am using this for the coupling on a Lycoming 0320 oil return line. very supple, cuts well.
Al F
September 28, 2017
When I purchased this hose the lady said it was flexible and had a smooth outer layer. The hose does not bend well and kinks easily and has a braided outer layer. Was not what I was expecting and will not work for me.
Frank
January 17, 2020
I just found the hose weeping oil on my Cessna T310R on the lines running from the wet vacuum system. installed in March 18
Martin G
October 19, 2018
Q&A
Q: What types of fittings work with the MIL6000D oil and coolant hose?
A Barb, or slip-on, fitting is commonly used for this hose. A hose clamp is used to secure it.
Q: What is the rubber material used for manufacture of this MIL6000D hose?
The inner tube is manufactured from synthetic rubber and the outer coating is a reinforced polychloroprene rubber. per the mil-t-6000 specification.
Q: What is the shelf life of MIL-6000 hose?
This will have a shelf life of 5 years.
Q: What is the working pressure of the hose?
Operating pressure is 250psi, and the burst is 1000.
Q: How long is this MIL 6000D hose?
This hose is priced and sold by the foot. When you enter quantity, you are entering the number of feet you would like to order.
Q: What is the maximum continuous length you can order MIl-6000 hose in?
It depends on the hose size but 6000-4 for example we usually get in 50 foot rolls.