1-877-4-SPRUCE | info@aircraftspruce.com
Aircraft Spruce & Specialty Co.
Corona, CA | Chicago, IL
Wasilla, AK | Peachtree City, GA
Brantford, ON Canada
THE AVIATION SUPERSTORE FOR ALL YOUR AIRCRAFT & PILOT NEEDS | 877-4-SPRUCE
VFR SECTIONAL CHARTS ALASKA
From $8.50 to $8.50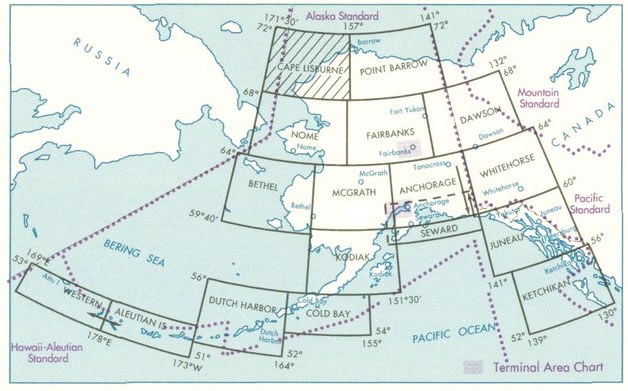 (Hover to zoom | Use mouse wheel for +/-)
| PN | Description | Expires | Price | Buy |
| --- | --- | --- | --- | --- |
| | Anchorage Sectional Chart | 12/02/21 | $8.50 | |
| | West Aleutian Islands Sectional Chart | 12/02/21 | $8.50 | |
| | Bethel Sectional Chart | 12/02/21 | $8.50 | |
| | Cape Lisburne Sectional Chart | 12/02/21 | $8.50 | |
| | Cold Bay Sectional Chart | 12/02/21 | $8.50 | |
| | Dawson Sectional Chart | 12/02/21 | $8.50 | |
| | Dutch Harbor Sectional Chart | 12/02/21 | $8.50 | |
| | Fairbanks Sectional Chart | 12/02/21 | $8.50 | |
| | Juneau Sectional Chart | 12/02/21 | $8.50 | |
| | Ketchikan Sectional Chart | 12/02/21 | $8.50 | |
| | Kodiak Sectional Chart | 12/02/21 | $8.50 | |
| | McGrath Sectional Chart | 12/02/21 | $8.50 | |
| | Nome Sectional Chart | 12/02/21 | $8.50 | |
| | Point Barrow Sectional Chart | 12/02/21 | $8.50 | |
| | Seward Sectional Chart | 12/02/21 | $8.50 | |
Overview
Sectional Aeronautical Charts are designed for visual navigation of slow to medium speed aircraft. The topographic information featured consists of the relief and a judicious selection of visual checkpoints used for flight under visual flight rules. The checkpoints include populated places, drainage patterns, roads, railroads, and other distinctive landmarks. The aeronautical information on Sectional Charts includes visual and radio aids to navigation, airports, controlled airspace, restricted areas, obstructions, and related data.
Customers Also Viewed
Frequently Purchased With
Q&A
Please note, Aircraft Spruce's personnel are not certified aircraft mechanics and can only provide general support and ideas, which should not be relied upon or implemented in lieu of consulting an A&P or other qualified technician. Aircraft Spruce assumes no responsibility or liability for any issue or problem which may arise from any repair, modification or other work done from this knowledge base. Any product eligibility information provided here is based on general application guides and we recommend always referring to your specific aircraft parts manual, the parts manufacturer or consulting with a qualified mechanic.