1-877-4-SPRUCE | info@aircraftspruce.com
Aircraft Spruce & Specialty Co.
Corona, CA | Chicago, IL
Wasilla, AK | Peachtree City, GA
Brantford, ON Canada
THE AVIATION SUPERSTORE FOR ALL YOUR AIRCRAFT & PILOT NEEDS | 877-4-SPRUCE
UHS FIBERGLASS SPINNER KITS
Overview
UHS spinners are practical, attractive, and flight proven having enhanced the apperance of many different aircraft. The spinners are available in various diameters for different engine and propeller combinations. For GSC, Ivoprop, Warp Drive, and Power Fin propellers using Rotax, Lycoming, Cont. & Mosler engines, spinners are sent cut out and assembled.

**Note: kits include hardware and bulkhead.**

For pre-drilled cut-outs we require the following information:
Make and size of engine.
Make of Propeller.
Number of Blades.
Size required.
Based on information provided, spinner size may vary from 1/8" to 1/2" larger in diameter.

Given adequate information, we can also fabricate spinners for many other propeller-engine combinations. Call with your requirements and we will assess your particular application. Please complete the UHS Spinner Form, and submit with your order. The UHS Spinner Form can be downloaded at the below link in PDF format.
Installation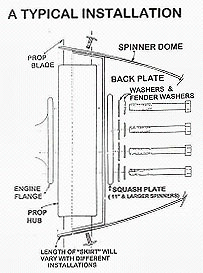 The size of the spinner is the measurement at the rear lip of the dome. If the spinner is made with the length of the dome left intact, the size is as shown in the descriptions.
For example:
The "10" spinner is actually 10.375". If it is installed without being shortened, it is 10.375". If it is installed with an IVO Patriot, which is only 1.375" thick, the dome is cut shorter and will be 10".
All our spinners are sent out balanced to a tolerance of about 1 gram (28grams = 1 ounce). For example, if you remove one of the 8-32 x 3/4" dome mounting bolts from a balanced spinner and put it back on the balancing rig, it shows as being "sharply out of balance".
Q&A
Please note, Aircraft Spruce's personnel are not certified aircraft mechanics and can only provide general support and ideas, which should not be relied upon or implemented in lieu of consulting an A&P or other qualified technician. Aircraft Spruce assumes no responsibility or liability for any issue or problem which may arise from any repair, modification or other work done from this knowledge base. Any product eligibility information provided here is based on general application guides and we recommend always referring to your specific aircraft parts manual, the parts manufacturer or consulting with a qualified mechanic.
Q: I have a PA 28-140, is this made for certified aircraft?
No, the UHS spinners are for experimental applications only.