1-877-4-SPRUCE | info@aircraftspruce.com
Aircraft Spruce & Specialty Co.
Corona, CA | Chicago, IL
Wasilla, AK | Peachtree City, GA
Brantford, ON Canada
FREE SHIPPING ON ORDERS OVER $350 (USA ONLY - SOME EXCLUSIONS APPLY) | 877-4-SPRUCE
COMANT DME TRANSPONDER ANTENNA CI -105-6 / CI-105-7
Overview
Frequency • 960-1220 MHz
The Comant CI 105-6, and CI 105-7
Comant CI 105-3 DME/Transponder antenna. Identical to the CI 105 in operating characteristics. Ant signed for external applications using a three hole flange mounting.
Note: Comant Antennas no longer come with a gasket or a template. Must order PN 09-05579 separately.
Specifications
MODEL CI 105-6 & CI 105-7 DME/ TRANSPONDER

Electrical

Frequency

960 to 1220 MHz

VSWR

1.5:1 960 to 1220 MHz
1.3:1 1025 to 1150 MHz

Polarization

Vertical

Radiation Pattern

Equivalent to 1/4 Stub

Impedance RF

50 Ohms

Resistance DC

Open Circuit

Power RF

2.5 KW Peak

Mechanical

Weight

0.40 lb. Maximum

Height

3.31 in. Maximum

Material

Molded Radome

Finish

Polyurethane Enamel

Connector

CI 105-6: BCN
CI 105-7: C

Environmental

Temperature

-54ºC to +55ºC

Altitude

70,000ft.

Air Speed

400 Knots TAS at 25,000 ft.

Federal Specifications

RTCA Environmental

DO-160C

FAA TSO

C66b, C74c

RTCA MOPS

DO-144, DO-189
Drawing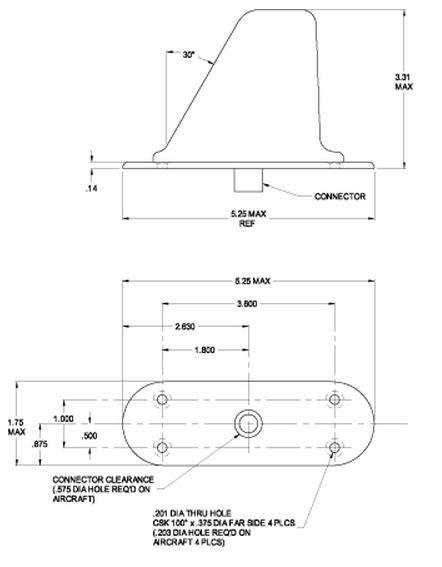 Customers Also Viewed
Frequently Purchased With
Related Items
Q&A
Please note, Aircraft Spruce's personnel are not certified aircraft mechanics and can only provide general support and ideas, which should not be relied upon or implemented in lieu of consulting an A&P or other qualified technician. Aircraft Spruce assumes no responsibility or liability for any issue or problem which may arise from any repair, modification or other work done from this knowledge base. Any product eligibility information provided here is based on general application guides and we recommend always referring to your specific aircraft parts manual, the parts manufacturer or consulting with a qualified mechanic.
Q: Do you have a drawing or hole pattern diagram for the CI-105-6?
Yes, we have added the hole pattern drawing to the "Drawing" tab of this web page. Please review it there.