1-877-4-SPRUCE | info@aircraftspruce.com
Aircraft Spruce & Specialty Co.
Corona, CA | Chicago, IL
Wasilla, AK | Peachtree City, GA
Brantford, ON Canada
FREE SHIPPING ON ORDERS OVER $350 VIA UPS GROUND | 877-4-SPRUCE
TEMPEST AA48108-2 SPIN-EZ OIL FILTER
Select Package Quantity:
Single Filter
6 Pack
Overview
Tempest AA48108-2 Spin-EZ Oil Filter.

What's Tempest's recommendation for dealing with stuck oil filters? At your next filter change - UPGRADE to Tempest's patent-pending "non-sticking" SPIN EZ™ aircraft engine oil filters.

Tempest's SPIN EZ filters are designed to come off easy. Heat, time and pressure can extrude oil, grease, DC4® compound or similar liquid lubricants from between a filter's rubber seal and the filter mount pad - leaving the filter seemingly "bonded" to the engine's mount pad - and making it nearly impossible to remove. Tempest's proprietary SPIN EZ adhered solid seal lubricant stays where it's supposed to - between the seal and the mount pad's surface. SPIN EZ solid lubricant won't extrude or squirt out from under the seal. It prevents the bond forming environment that makes legacy filters stick.

Avoid frustration. Save time and money. No more messy DC-4 compound. No more stabbed cans. At your next filter change, UPGRADE to state-of-the-art Tempest SPIN EZ oil filters - the filter that comes off without a fight!
Specifications
Product Specifications
OEM Supplier to Robinson TCM
Full Can Thickness: .019"
Base Plate Thickness: .187"
Burst Pressure: 700 psi
Media Size for -2 Filters (48103-2,48108-2, 48110-2): 311 sq. in
Media Size for Tall Filters (48104, 48109, 48111): 460 sq. in.
| Filter Model | Overall Dimensions (Nominal) | Thread Size & Type | Installation Torque |
| --- | --- | --- | --- |
| AA48108-2 | 4 3/8 H X 3 3/4 Dia. | 3/4-16 Female Thread | 16-18 Ft Lbs |
Benefits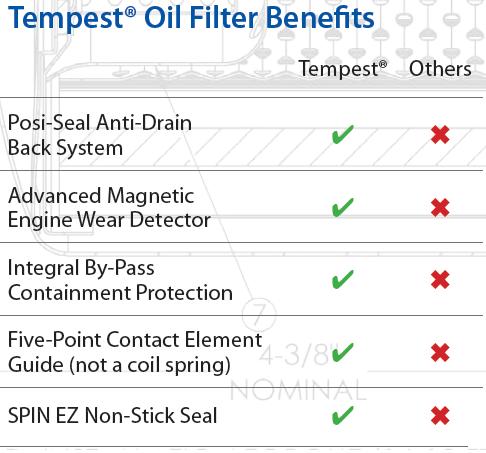 Customers Also Viewed
Frequently Purchased With
Related Items
Reviews
Excellent quality. Reasonable price. Fast delivery.
H. C
October 17, 2019
Great, easy install, shipping was quick.
Jim B
October 13, 2019
Perfect
John K
October 11, 2019
Great product and exceptional customer service.
Michael
October 3, 2019
I always lube my new oil filters with a few drops of oil. Many years ago I read the directions and they said to do this. Now they say install it dry. Evidently, I must reread directions each time I do something. This seemed so simple but No.
David P
September 7, 2019
Regular use it on our heli.
Anton T
September 5, 2019
Like others I tried the Tempest filter because it is more economical than the Champion brand. They seem to do the job. Oddly, however, while I have never had trouble unscrewing a Champion filter, I had a heck of a time removing the Tempest filter yesterday. Because I don't fly nearly enough these days the filter only had 35 hours on it since the last annual. This is not going to stop me from buying and using Tempest filters. I just thought it amusing because of the hype Tempest makes about easy removal.
Martin T
August 25, 2019
have not used them yet
Paul O
August 22, 2019
Excellent quality and performance
Strve
July 28, 2019
We service a number of GA aircraft and the Tempest filter is the oil filter of choice.
B. J
May 19, 2019
Q&A
Q: Is there a six pack of tempest AA48108-2 oil filters available at a small discount?
Yes, keyword search part number 08-04971. Our search engine will bring you directly to the page to order.
Q: I have a remote filter with a Champion CH48108-1 filter. Is the Tempest AA48108-2 the same filter?
Yes, the Tempest AA48108-2 and the Champion CH48108-1 are interchangeable. Same specs and application, different brands.
Q: Does this Tempest SPin-EZ AA48108-2 oil filter have a high pressure bypass?
Both AA48108-2 & AA48109 have the oil by-pass incorporated in their design.
Q: If Tempest AA48108-2 is same, & interchangeable with Champion CH48108-1, how come your applicability chart does not show it for use on a 1962 Cessna 182E (Cont O-470 R)? I really would like to use it. I have had shops refuse to use my supplied Tempest filter, said not approved.
In the application PDF listed in the Documents tab, I show the AA48108-2 is the correct model for Cessna 182 with the O-470 engine. AA48108-2 is FAA-PMA and is interchangeable with applications of Champion CH48108-1.
Q: What is the micron rating of the Tempest AA48108-2 filter?
They are 30 micron nominal.
Q: What is the weight of this Tempest AA48108-1 filter?
1.36 lbs.