1-877-4-SPRUCE | info@aircraftspruce.com
Aircraft Spruce & Specialty Co.
Corona, CA | Chicago, IL
Wasilla, AK | Peachtree City, GA
Brantford, ON Canada
FREE SHIPPING ON ORDERS OVER $350 VIA UPS GROUND | 877-4-SPRUCE
TEMPEST AA48109 SPIN-EZ OIL FILTER
Select Package Quantity:
Single Filter
6 Pack
Overview
Tempest AA48109 Spin-EZ Oil Filter.

Whatís Tempestís recommendation for dealing with stuck oil filters? At your next filter change - UPGRADE to Tempestís patent-pending ďnon-stickingĒ SPIN EZô aircraft engine oil filters.

Tempestís SPIN EZ filters are designed to come off easy. Heat, time and pressure can extrude oil, grease, DC4ģ compound or similar liquid lubricants from between a filterís rubber seal and the filter mount pad - leaving the filter seemingly ďbondedĒ to the engineís mount pad - and making it nearly impossible to remove. Tempestís proprietary SPIN EZ adhered solid seal lubricant stays where itís supposed to - between the seal and the mount padís surface. SPIN EZ solid lubricant wonít extrude or squirt out from under the seal. It prevents the bond forming environment that makes legacy filters stick.

Avoid frustration. Save time and money. No more messy DC-4 compound. No more stabbed cans. At your next filter change, UPGRADE to state-of-the-art Tempest SPIN EZ oil filters - the filter that comes off without a fight!
Specifications
Product Specifications
OEM Supplier to Robinson TCM
Full Can Thickness: .019"
Base Plate Thickness: .187"
Burst Pressure: 700 psi
Media Size for -2 Filters (48103-2,48108-2, 48110-2): 311 sq. in
Media Size for Tall Filters (48104, 48109, 48111): 460 sq. in.
| Filter Model | Overall Dimensions (Nominal) | Thread Size & Type | Installation Torque |
| --- | --- | --- | --- |
| AA48109-2 | 6 3/16 H X 3 3/4 Dia. | 3/4-16 Female Thread | 16-18 Ft Lbs |
Benefits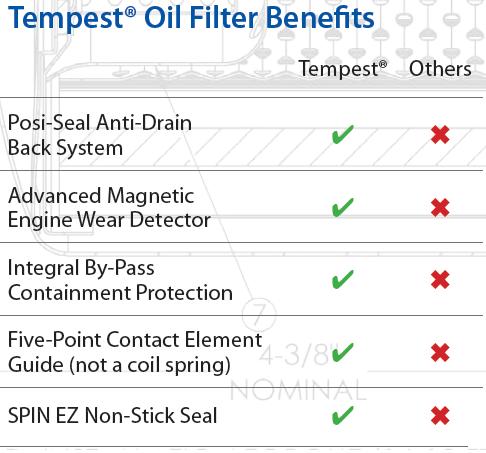 Customers Also Viewed
Frequently Purchased With
Related Items
Reviews
Ive been using Champion filters exclusively for the past 16 years of aircraft ownership, so I thought Id try the Tempest filter since they were slightly cheaper. Well, you get what you pay for. It started leaking from the nut/cap within the first hour of operation. In 34 years of flying I have NEVER seen a filter come apart like that. Needless to say, I went back to the Champion filter. Kudos to Aircraft Spruce for replacing the defective filter without question (and letting me pay the difference to get the Champion filter).
Chris N
September 28, 2019
Delivered quickly via USPS.
Sanford M
September 16, 2019
I like not having to use any gasket lubricant during installation of the oil filter!!!
Joseph M
September 6, 2019
Tempest oil filter application guide said it will fit Cirrus SR22. I ordered 48109 and it did not fit because of the AC line. If you have air condition, use 48108-2
Rc
April 23, 2019
Overly priced but necessary. Never had an issue with This type of filter.
Jim J
March 11, 2019
I do most oil changes myself. Ive used Tempest oil filters for several years. The new seal is interesting, but Id buy Tempest anyway.
Alan S
August 2, 2018
Solid filter, EZ to use!
Cordaro S
April 26, 2018
Its just another overpriced oil filter. What is there to rate? Well, you asked me to rate it.
Herb
March 18, 2018
I get some chiding from the mechanics when I bring the plane in for oil changes. They always look at me with a puzzled expression and ask, why dont I use the other one. I tell them I dont see the difference so why should I pay more. I have been using Tempest oil filters for over 10 years. Cant be more happy using them.
Alan S
March 17, 2017
Q&A
Q: Re oil filters: Is the Tempest aa48109 the same size/fitment as the Champion ch48109? Any significant differences other than the Tempest having a magnet?
They are both FAA approved filters, and are used in the same applications. The Champion unit measures approx. 5.73" tall, and 3.71" diameter, and the Tempest measures approx. 6-3/16" tall, and 3.75" diameter, and also has a magnet and new Spin-Ez seal.