1-877-4-SPRUCE | info@aircraftspruce.com
Aircraft Spruce & Specialty Co.
Corona, CA | Chicago, IL
Wasilla, AK | Peachtree City, GA
Brantford, ON Canada
FREE SHIPPING ON ORDERS OVER $350 (USA ONLY - SOME EXCLUSIONS APPLY) | 877-4-SPRUCE
TEMPEST AA48109 SPIN-EZ OIL FILTER
Select Package Quantity:
Single Filter
6 Pack
Overview
Tempest AA48109 Spin-EZ Oil Filter.

Whatís Tempestís recommendation for dealing with stuck oil filters? At your next filter change - UPGRADE to Tempestís patent-pending ďnon-stickingĒ SPIN EZô aircraft engine oil filters.

Tempestís SPIN EZ filters are designed to come off easy. Heat, time and pressure can extrude oil, grease, DC4ģ compound or similar liquid lubricants from between a filterís rubber seal and the filter mount pad - leaving the filter seemingly ďbondedĒ to the engineís mount pad - and making it nearly impossible to remove. Tempestís proprietary SPIN EZ adhered solid seal lubricant stays where itís supposed to - between the seal and the mount padís surface. SPIN EZ solid lubricant wonít extrude or squirt out from under the seal. It prevents the bond forming environment that makes legacy filters stick.

Avoid frustration. Save time and money. No more messy DC-4 compound. No more stabbed cans. At your next filter change, UPGRADE to state-of-the-art Tempest SPIN EZ oil filters - the filter that comes off without a fight!
Specifications
Product Specifications
OEM Supplier to Robinson TCM
Full Can Thickness: .019"
Base Plate Thickness: .187"
Burst Pressure: 700 psi
Media Size for -2 Filters (48103-2,48108-2, 48110-2): 311 sq. in
Media Size for Tall Filters (48104, 48109, 48111): 460 sq. in.
| Filter Model | Overall Dimensions (Nominal) | Thread Size & Type | Installation Torque |
| --- | --- | --- | --- |
| AA48109-2 | 6 3/16 H X 3 3/4 Dia. | 3/4-16 Female Thread | 16-18 Ft Lbs |
Benefits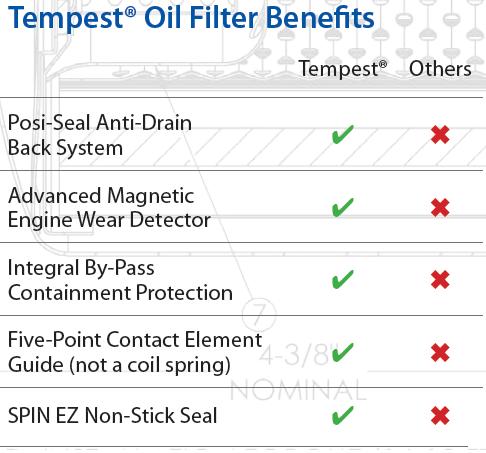 Customers Also Viewed
Frequently Purchased With
Related Items
Reviews
good
Birchfield R
Verified Purchase

TEMPEST AA48109 OIL FILTER
July 8, 2021
Ok
Hyder P
Verified Purchase

AA48109 TEMPEST OIL FILTER 6PK
July 5, 2021
Greaat quality and price
Gregory W
Verified Purchase

TEMPEST AA48109 OIL FILTER
June 22, 2021
Tempest filters are a quality product. We do see their prices rising.
William J
Verified Purchase

TEMPEST AA48109 OIL FILTER
June 10, 2021
Good product
Omd A
Verified Purchase

AA48109 TEMPEST OIL FILTER 6PK
June 10, 2021
Great product, good purchase experience. Filter is larger than champion and cheaper so its a much better product.
Eliot S
January 19, 2021
No complaints, never had a leak and I like the features like a magnet particle trap and pre-lubed seal.
Stephen
August 7, 2020
Shipped quick and fair price
Joe
July 29, 2020
Good product.
William G
June 25, 2020
Fast delivery
Philip B
April 10, 2020
Q&A
Please note, Aircraft Spruce's personnel are not certified aircraft mechanics and can only provide general support and ideas, which should not be relied upon or implemented in lieu of consulting an A&P or other qualified technician. Aircraft Spruce assumes no responsibility or liability for any issue or problem which may arise from any repair, modification or other work done from this knowledge base. Any product eligibility information provided here is based on general application guides and we recommend always referring to your specific aircraft parts manual, the parts manufacturer or consulting with a qualified mechanic.
Q: Re oil filters: Is the Tempest aa48109 the same size/fitment as the Champion ch48109? Any significant differences other than the Tempest having a magnet?
They are both FAA approved filters, and are used in the same applications. The Champion unit measures approx. 5.73" tall, and 3.71" diameter, and the Tempest measures approx. 6-3/16" tall, and 3.75" diameter, and also has a magnet and new Spin-Ez seal.