1-877-4-SPRUCE | info@aircraftspruce.com
Aircraft Spruce & Specialty Co.
Corona, CA | Chicago, IL
Wasilla, AK | Peachtree City, GA
Brantford, ON Canada
FREE SHIPPING ON ORDERS OVER $350 (USA ONLY - SOME EXCLUSIONS APPLY) | 877-4-SPRUCE
TEMPEST AA48110-2 SPIN-EZ OIL FILTER
Select Package Quantity:
Single Filter
6 Pack
Overview
Tempest AA48110-2 Spin-EZ Oil Filter.

What's Tempest's recommendation for dealing with stuck oil filters? At your next filter change - UPGRADE to Tempest's patent-pending "non-sticking" SPIN EZ™ aircraft engine oil filters.

Tempest's SPIN EZ filters are designed to come off easy. Heat, time and pressure can extrude oil, grease, DC4® compound or similar liquid lubricants from between a filter's rubber seal and the filter mount pad - leaving the filter seemingly "bonded" to the engine's mount pad - and making it nearly impossible to remove. Tempest's proprietary SPIN EZ adhered solid seal lubricant stays where it's supposed to - between the seal and the mount pad's surface. SPIN EZ solid lubricant won't extrude or squirt out from under the seal. It prevents the bond forming environment that makes legacy filters stick.

Avoid frustration. Save time and money. No more messy DC-4 compound. No more stabbed cans. At your next filter change, UPGRADE to state-of-the-art Tempest SPIN EZ oil filters - the filter that comes off without a fight!
Specifications
Product Specifications
OEM Supplier to Robinson TCM
Full Can Thickness: .019"
Base Plate Thickness: .187"
Burst Pressure: 700 psi
Media Size for -2 Filters (48103-2,48108-2, 48110-2): 311 sq. in
Media Size for Tall Filters (48104, 48109, 48111): 460 sq. in.
| Filter Model | Overall Dimensions (Nominal) | Thread Size & Type | Installation Torque |
| --- | --- | --- | --- |
| AA48110-2 | 4 3/8 H X 3 3/4 Dia. | 3/4-16 Male Thread | 16-18 Ft Lbs |
Benefits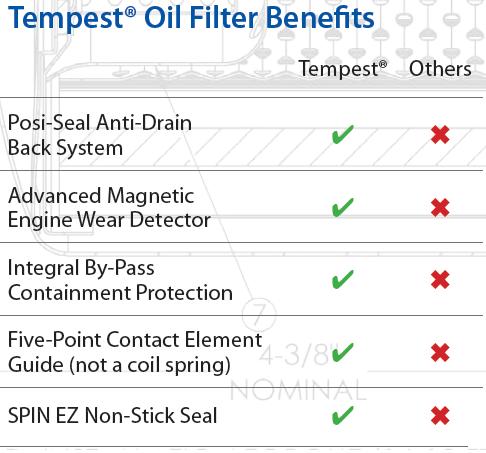 Customers Also Viewed
Frequently Purchased With
Related Items
Reviews
Exact oil filter for my 0540 on my airboat. Fast shipping.
Mark
June 24, 2020
A few cardboard flakes were sitting on the filter next to the threaded tube. Blew them off and as always, the filter was a perfect fit. Construction is good and the internal magnet is a bonus.
Don
June 22, 2020
No issues
James S
June 12, 2020
Cut open after use and well made
Andrew H
June 11, 2020
Super easy to install and apply the safety wire.
Tom H
May 29, 2020
Easy to put on. Never had a problem removing. I change the filter every 3 months. Follow the installation instructions. It is a little different than other filters.
Jay
April 16, 2020
Ive been using these filters for years and I never have a problem removing them. Ive never seen a seal leak or any other issue for that matter. They seem to filter very well and the magnet in the can provides an added indicator to what is coming into the filter.
Mark A
March 31, 2020
great price
Tom W
January 17, 2020
Delivered on time.
Pat
December 30, 2019
Order was complete and shipping was fast. Great prices and service all the way around.
Herbert C
November 30, 2019
Q&A
Q: Concerning oil filters, is a Champion CH48110-1 the same as a Tempest AA48110-2. Also, can a Tempest AA48108-2 be used where a Tempest AA48110-2 is used?
The Champion CH48110-1 and Tempest AA48110-2 are the same fit and function, and interchangeable. The AA48108-2 has female threads, and the AA48110-2 has male threads.
Q: Is the tempest aa48110-2 the same length as the champion ch48110-1?
Yes, these filters have the same form factor.
Q: What micron filtration are these Tempest AA48110-2 filters?
30 microns.