1-877-4-SPRUCE | info@aircraftspruce.com
Aircraft Spruce & Specialty Co.
Corona, CA | Chicago, IL
Wasilla, AK | Peachtree City, GA
Brantford, ON Canada
SAME DAY UPS SHIPPING ON ORDERS PLACED BY 4 PM | 877-4-SPRUCE
TEMPEST AA48110-2 SPIN-EZ OIL FILTER
Select Package Quantity:
Single Filter
6 Pack
Overview
Tempest AA48110-2 Spin-EZ Oil Filter.

What's Tempest's recommendation for dealing with stuck oil filters? At your next filter change - UPGRADE to Tempest's patent-pending "non-sticking" SPIN EZ™ aircraft engine oil filters.

Tempest's SPIN EZ filters are designed to come off easy. Heat, time and pressure can extrude oil, grease, DC4® compound or similar liquid lubricants from between a filter's rubber seal and the filter mount pad - leaving the filter seemingly "bonded" to the engine's mount pad - and making it nearly impossible to remove. Tempest's proprietary SPIN EZ adhered solid seal lubricant stays where it's supposed to - between the seal and the mount pad's surface. SPIN EZ solid lubricant won't extrude or squirt out from under the seal. It prevents the bond forming environment that makes legacy filters stick.

Avoid frustration. Save time and money. No more messy DC-4 compound. No more stabbed cans. At your next filter change, UPGRADE to state-of-the-art Tempest SPIN EZ oil filters - the filter that comes off without a fight!
Specifications
Product Specifications
OEM Supplier to Robinson TCM
Full Can Thickness: .019"
Base Plate Thickness: .187"
Burst Pressure: 700 psi
Media Size for -2 Filters (48103-2,48108-2, 48110-2): 311 sq. in
Media Size for Tall Filters (48104, 48109, 48111): 460 sq. in.
| Filter Model | Overall Dimensions (Nominal) | Thread Size & Type | Installation Torque |
| --- | --- | --- | --- |
| AA48110-2 | 4 3/8 H X 3 3/4 Dia. | 3/4-16 Male Thread | 16-18 Ft Lbs |
Benefits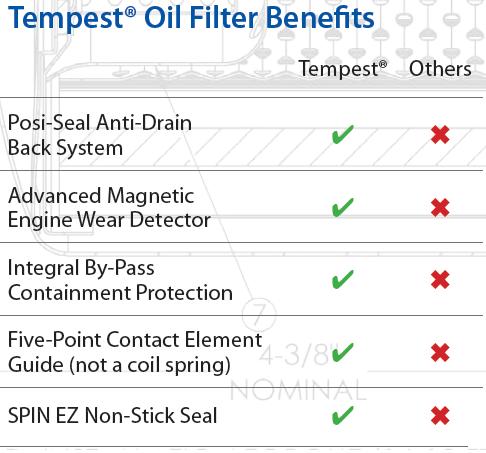 Customers Also Viewed
Frequently Purchased With
Related Items
Reviews
Fast delivery. 2 days
Mike H
September 22, 2020
Its an oil filter. Preimpregnated silicone on gasket saves a bit of muss. Can is tough to open, but then I dont want it open until its off the engine and in the shop.
Walter A
September 22, 2020
Its an oil filter and it seems to do what an oil filter is supposed to do. I give Aircraft Spruce a high rating because they always turn around orders quickly. I have seldom waited more than 3 business days for delivery.
Dan P
September 17, 2020
Filters perform as expected. Delivery was very fast.
Donald W
September 17, 2020
Quick, easy ,and affordable.
Jeff T
September 2, 2020
Works good and lasts a long time.
Art H
August 12, 2020
Great product that Ive had no issues with whatsoever. Does a very good job of filtering the oil and cleaning up any issues that have been pronounced from oil samples. Highly recommend.
Joe S
July 31, 2020
Great product
Brad S
July 20, 2020
Exact oil filter for my 0540 on my airboat. Fast shipping.
Mark
June 24, 2020
A few cardboard flakes were sitting on the filter next to the threaded tube. Blew them off and as always, the filter was a perfect fit. Construction is good and the internal magnet is a bonus.
Don
June 22, 2020
Q&A
Q: Concerning oil filters, is a Champion CH48110-1 the same as a Tempest AA48110-2. Also, can a Tempest AA48108-2 be used where a Tempest AA48110-2 is used?
The Champion CH48110-1 and Tempest AA48110-2 are the same fit and function, and interchangeable. The AA48108-2 has female threads, and the AA48110-2 has male threads.
Q: Is the tempest aa48110-2 the same length as the champion ch48110-1?
Yes, these filters have the same form factor.
Q: What micron filtration are these Tempest AA48110-2 filters?
30 microns.