1-877-4-SPRUCE | info@aircraftspruce.com
Aircraft Spruce & Specialty Co.
Corona, CA | Chicago, IL
Wasilla, AK | Peachtree City, GA
Brantford, ON Canada
FREE SHIPPING ON ORDERS OVER $350 (USA ONLY - SOME EXCLUSIONS APPLY) | 877-4-SPRUCE
INSIGHT G1 SERIES SINGLE ENGINE COLOR MONITOR - COMPLETE SYSTEM
Select Version:
4 Cylinder Standard
4 Cylinder Turbo
Overview
Insight Graphic Engine Monitor G1
Required Order Form must be completed prior to order.
G1 is the first low cost complete color graphic engine monitor system available in aviation today.
Single Engine - 2.25 Bezel
Protect Your Engine By:
S

av

ing

Fuel On Every Flight

By Leaning Accurately And Safely


Revolutionary New Leaning Process



See Lean Peak In Order And Temperature Spread

Seeing

Simultaneous EGT, CHT, TIT

Bars And Temperatures


Save

T

ime

T

rouble-

S

hooting




Continuous Probe Diagnosis

That Confirms System Integrity


Extensive List Of Primary Approved Aircraft Models




SD Card Software Updates




FAA & TC Primary STC
EGT, CHT, & TIT
Also available with Carburetor Temperature and/or for G1 Field Update Kit, see Accessories.

Reference Chart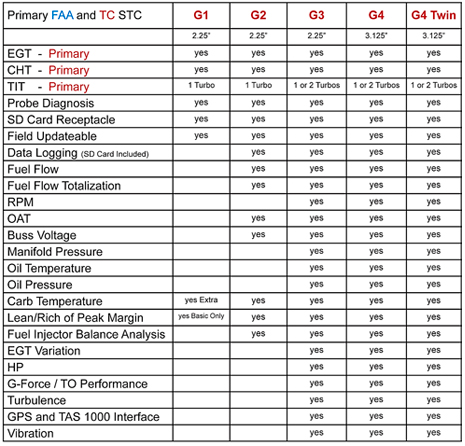 Accessories
Customers Also Viewed
Reviews
They sounded good in the Oshkosh booth so thought I would support a small Canadian company. Good for 3.5 years, 450 hrs in my 78 Cheetah. Then between stops, the display morphed from the 4 cyl into a 6 cyl display with incorrect temps. The factory said it had gone out of calibration. Their flat charge bench fee was $350 USD (despite being in Canada), plus $16. parts. Total $430. w shipping both ways. No sympathy from the company which sells the unit cheap up front, and then grinds you when they have to fix their loss of calibration. Wont fix it again..will go with a JPI next time.
Jeffrey F
May 9, 2019
Q&A
Please note, Aircraft Spruce's personnel are not certified aircraft mechanics and can only provide general support and ideas, which should not be relied upon or implemented in lieu of consulting an A&P or other qualified technician. Aircraft Spruce assumes no responsibility or liability for any issue or problem which may arise from any repair, modification or other work done from this knowledge base. Any product eligibility information provided here is based on general application guides and we recommend always referring to your specific aircraft parts manual, the parts manufacturer or consulting with a qualified mechanic.
Q: I would like to order a G1 6 cylinder turbo version. Are probes and harness incude?
Yes, this price includes probes and harness.
Q: I am looking at the G1. I know the probes come with the kit. Do we get the options to have the spark plug ring type for the cylinders?
At time of order please let us know via the sales rep putting a note in the order or in the special instruction for online orders that you need the ring/gasket probe and the size.
Q: Can I use the G1 on a fuel injected engine? I need only basic EGT and CHT data.
No, you cannot.
Q: Does this require an A&P to install?
Yes, it will require an A&P